Global Ministries is saddened to learn of the death of Sue Bates
Margaret Sue Bates
August 24, 1931 – March 26, 2019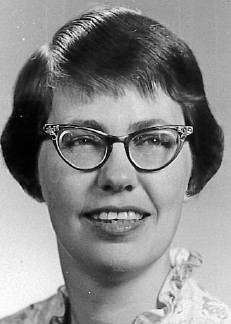 Margaret Sue Bates (Sue), age 87, passed away on Tuesday, March 26, 2019 in Indianapolis, IN. She was born on August 24, 1931 to Doris and Fred Gillespie in Fort Smith, Arkansas.
Sue attended Bradley University in Peoria, IL graduating with a B.F.A. in 1953. Sue also took courses at the University of Michigan and later completed the teacher certification at the University of Chicago. Sue worked as the associate director of the student center of the Congregational and Christian Church (Disciples of Christ) Campus Ministry at the University of Michigan. In 1957 she married Robert S. Bates.
Beginning in 1957, the Bates served in India as Mission Co-workers, appointed by the United Christian Missionary Society a predecessor mission body to what is today Global Ministries. From 1957 to 1960 Sue and Bob worked alongside the Student Christian Movement of India in Bangalore, South India, and the World Student Christian Federation, in Sri Lanka. Sue also taught for a time at the Kodaikanal church-related school in India. From 1966 Bob and Sue taught at Leonard Theological College, in Jabalpur Madhya Pradesh in north central India, where Sue focused on teaching women students.
The Bates returned to the United States in 1970 and spent one year in Chicago while Bob attended the University of Chicago. Sue worked as an administrator at the University of Chicago Law School. Sue and Bob were active members of University Christian Church in Chicago where Sue taught Sunday School. During this time, Sue also earned her teaching license in art and took a teaching position at a Catholic school.
The Bates family then settled in Indianapolis. Sue worked for a time in the Disciple Africa Office, and later was an office administrator for Saint Meinrad Seminary and School of Theology in St. Meinrad, IN. Sue worked as an English as a second language teacher at Marian College, taught reading and writing at Christian Theological Seminary, and to those who were on probation. Sue counseled individuals who resisted obligatory military service and was active in the refugee resettlement ministry at University Park Christian Church and often became an "honorary grandma" for many families. Sue also was an Elder, sang in the choir, rang handbells, and created beautiful banners for worship at University Park Christian Church. She chaired the Commission on Higher Education for the Indiana Region of the Christian Church (Disciples of Christ) and was actively involved in the Indiana Commission for United Ministries in Higher Education. In retirement, the Bates served in the first group of Regional Elders for the Christian Church in Indiana. Sue and Bob were also active in the Greater Indianapolis Disciple Area ministers group. Later, the Bates would became a part of Allisonville Christian Church after University Park ended its visible ministry, where Sue served in many capacities, including as an Elder, always sharing her artistic talent and works.
Sue Bates is survived by her husband Bob, two daughters, Karen Bates Hudson, and Kristin Bates-Scott, their spouses, and treasured grandchildren.
A memorial service was held at Allisonville Christian Church, 7701 Allisonville Road, Indianapolis, IN 46250 on May 4, 2019. Condolences to the family may be sent to Rev. Dr. Robert Bates, 5354 West 62nd Street Apartment 347, Indianapolis, IN 46268.