Greetings from Bogotá
Greetings once again from Bogotá, Colombia. Looking back at 2017, as I write this first Newsletter of 2018, reminds me just what an important year it was for Colombia. As always, it was filled with many challenges, but also much inspiration and hope. I am truly blessed to be able to engage in the ministry of peace, justice, and reconciliation with my Colombian colleagues at this time.
For Colombia, 2017 was the first year of the implementation of the peace accord that was signed between the FARC guerrilla and the Government of Colombia in late 2016. We saw thousands of former guerrilla combatants make their way to demobilization camps where they began their transition to civilian life; and, we saw thousands of weapons carted off by the United Nations never to be fired again. It was exciting to get to visit several of these camps along with the Interchurch Dialogue for Peace (DiPaz) and share a word of solidarity with these former combatants, some who had been with the guerrilla their entire adult lives.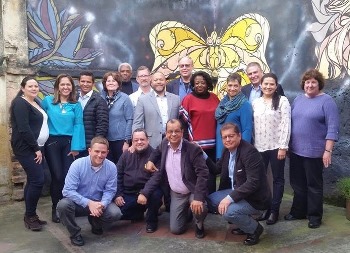 A highlight was being able to share one of these visits with the People-to-People Pilgrimage that visited Colombia in May (2017), which included Rev. Dr. Teresa Hord Owens [General Minister and President of the Christian Church (Disciples of Christ)], Rev. John Dorhauer [General Minister and President of the United Church of Christ], Nora Sanders [General Secretary of the United Church of Canada], and Rev. Julia Brown-Karimu and Rev. Jim Moos [Co-Executives of Global Ministries] among others.
Unfortunately, peace-building is a slow and often difficult process, and the implementation of the peace accord has been just that. One report I recently read said that in 2017, 18% of the legislative measures outlined in the accord were passed. This same report quoted the Colombian government as saying that the "glass is half-full" and the FARC as saying that "the glass is just about empty." An analyst recently told my colleagues that he sees the glass with some water in it, but unfortunately, cracked and leaking. In 2018, we must all act to save the "glass" of the peace accord and the "water" of peace-building moving forward.
These first days of 2018, Cafepaz Peace Studies Center that I work with, which was created in 2017, has just launched a program on conflict transformation and restorative justice with two groups of former combatants and the civilian communities where they now reside. Challenging, yet inspiring work awaits us.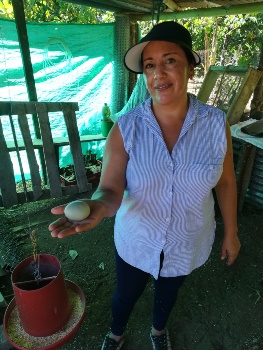 I was also blessed in December 2017 to visit Mocoa, Putumayo which was struck by a deadly mudslide that killed over 300 people and wiped out entire neighborhoods in April of last year. I was invited by the Lutheran World Federation office in Colombia to join a monitoring mission to learn about a project that helped mudslide-victims get back on their feet. Both the Disciples of Christ (Week of Compassion) and the United Church of Christ donated to the ACT Alliance emergency appeal that funded this project. There, I met many amazing survivors who are now getting back on their feet. A highlight was visiting Lucy on her new rural property on the outskirts of Mocoa. The project enabled Lucy (pictured to the left) to buy hens that now provide her and her daughter with eggs. Lucy and her daughter survived being swept away by the mudslide when their house gave way.
It continues to be my honor to accompany the brave women and men of Colombia who seek to put their lives back together after tragedy and seek to build a country with peace with social justice from the embers of decades of war. Thank you all who have visited, who continue to lift Paola and I and especially our Colombian colleagues up in prayer, and who continue to share your resources with Global Ministries to enable this work.
May God bless you, and bring you peace in 2018,
Michael
Michael Joseph serves with the Restoration, Life, and Peace Commission of the Council of Evangelical Churches (CEDECOL) in Colombia, South America.