"How are you?"
Leda Zakarison serves with the Forum for Development, Culture, and Dialogue, Beirut, Lebanon.
"Yaani…"
How are you? It's a difficult question to answer these days, living in Lebanon. It sometimes feels like an impossible task to sum up everything going on in a way that feels honest, but concise. Recently, I've settled on answering yaani, which translates to "I mean…," a noncommittal answer that at least acknowledges the reality of the situation. It feels like the most honest answer I can give.
Living in Beirut today is overwhelming. After the explosion, the social, economic, and health crises with which Lebanese people were already grappling continued to get worse. In the fall, the government implemented a series of new lockdowns to control skyrocketing COVID-19 cases. NGOs and community members had to figure out how to deliver the much needed aid while also doing their part to prevent the spread of coronavirus. The hospital system in Lebanon was already overwhelmed and understaffed before the explosion; the casualties caused by the explosion pushed it past capacity. As new lockdown measures became inevitable, businesses worried how they would pay rent and purchase stock with no customers. The Lebanese economy was in freefall, and there was no safety net to support families whose livelihoods were impacted by the lockdowns. At the same time, the inflation crisis continued and prices of basic goods doubled and even tripled. Protests erupted across the country, and many people made the difficult choice to move abroad in search of better job prospects elsewhere.
Since August 4, I have found that Beirut is filled with constant reminders of how precarious life is, how quickly everything can change. It makes it hard to put down roots here, to envision any sort of future. Even scheduling meetings or events feels foolish – how could we possibly know what the world will be like in a month, be sure enough that we will be free at 9:30 am on a Tuesday in April? Many people have been forced to leave Lebanon in search of a more stable future and reliable livelihood, and those of us who remain here do so knowing that those that we love may make the difficult decision to leave at any time. And yet, so much of the Forum for Development, Culture, and Dialogue (FDCD)'s work is about long-term community investment.
In the midst of this precarity, I've been thinking a lot about these words from Ecclesiastes 3: 9-13 (The Message):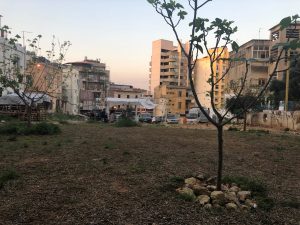 "But in the end, does it really make a difference what anyone does? I've had a good look at what God has given us to do—busywork, mostly. True, God made everything beautiful in itself and in its time—but he's left us in the dark, so we can never know what God is up to, whether he's coming or going. I've decided that there's nothing better to do than go ahead and have a good time and get the most we can out of life. That's it—eat, drink, and make the most of your job. It's God's gift."
When I revisited this passage recently, it felt like holy permission to let go. I could stop trying to anticipate what disaster was looming around the country, how we in the NGO sector could possibly start to address the overlapping crises in Lebanon. It was enough just to be present in the moment, to enjoy good food and time with friends. There's no use worrying about the future – only God knows what's coming. We might as well enjoy the present.
This was an attitude I had certainly picked up from my friends here, as well. I've learned how to survive, how to find moments of joy among immense despair – and that has mostly involved ignoring the larger circumstances and enjoying the present. Putting one foot in front of the other, worrying about the day-to-day and trying not to think about the uncertain future, is a necessary coping strategy among this much uncertainty.
At the same time, though, the very same friends who taught me the importance of presence are working to create a better future. They are taking to the streets to protest against government corruption and working every day to rebuild from the explosion. Many of my friends spend their weekends at Laziza Park, a patch of land in the Mar Mikhael district of Beirut that has been transformed over the past year by an organization called Gro Beirut into a beautiful green space in the middle of the city. Creating Laziza has been back-breaking work. In the summer, dozens of people spent their days under the blazing sun, cleaning trash, breaking up rocks, and laying sod. They braved rusty nails and hidden wasp nests to create this space. Even after the explosion, after many of the original team had left Beirut, after their homes had been destroyed and their futures made even more uncertain, they kept at it. During the latest lockdown, I would pass by Laziza and see people hard at work building raised beds which will soon be filled with vegetables and fruit for the neighbors. Just this weekend, a few people dug a hole to plant a new tree.
Planting a garden, by its very nature, is an investment in the future. It's a promise and a show of confidence – that someone will be there to continue the upkeep long enough to see the first harvest. Even as some of the founders of the park have left Beirut, others (including me) have discovered the park, have started investing in their own way.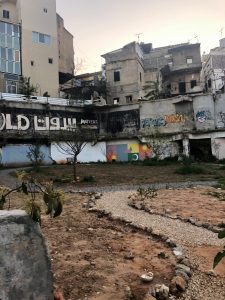 These days, when you pass by Laziza, you will almost invariably meet at least a few of the children who live in the buildings around the park. They have been involved in every step of the process, cleaning and planting and looking after the park. They still come every day, to solemnly water their trees and make sure no one is messing with their space. This spring, they will be the ones to plant vegetables in the beds, to experience the magic of eating something that you grew yourself.
When I think about the promise made in Ecclesiastes, I have always seen it as a warning – we don't know God's plan, which means that something catastrophic might happen at any moment. But I maybe that's not the whole story. We don't know God's plan, which means something good might happen at any moment, even when the world seems to be crumbling around us. Trusting in God also means trusting that good things can happen, even when that feels naïve. Refusing to show up, hunkering down and retreating, because things seem so bad, is just as arrogant as thinking we know everything. It's assuming that problems are so big, injustices so immense, that God is not at work in the world to fix them.
I am reminded of this whenever I go on field visits with FDCD, to visit families whose homes were damaged or destroyed on August 4 and who are now rebuilding with the support of FDCD (and the United Church of Christ and Christian Church (Disciples of Christ) through Global Ministries). After contracting and recovering from COVID-19 in October, one of my first trips out of my apartment was to visit Carlos and his family, who live in a sunny rooftop apartment in the middle of Mar Mikhael. When you enter Carlos' home today, the first thing you notice are the beams – beautiful, exposed metal beams that run the length of the main room. The apartment was nearly totally destroyed during the explosion and will need a complete rebuild. The rest of the home has been completely gutted and is still only partially rebuilt, but the beams give the otherwise empty room a sense of personality. "They are my design," Carlos says proudly. He is an architect, and when his home was destroyed, the one bright spot he saw was the opportunity to add a few new personal touches to the reconstruction.
Carlos shares with me the story of his family – he grew up downstairs, in an apartment where his parents still live. When he got older, he and his wife purchased the apartment upstairs to start their own family. He raised his children here and is determined to return as soon as possible.
The area around Carlos' apartment certainly looks different than it did on August 5. Nearly 4 months after the explosion, we stand together on the balcony and survey the progress around us – two heritage houses across the street have been covered with tarps and boarded up to protect against the rain, and cranes move debris and construction materials all around us. A few businesses nearby have opened and scaffolding has been erected to repair crumbling exteriors of buildings. At the same time, it's hard to ignore just how much there is left to do.
Despite the immense progress, despite the pride Carlos feels in his beams, it will still be months before he and his family can move back in. And with the rapid inflation plaguing the country, he doesn't know how exactly they will be able to fund the repairs that are still necessary. Despite all of this, though, Carlos is still rebuilding. He still put in the time and love necessary to craft the beams in his living room. To me, putting this much work in almost seems foolhardy at this point. How could he make such a huge investment during such an uncertain time? I ask Carlos how he stays hopeful, how he persists despite all the crises facing his country. "Maybe it's because I'm an architect – I always believe that a reconstruction of everything is possible! Maybe it's my character."
Maybe God's gift to us is an ability to discern. Not to know the future, certainly, but to be able to sense what feels good and right in the moment. There are certainly times that what feels good and right is to curl up in bed watching Netflix. There are other times that what feels good is sitting on a balcony with friends, enjoying a sunset, or talking with loved ones on the phone, or going for a long walk. But sometimes what feels good is moving rocks, cleaning glass, packing food parcels to distribute to families in need. Sometimes what feels good is talking with elected officials and going to protests. And sometimes, what feels good is sitting on a park bench, having a conversation with a 5-year-old who is very serious about watering an olive tree. Despite it all, despite signs to the contrary, sometimes what feels good is hoping, is choosing to believe – if just for a moment – that the future will be better, for us and for our communities. And the amazing thing, the promise of Ecclesiastes, is that God gives us permission to do all of this – to despair and hope, to dance and pray, to be silly and serious. Our ability to be present for all of it is God's gift to us.
Leda Zakarison serves with the Forum for Development, Culture, and Dialogue, Beirut, Lebanon. Her appointment is made possible by your gifts to Disciples Mission Fund, Our Church's Wider Mission, WOC, and your special gifts.