Human Rights Biblical Reflection Workshops in Nicaragua
Fray Antonio de Valdivieso Ecumenical Center (CEAV), Nicaragua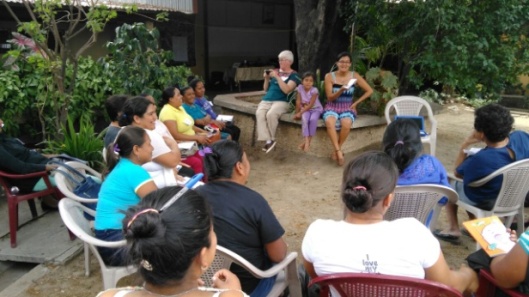 Fray Antonio de Valdivieso Ecumenical Center (CEAV) aims to promote human rights and spread awareness of gender subjugation by teaching women about social justice theology. Throughout 2017, four groups of women met on a regular basis for theological workshops and discussions about spirituality and overcoming difficult circumstances.
Two groups are entering into their third year of discussion together, the Mary Berreda Group and the Christian Base Community. The Mary Berreda Group is composed of survivors of human trafficking, and the Christian Base Community is comprised of women from a variety of backgrounds. Two groups entering into their first year of discussion together include Project Miriam and the Women of April. Project Miriam is a group for young women studying in colleges and trade schools, some of whom are former prostitutes and sweatshop workers still adjusting to training for new careers. The Women of April, is made of women cancer survivors. Along with participating in workshops, this group started raising funds in the community to help low-income cancer patients.
Women enduring any kind of traumatic circumstance can be prone to depression and alcohol or drug abuse and therefore, are especially seeking spiritual and emotional healing. Unfortunately, common social beliefs in Nicaragua support the subjugation of women. Even in church, Bible stories are used to teach women to be submissive and blindly obedient to males. This harmful attitude normalizes domestic violence and discourages discussion about exploitation and inequality.
Reading the Bible from a human rights perspective, however, presents a very uplifting and empowering approach to living out God's Word. CEAV's workshops have taught women how to interpret the Bible from their own context, to gain inner strength from spirituality, and to speak out for justice for the oppressed as Jesus and many other Biblical figures did. Throughout 2017, workshops focused on the topics of standing against human trafficking, resilience, handling post-traumatic stress, and how to transition from a defeated mindset to positive views of self.
Each of the four groups had prepared to accommodate a maximum of 20 participants in 2017. However, the dire need to provide support to survivors of domestic violence and sexual exploitation prompted each group to allow more individuals to join. The increase in members required significantly more funds to provide materials for everyone, but it also meant that more women learned new skills for improving their lives and communities.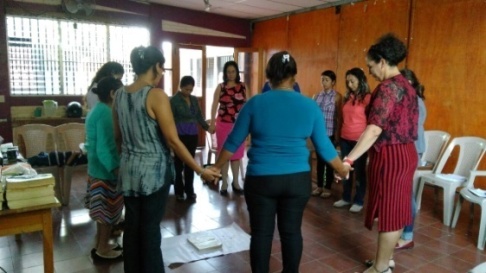 A CEAV representative wrote that "Our greatest satisfaction is knowing that we bring a little inner peace, pastoral accompaniment, and above all the ability to read the Bible with the eyes of a woman." For 2018, CEAV will organize a series of workshops on the theme of "Odyssey from victim to healer: hope for the individual." This series will build upon topics from earlier years and prepare participants for a program in 2019 which will train them to become future workshop leaders.
 A participant in the Women of April group reflected upon her experience in the program: "We have learned to value ourselves, to feel that we are special daughters of God, and to show up and be resilient. Through our discussions and times of biblical study, I am realizing that many of the characters of the Bible were faced with challenges like ours and these stories are not alien to us. This reminds me that I, too, can overcome my challenges as many children of God did so in biblical stories."