I See You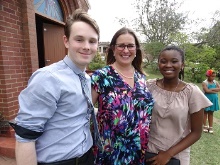 As I conclude my appointment to Inanda Seminary, I share with you the farewell address to them:
In 1999, Scott and I applied to be missionaries on the continent of Africa with Global Ministries and we ended up here at Inanda Seminary with you.  What an amazing journey it has been.  The first Principal, Mary Kelly Edwards, came from the same area of Ohio where I was born.  I still have relatives living there today.  The only female minister in Ohio that I knew as a child also served this school, Mrs. Naida Sutch.  For the last 18 years, this has been my season at Inanda Seminary.
Some of you may do not know why I am leaving.  Global Ministries has said it is time.  18 years is long enough. We were able to stay 3 additional years in large part to an amazing letter written by Hixonia Nyasulu.  When that occurred, Scott became unemployed.  They agreed to continue paying for one of us and Scott sacrificed for our family and for Inanda Seminary in order for us to stay. So how do I respond in a brief amount of time to these 18 years?   During the global leadership summit it occurred to me that a good leader would leave something for others to practice and empower them to keep moving forward.  That is what I am going to do and then I will end with 'thank you'.
What might I want you to practice?  This may sound strange but what I want you to practice is what you have taught me?  The word is common.  You may not even think of its importance.  You say it out of being polite.  It is good manners and what you have always done.  However, sometimes when you are inside your own culture, you don't always realise the value and impact.  I remember when I learned this lesson 18 years ago and I tried never to make the mistake again.  I pulled up to a hospital with an Inanda member, I was in a hurry, I got out of the car, I rushed up and the first person I found was a security guard, I said, "Where do I bring the patient? "  He looked directly in my eyes, "Hello, how are you?" I didn't know what was going on. I was new to this country.  I needed help.  I was worried about the member.  I didn't have time for this, but I quickly realized that there was no way I was going to get assistance until I responded to his greeting. He was so insistent that I was forced to stop.  Sadly, I admit that my greeting was obligatory and insincere. 
Do you know what I want you to practice?  Sawubona!  Literally, I see you.  I want you to really see each other.  To see other's pain and heartache.  To see other's needs.  To see another's dreams.  To see another's uniqueness.  I see you.  We are not the same.  I see your identity in God.  You are enough.  You are accepted.  You are loved.  I see you. It is easy to see your friends and your family.  It is easy to see people who are famous and that you aspire to be.  It is easy to see people with money and in positions of power. It is difficult to see people who work behind the scenes.  It is difficult to see people who are different from you.  It is difficult to see the person who you think is your competition.  It is difficult to see someone in need, in despair, poor, sick, broken, dirty, mentally troubled. Sawubona is for everyone, not just some.  Sawubona is what we need more of.  It will change this country.  Seek difference.  Expose yourself to people who are not like you.  Who don't look like you, don't talk like you, don't eat what you eat, don't have the same background, have different ideas and stories. And see creation.  It is difficult to see creation, but it is crying out in pain for us to care for it. Nothing has changed me more as a person than greeting. I recognise your humanity.  I see you.  You matter.  I am thinking about you before me.  Your humanity is tied to mine: Ubuntu. The opposite of Sawubona is selfishness, judgement, disregard, humiliation, disrespect, indifference, greed, egotism. Sawubona. I see you.
I want to empower you by reminding you of who you are.  I can do this best by answering the question, "why did you stay for 18 years?" Inanda Seminary:  uMemba, Shine where you are? Good results. Christian school. Excellent education.  Core values.  Best teaching practice. Beautiful students. Tradition. History.  Black women. Holistic education: Spiritual, Physical, Social and Intellectual. Most of you know all of us.  It sounds perfect and flawless, but it isn't.  It is really hard to be here.  This long list is difficult to live up to.  I think I stayed so long because it has taught me two life lessons that I needed in my life.  Firstly, resilience. Resilience is our grit. Our ability to push through, move on, get through, go on.  She was right.  So why would hardship and learning resilience make me want to stay?  We need to learn it.  We are not promised that life will be easy or fair or just.  I needed to learn resilience. Secondly, the capacity to grow, learn and develop.  Judy, you are the one who creates this space.  Inanda Seminary is a learning space, not for students, for everyone, including yourself. 
Thank you Inanda Seminary for entrusting me in this role as Chaplain.  It has been all for my gain.  Thank you for providing a home for my family.  Thank you to the UCCSA, the Board of Governors, alumnae, the staff and the members. Thank you to my family and my amazing friends. It is good for me to go…my leaving makes room for another one to come.  Some of you have expressed resistance to this change, but I need to remind you what I believe.  I trust God. I trust, as Bill Hybels said it best, there are necessary endings but rest assured, God will write a new script, a new script for Inanda Seminary and for me and my family.
I will conclude with words that I concur with from the first missionary Principal, Mary Kelly Edwards. "My children if you are Christians, love God, do your duty, seek purity, work hard and are respectful and honest, then you bring me joy. If you are the reverse, then alas, how much reproach you cast on my work. All of the work of all these years, I count as pure joy if I have helped you to know and love Christ.  His love to me his more than ought else and His work is my greatest joy."  –Mary Kelly Edwards (Principal 1869- 1892)
Rev. Susan Valiquette serves with Inanda Seminary, Durban, South Africa as the chaplain and an instructor. Her appointment is made possible by your gifts to Disciples Mission Fund, Our Church's Wider Mission, and your special gifts.