It has only Just Begun
Dear friends
It is astonishing to find that we are almost at the close of the year.  It is now cold and crisp in Rome, where beautiful Christmas lights invest the plainest streets with excitement and hope. 
I am painfully aware that I have not written as much as I should this year and hope that I can summarise some of what has kept me from doing so.  It has been quite a year!
My primary focus over the last six months has been helping to develop the concept which has come to be known as "European Humanitarian Corridors".  All of you who know the work of Mediterranean Hope are already familiar with humanitarian corridors, an idea which was pioneered by MH, working ecumenically with the Community of Sant'Egidio, in 2015.  In the last four years, this mechanism has become a model of best practice, bringing vulnerable migrants safely and legally from Lebanon to Italy, where they are fully supported as they integrate into Italian society.
Over that four year period, a handful of legacy corridors has sprung up.  Participants now come from Ethiopia, Jordan, and Niger as well as from Lebanon, and have been welcomed in France, Belgium, and Andorra as well as in Italy.  The model clearly works.  Hold that thought for a moment…
None of us can be unaware of the dreadful conditions endured by many migrants in Libya and the surrounding region as they travel north in an attempt to find a better life for themselves.  Many of us will have seen harrowing pictures and videos from within detention centers there, and have read of the exploitation and abuse endured by those attempting to scrape a living outside those centers.
MH's simple idea is this: why not expand the humanitarian corridor model to bring 50,000 vulnerable migrants out of that troubled region into Europe?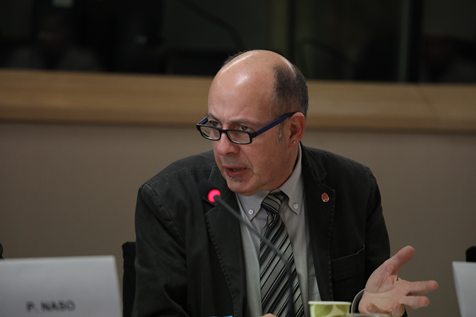 Over the last six months, we've been testing the viability of that idea.  Several meetings, calls, emails, and drafts later, we now have an eight-page concept paper, developed in close co-operation with UNHCR.  At a conference in Rome on 7th and 8th October, we garnered support for the concept from over twenty churches from across Europe.   And, at an event hosted by Vice-President Fabio Massimo Castaldo at the European Parliament on 10th December, the proposal was launched on the European stage.  Speakers from the Italian government, UNHCR, European institutions, and churches all endorsed the idea. 
We are delighted.  However, although it's taken a huge amount of work to get to this stage, we know that this work has only just started.  Without a coalition of willing European countries, this bold idea will never get off the ground.  Italy is willing to spearhead the initiative but cannot do it on its own.   So we must lobby hard.  This week at the Global Refugee Forum in Geneva, two of us from MH will be sharing conference space for three days with around 2,000 representatives from almost 200 countries.  It's an opportunity to share this idea which we cannot miss.  It's interesting to find that the idea appeals to those from across the political spectrum.  As the numbers involved are controlled, the criteria for participation tight, and the focus on preparation and integration likely to lead participants to become autonomous, the concept offers solidarity and security, important words on both sides of the migrant narrative.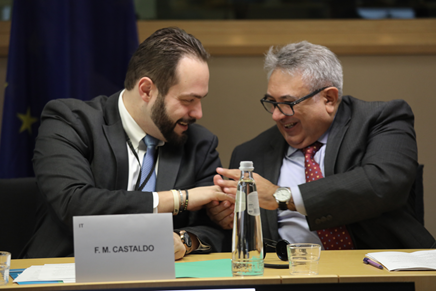 Influencing narrative could not be more important, particularly in such polarised times like these.  Interestingly, in Italy, a new movement is flourishing.  Last month, a flash mob of "human sardines" quietly filled a square where the Far Right intended to host a rally.  Waving fish-shaped placards bearing radical slogans such as "respect" and "tolerance", the Sardine (as they are known in Italian) have struck a chord with those despairing of the rhetoric of hate which has grown in strength over recent years.  This simple, yet powerful, the idea has caught hold, so much so that yesterday the Sardine filled squares across Italy.  The good-natured rally which I attended in Piazza San Giovanni in Rome attracted an estimated 100,000 of all ages and backgrounds.  Speaker after speaker denounced the politics of hate, calling for, amongst other things, the reversal of "Security Decree" ushered in under the last administration and affirming Italy as a welcoming society.  This physical evidence of an alternative world view seems incredibly important at a time when social media appears to hold so much power.  The numbers involved yesterday cannot be denied.
Away from Rome, there has been a lot of travel for me this year, all within Europe, as I fly the flag for MH and the good work it is doing.  In January, I'll be going further afield, this time to Arizona and the border with Mexico where my colleague, Francesco Piobicchi, and I will be learning something about migration policy in that corner of the world, as well as sharing something of MH's work in Southern Europe to others engaged in this field.  There is no doubt that exposure to diverse contexts and sharing good practice helps us all to think creatively – and systematically – as we work to apply that knowledge in our own organizations.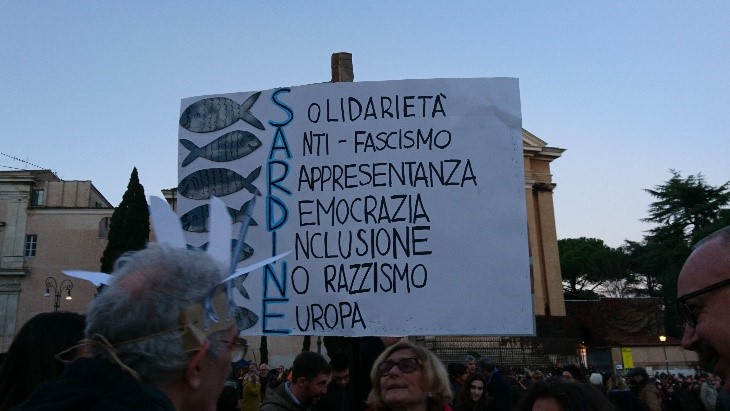 I worked through this summer in Rome, taking the opportunity to see some more of Italy at the weekends and saving holiday time for the autumn.  It was good to have a week with family back in the UK in October and, then, to spend two weeks in Jordan, Israel/Palestine, where I joined a World Mission Council study pilgrimage.  I am still processing that profound experience which not only exposed me for the first time to the land where Jesus walked but also to the grim realities for many of the contemporary situations in that troubled region.  Seeing first hand some of what I had heard refugees here describe life there was truly shocking.  Perhaps as a result of the work I am now engaged in, I seem to see things more vividly than I have at any stage in my life and, as a result, my sense of injustice has been sharpened.  It is much harder for me now to be an observer in any context, whether I am "at work" or not.
I remain healthy and happy.  It has been an unexpected pleasure for me to start studying Latin again, having found a class for adults who once knew it but have forgotten it!  We are being taught as if it were a modern language, which is a lot of fun, as are the class field trips to read inscriptions at some of Rome's ancient sites.  Never a dull moment…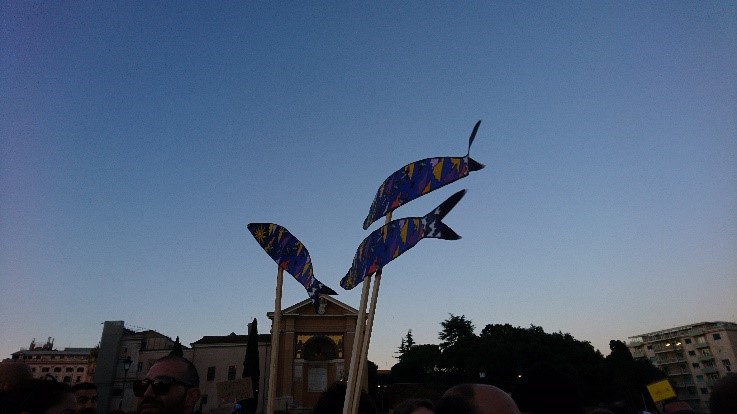 Both congregations I am involved with here have welcomed new ministers in the last few months.   Daniel, at Ponte Sant'Angelo Methodist Church, has moved with his young family from a charge in Milan, so he has some familiarity with the bureaucratic complications of living in Italy.  For, Peter, who arrived at St Andrew's Church of Scotland only a couple of months ago from Kilmacolm, that is a joy yet to be discovered!  It is great to see them both in the post and I look forward to seeing how both congregations develop over the course of this new chapter.
Thanks, as always, to all of you, for the support and encouragement which you continue to offer, for your concern for the work of the Mediterranean Hope project and, indeed, for those around you.  If you are willing, I'd be grateful if you'd consider praying for the following:
Courage, for politicians considering whether or not to embrace European Humanitarian Corridors;
Energy, for those who mistakenly think they cannot make a difference through their actions;
Hope, for those who have no safe harbor and no prospect of returning home.
May all of us know the radiant light that heralds the end of Advent and the arrival of Christmas.  May all of us shine that light in the months ahead.
Fiona Kendall serves with Mediterranean Hope, Italy. Her appointment is made possible by your gifts to Disciples Mission Fund, Our Church's Wider Mission, and your special gifts.