Kairos Palestine and Badil to launch resource on Palestinian Christians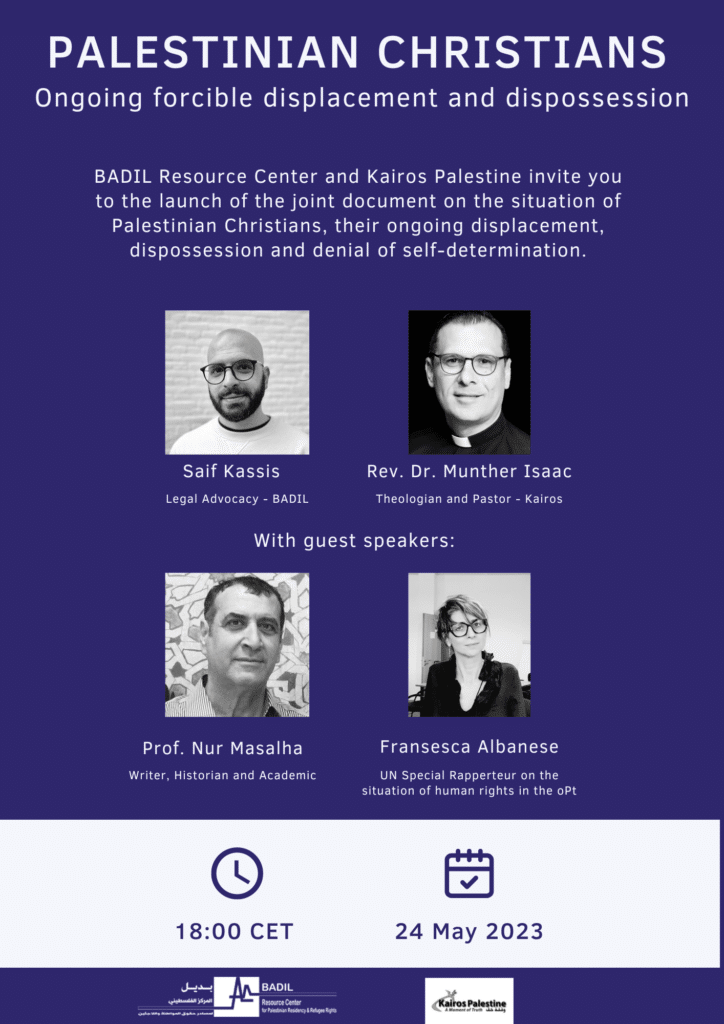 To commemorate 75 years of Nakba, BADIL Resource Center and Kairos Palestine have collaboratively produced a joint document addressing the situation of Palestinian Christians, focusing on their ongoing displacement, dispossession and denial of self-determination. This resource follows their initial joint study published in 2012; Palestinian Christians – Ongoing forcible displacement and dispossession which raised the question "until when?" Now, 11 years later, we find ourselves facing the same question under even more dire circumstances that demand immediate attention and action. 
You are invited for the online launch of this resource which will take place via zoom this Wednesday, May 24, 2023 at 7:00 pm Palestine time, or 2 pm Eastern US time.
Distinguished speakers who will address the audience during the launch include:
Prof. Nur Masalha – Palestinian writer, historian and academic, who will speak on the historical context and roots of Nakba. 
Ms. Francesca Albanese – the United Nations Special Rapporteur on the OPT, will speak on the ongoing denial of Palestinians' right of self-determination.  
Rev. Dr. Munther Isaac – Theologian, pastor and Kairos Palestine board member – will speak on the situation of Palestinian Christians and the impact of the ongoing Nakba on them. 
Mr Saif Kassis – BADIL's Legal Advocacy Officer will present the document and highlight the ongoing Israeli policies of forcible displacement. 
To join the event, please register here.