Krista Johnson Weicksel named as Division of Overseas Ministries Vice President for Administration and Programs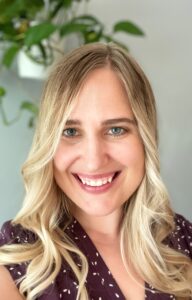 Global Ministries is pleased to announce that Krista Johnson Weicksel will serve as the Division of Overseas Ministries (DOM) Vice President for Administration and Programs. Krista brings exceptional administrative and professional skills and a strong understanding of the Christian Church (Disciples of Christ) and Global Ministries to this position. She begins on September 1, 2022.
"I vividly remember being an eleven-year-old sitting in a church fellowship hall and listening to mission co-workers share stories about their ministry in Nepal," Krista shares. "Global Ministries opened my eyes to a bigger world as a child, offered an opportunity to volunteer internationally as a young adult, and continues to model what it looks like for our church to engage internationally with integrity. It is an incredible honor to help to shape the future of this beloved ministry as the Vice President for Administration and Programs."
Since 2019, Krista has served as Global Ministries Program Associate for Advocacy and Education. From 2006 to 2008, she served as a Global Mission Intern appointed to the Sabeel Ecumenical Liberation Theology Center in Israel/Palestine. Before returning to the Global Ministries staff in 2019, Krista served as the Mennonite Central Committee Peacebuilding Coordinator.
"I am energized by the opportunity to help shape the future of this ministry, to collaborate with the DOM President to build a vibrant healthy staff culture, and to find innovative and meaningful ways to engage in accompaniment with international partners in an ever-shifting context of mission," says Krista. "I love this ministry and look forward to the opportunity to offer more to a ministry that has offered so much to me."
Please join Global Ministries in welcoming Krista Johnson Weicksel to this new position.