Liddles home from East Timor
We ended our four-year term of service with our partners, the Protestant Church of East Timor (IPTL), on March 1.  Our departure from Lospalos was bittersweet.  Friends who have become our Timor family from Imanuel Clinic and Imanuel Church saw us off on the afternoon of our departure from Lospalos.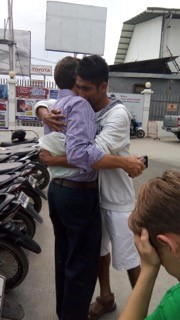 We shared many, many hugs between the tears.  A few days later in Dili, another group met us at 7am on Sunday morning at the airport, including many pastors who came before worship, and some folks who even came from Lospalos, a days' journey away, to see us off the ground.  At the time, we didn't realize that those would be the last hugs with loved ones for months.
We had been watching the evolution of the coronavirus epidemic since it was first reported in early January.  We had chosen our departure date from Timor well before anyone had even heard of "virus corona," as it is called in Timor.  I had wondered in late January if it would hit Timor and impact our plans for departure; maybe we wouldn't be able to leave the country.  But on March 1, not even one case had been detected in our little corner of the world.  This was remarkable, really, as Bali, Singapore, and Australia had all reported cases; these are the only three portals of air entry into East Timor, and it seemed nearly impossible that the virus wouldn't have made its way in by then with regular travelers from China and Indonesia. 
Not until March 28 did East Timor shut its borders: land, sea, and airports all closed.  The major roads connecting rural areas to the capital, Dili, were closed.  The police and military enforced the lock downs, sometimes brutally, in the capital city.  In Lospalos, Clinic Imanuel shut its doors for a short time.  The local hospital stopped all routine outpatient care, and the midwives stopped the childhood vaccine program.  Clinic Imanuel did re-open in April, but only a handful of patients trickled in each day.  The government had raised the alarm for a public health emergency, and the people followed the plan. 
Between March and April, only 24 positive cases of Covid-19 were identified in East Timor.  Thousands of people were quarantined due to possible exposure.  But by early May, all 24 positive cases had recovered.  In fact, none of these cases was sick enough to need hospitalization.  The population was restless.  Some started to question the motives for the lock down, thinking the government was somehow getting financial gain through a sham pandemic scare while the vast majority of the population couldn't leave their homes to work or even buy vegetables.
Our family of four arrived in Minnesota on March 11 to a different world.  After four years of living in the tropics, with Simon's friends constantly playing in our yard, with strangers and friends always dropping by for some personal pastoral or medical need,  and then weeks of farewell gatherings, when we landed in Minneapolis, there was a bleakness.   A single Lutheran missionary friend arrived to meet us at the airport.  Our extended family had all chosen to wait until we had self-quarantined before visiting with us, though they lived right there in Minneapolis—and soon, they were glad they did. Our friend drove us to his home and gave us shelter in his basement apartment.  We ended up staying for two months instead of two days as we had initially planned, because of coronavirus. 
Shortly after we returned, Tom got a fever and body aches.  Our family did contract Covid-19: not in East Timor, but somewhere along the journey back to the U.S.  It may have been on an airplane, possibly in the Singapore airport, or in Doha, Qatar; most likely, in Europe.  Our illnesses were mild, and the kids had no symptoms at all.  
Our immune systems are quite robust from living in Lospalos, East Timor.  Perhaps our psyches, too, are more resilient from our life overseas in a place where there is no such thing as a "comfort zone."  In light of the situation we now find ourselves in here at home, we give thanks for our health, both mental and physical.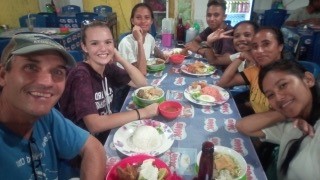 As I write this letter it is the end of May.  We have moved back to Duluth, Minnesota, where we are long-standing members of Peace UCC.  Another black man has been murdered by a white police officer, and Minneapolis is burning.  For months, everyone has been preoccupied, anxious and socially distant because of coronavirus.  Now, people are fearing for their lives from both an invisible microbial threat and the threat of outright violence.  
Just this week, we received a voice message from a dear colleague in East Timor, Rev. Juliana.  She said there is much fear in East Timor, not so much for coronavirus, but for hunger.  People can't go out.  People can't work.  And also, people fear the political instability in parliament.  "The government is thinking about party interests, not about the common people."  The Timorese government has promised the population that each family will receive $100 per month of lock-down, and they have entered month three.  To date, the funds have not yet been disbursed.  Fortunately, Global Ministries is assisting by allocating funds for pastors and needy IPTL members to receive food support.
Pastor Juliana's message described living amidst daily uncertainty for one's livelihood, for food, for health and personal security: uncertainties that billions of humans live with daily.  Yes, I mean billions of people.  For our family, the most profound lesson learned on mission in East Timor was this fact: that life is not certain, for any of us, ever.  Timorese people get this.  I am not African American, but I am sure that they get it.  The white American middle class has experienced a life of privilege, which has allowed too many of us to remain comfortably buffered from this fact. Until now, that is.
At the end of her message, Juliana mentioned coronavirus again.  She said that in bordering Indonesia, in the cities of Kupang and Atambua, there are many cases of the virus and many deaths.  As of now the land border is still closed, but with the virus so close, it may be only a matter of time before it slips inside Timor's borders, and starts a real fire. 
We continue to pray for friends in Timor daily, amidst the chaos here at home.  We know that place is fragile, just as we are.  But we humans also have great capacity for resilience,  for growth, and for compassion: our partners overseas show us this in so many places and in so many ways.  This is why we need them.
We were the outsider in East Timor for the last four years.  But our community of Imanuel Church and Clinic in Lospalos cared for us, fed us, and protected us within the larger community.  We have come back to the U.S. at a time where the values imbedded in the work of Global Ministries are absolutely critical to implement here in our very own land amidst the brokenness here at home.  Justice.  Community.  Presence.  Mutuality.  Peace.  We pray that God will continue to guide us in our next steps.
For the support you have given us over the past four years, we offer our deepest respect and gratitude. 
Tom and Monica Liddle serve with the Protestant Church of East Timor (IPTL). Monica serves IPTL at Immanuel Clinic in Lospalos. Their appointments are made possible by your gifts to Disciples Mission Fund, Our Church's Wider Mission, and your special gifts.