Mediterranean Hope – Newsletter July 2018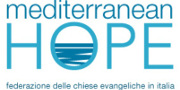 Paolo Naso (FCEI): "Against False Promises, We Are Called to Freedom"
We publish here below, the speech given by Paolo Naso on July 8 from Radio1 Rai for the column "Essere chiesa insieme" of the broadcast Culto Evangelico. Mr. Naso is the coordinator of the Mediterranean Hope – Programme for refugees and migrants by the FCEI. [Dr. Naso is also a member of the Common Global Ministries Board of Directors, representing the Europe region and partners.]
Germany, Rescuing at Sea: The Civil Society and the Churches Dressed in Orange
Rome (NEV), July 13, 2018 –We had enough with the indifference towards those who are in search of protection! We say yes to human migration policies! These, in short, are the claims of a petition launched three days ago by three members of the German "Kirchentag" Committee, the biennial event of the Evangelical Church in Germany (EKD).
Air-Sea Rescue. Crews Deadlocked in Malta: Pastor Rekowski (EKD) in La Valletta (Malta)
Rome (NEV), July 12, 2018 –The chair of the Advisory Commission on Migration and Integration of the Evangelical Church in Germany (EKD) pastor Manfred Rekowski, will travel to Malta to meet the crew members of both the German and Swiss vessels the  Sea-Watch 3 and the Moonbird respectively.
Humanitarian Corridors. New arrivals from Lebanon on 3 July
Rome, 2 July 2018 (NEV/CS26) – Several Syrian and Iraqi families fleeing the war will arrive from Lebanon, where they have been living for years under extremely difficult conditions. 33 people will benefit from this one-way trip, which will take them from Beirut to different regions of Italy via the Fiumicino Airport of Rome…
Lampedusa, the safe harbour. 31 Libyans have landed
Rome (NEV), 13 July 2018 – All 31 libyans who landed today at lunchtime in Lampedusa have been rescued. The group included 17 children, several women, one of whom was 8 months pregnant. Alberto Mallardo, social worker with the "Mediterranean Hope" Observatory of Lampedusa managed by the Federation of Protestant churches in Italy (FCEI) spoke with the NEV press agency.
Rome (NEV), 4 July 2018 – "Lo sguardo dalle frontiere" (A Look from the Border) is written by operators of the Federation of Protestant Churches in Italy (FCEI) for Mediterranean Hope (MH) – the Refugee and Migrant Programme. This week's "Sguardo" (Look) comes from Lampedusa and is described by Alberto Mallardo. The Iuventa returns to Lampedusa.