Mediterranean Hope – Newsletter May 2020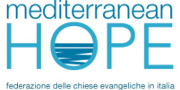 "Regularising" Migrants Is A Social Duty
Rome (NEV), 5 May 2020 – A "warm welcome" comes from Paolo Naso, coordinator of Mediterranean Hope, refugee and migrant program of the Federation of Protestant Churches in Italy, for the idea launched yesterday by Minister of Agriculture Teresa Bellanova for wide scale regularization of migrants – 600,000, according to press reports. "Farmers have for years complained about a labor shortage, aggravated by the Covid-19 crisis," he declares.…  Read more.
Piana di GioiaTauro: First Masks, Now "The People's" Sanitizer
Rome (NEV), 4th May 2020 – A new grass-roots solidarity project for migrants in the shanty towns of Piana di GioiaTauro in Calabria.   Hot on the heels of masks made by a network of activists and associations in Le Marche, in recent days the staff of Mediterranean Hope, migrant and refugee program of the Federation of Protestant Churches in Italy (FCEI), has , taken receipt of bottles of "solidarity sanitizer".  Read more.
Save Lives, Look After Public Health. Press Release from the Forum Lampedusa Solidale
SAVE LIVES, LOOK AFTER PUBLIC HEALTH The Forum LampedusaSolidale, which has for years been committed to working for the island community of Lampedusa, in the light of experience gained, is today asking for the health of everyone – resident and non-resident – to be looked after by means of a systematic approach and an effective strategy.  Read more.
Legalization, "I Was A Stranger" Campaign: Any Agreement To Be Shouldered Cannot Be Watered Down
We are once again witnessing what would simply be an embarrassing and ridiculous spectacle, were it not for the fact that at stake is the fate of hundreds of thousands of people already living in Italy who have been consigned to invisibility.  These are people who have to bear the price which living here without documents inevitably carries.  Read more.
Farmworkers' Strike, Mediterranean Hope: "An Important Signal"
  "Why Rights Don't Rot" 21st May 2020 Strike by the Unseen  FARMWORKERS' STRIKE – FCEI-MEDITERRANEAN HOPE: "AN IMPORTANT SIGNAL WHICH SHOULD ALSO REACH ITALIANS" Rome (NEV), 21st May 2020 – "It is not the work of the churches to adhere to or support a strike, because each must decide on the basis of his own judgment.  Read more.