One Year Later – We are still proclaiming #RefugeesWelcome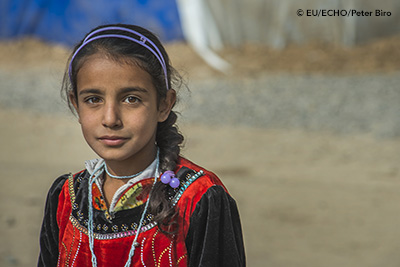 January 27, 2018 marks one year since the Trump administration's first refugee and travel bans were issued. This action went against our belief that as Christians we are called to love our neighbor, welcome the stranger, and help those who are suffering.
The Trump administration then set a historically low refugee admissions ceiling of 45,000 for this current fiscal year, down from 110,000 the previous year. Shockingly, this year, even this low target may not be met. According to the Refugee Council USA Monthly Report Card, at our current rate the U.S. will only resettle an estimated 15,000 refugees this year.
Now, one year after the first bans were issued, we're in a critical moment.
Courts have repeatedly blocked various versions of the bans, but parts of both the most recent Muslim ban and refugee ban are being implemented. President Trump and his administration have engaged in a systematic dismantling of our refugee resettlement program, and we're already seeing the painful human impact of these attacks. Trump's historically low refugee quota, multiple refugee bans, and efforts to halt family reunification are hurting our families, our congregations, and our communities.
We must rise up against discrimination and send a continual, powerful message to the administration and to Congress: We oppose the refugee and Muslim bans. We support refugee resettlement. We demand that the U.S. welcome each and every one of the 45,000 refugees we promised to resettle this year and we want to increase the quota for future years.
Send a message to your members of Congress to say you welcome refugees and want to see the U.S. continue to be a leader in humanitarian protection and refugee resettlement.
You can also:
Donate to Global Ministries projects that support refugees
Download the Church World Service No Muslim Ban, No Refugee Ban Week of Action Toolkit
Join the We Are All America Campaign. We Are All America is a coalition of immigrants' and refugee rights groups working to uphold and strengthen our nation's commitment to welcome and protect those seeking freedom, safety, and refuge in the United States. The We Are All America campaign officially launches January 27, 2018. Find out more at weareallusa.org.
Send a postcard to your member of Congress. Sign this electronic postcard or print off hard copies and have people sign them at an event. Encourage your friends, family, coworkers, and social media networks to sign and spread the word.
Hold a public event to lift up impacted refugee community members and push back on the latest refugee ban. Don't forget to put your event on the map & find an event near you at nomuslimbanever.com and www.weareallusa.org/events.
Amplify your message through social media. Post on Facebook and Twitter using #NoMuslimBanEver #RefugeesWelcome #NoBanNoWallNoRaids #WeAreAllAmerica #WhereRTheRefugees #GreaterAs1.