Peki/Blengo, Ghana
In mid-March Debbie and I returned from a trip to Accra to renew our work and residency permits.
Covid-19 was just beginning to bring changes to Ghana but little did we know it would be eighteen weeks before we could return to Accra. We have each written about life in Peki/Blengo during the time of isolation. Slowly, restrictions are being lifted. In this letter I want to share some of what we experienced on our return to Accra the last days of July.
The trotro, a fifteen passenger van which is our transportation to Accra, was only partly filled. This was not exactly social distancing of 2m but much better than the usual seventeen crammed into the well-worn seats. Everyone was masked. There had been some road work done that made the ride a little more comfortable and traffic was down about a third.
As we arrived in Accra, we noted all of the taxi drivers wore masks and we estimated 80% of those on the streets were as well. Our temperatures were taken upon entering our hotel and masks were worn when not in our rooms. The dining area was closed. The delicious breakfast buffet presented each morning was replaced. A breakfast order form was slipped under the door each evening to be completed. Breakfast was brought to the room at the requested time the following morning. The pool, bar, and recreation area around the pool were closed but we were able to sit at the tables and enjoy the evening breeze coming from the ocean about a 1km away.
In the room was a notice of instructions informing us of the requirements should we be residents of the hotel during a fourteen day quarantine. Among the items was a note not to leave the room and the limits placed on servicing the room.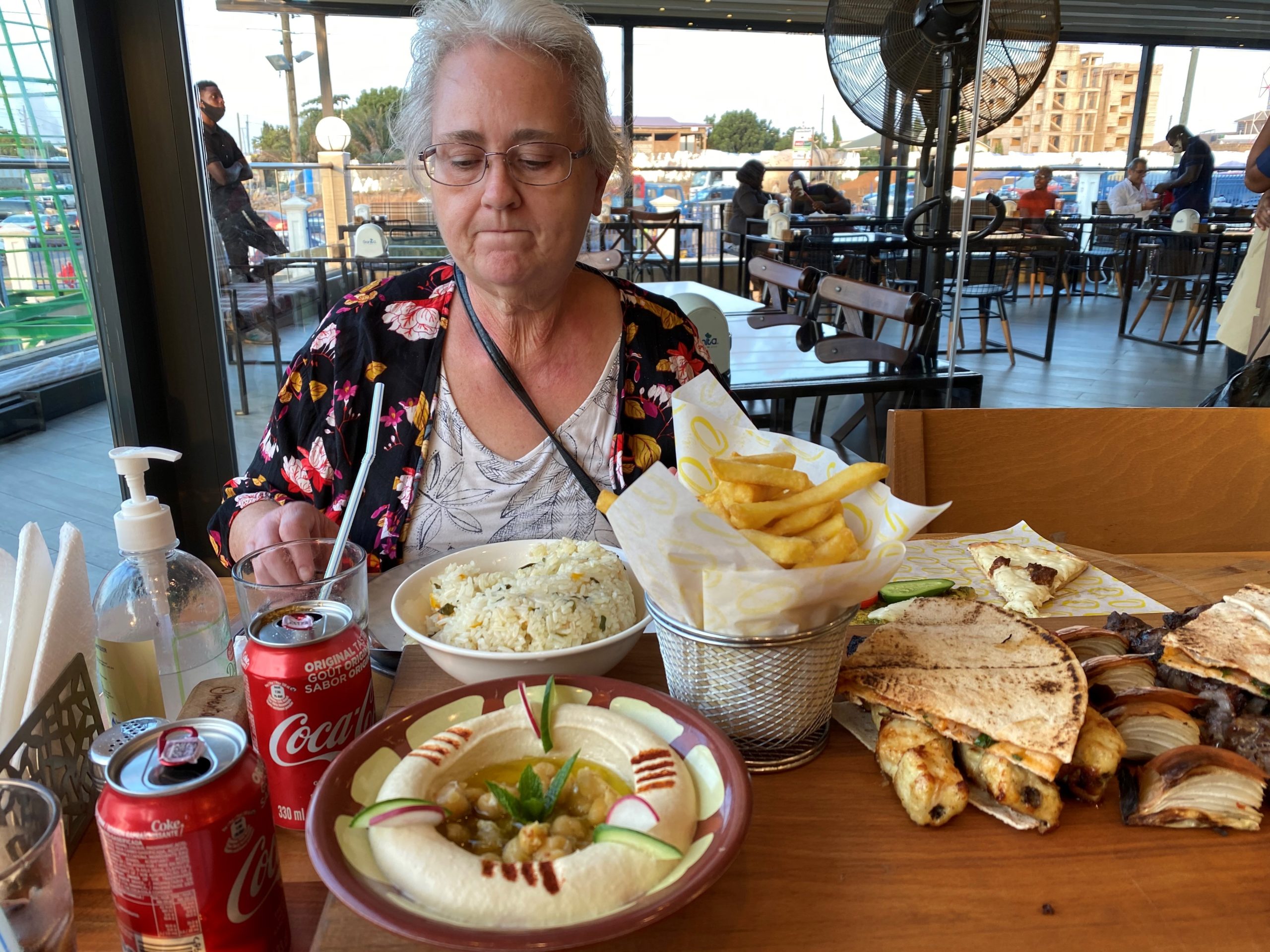 We dined at a Lebanese restaurant our first evening. Upon entering we were given hand sanitizer. Social distancing was observed and several times during our meal, the wait staff washed-down the tables. The flatware came sealed in a plastic pouch.
Masks were required in all shops and public facilities. Many also required hand sanitizing upon entering. This was the case even within malls that had had precautions at the main entrance. One mall required a temperature check, hand washing, and a pass through a dry spray. (We are not sure what the spray was.) One grocery, in addition to masks and sanitizer, provided gloves to be worn in the store. Some stores limited the number of customers.  I noted all benches in the malls had been removed to prevent congregating.
We found shortages of items in some of the shops and were not able to purchase some of hoped for items. (Toilet paper is in plentiful supply.) It was difficult for us to determine if the shortages were because of the strict limitations on border crossings or just the usual way of life in Ghana. Be that as it may, it was nice to be able to purchase some of the foods and other goods unavailable in our local shops. In an email to a friend I shared our excitement to enjoy a bowl of cornflakes.
Larry Colvin serves with the Evangelical Presbyterian Church, Ghana. His appointment is made possible by your gifts to Disciples Mission Fund, Our Church's Wider Mission, OGHS, and your special gifts.