Pots and Stew in Usme
Alex Maldonado-Lizardi and Xiomara Cintron-Garcia serve with Justapaz in Colombia.
Elisha went back down to Gilgal. There was a famine there.
While he was consulting with the guild of prophets,
he told his servant, "Put a large pot on the fire
and cook up some stew for the prophets."
The stew was then served up for the men to eat.
They started to eat, and then exclaimed, "Death in the pot,
O man of God! Death in the pot!"
Nobody could eat it.
Elisha ordered, "Get me some meal."
Then he sprinkled it into the stew pot.
"Now serve it up to the men," he said.
They ate it, and it was just fine — nothing wrong with that stew!
-2 Kings 4. 38-41 (MSG)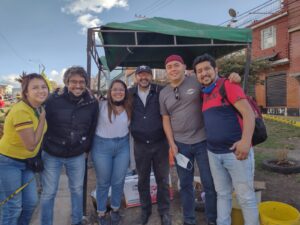 Few prophets knew what to do with stale soup like Elisha. The Old Testament prophet also knew how to fix water that was harmful to the body and make bread last when it seemed that there would not be enough.
On the other hand, just south of Bogotá, lives "Diablito" who is not a prophet, but he does know how to make "sancocho" (a traditional stew). He dresses better than the biblical prophets, has children and a girlfriend, and works as a construction foreman in his neighborhood. He does not attend church on Sundays, but he cooks very well, especially when feeding many people. And since March of 2021, there have been plenty of people to feed. In Usme, the 5th locality of the Capital District of Bogotá, Colombia, many people have been protesting the tax reform and advocating for a basic income. Also, they have been protesting as Colombia reported an average of 500 daily deaths from COVID. We could witness the protests on what was previously called the Santa Librada Bridge.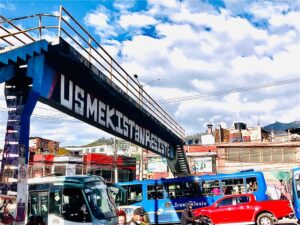 Most of those who gather around the bridge are young. Some of the young people there have barely finished their bachelor's degree, and others have not even completed the first years of secondary school. The lack of resources and local access to study threatens to reduce their opportunities. Some of them became parents at an early age, and, unlike "Diablito," many have not yet learned to cook well. But since March, they have organized around the gnawed city bridge and protested. They cover their faces with old t-shirts and wear fashionable clothes, as if they haven't been protesting now for several months. It is almost casual. They play music, sing slogans to the rhythm, paint the bridge's walls with graffiti and motifs. "The struggle is a collective poem," "We are the sons of Gaitán," "Usmekistan Resiste," and "Bridge of Dignity" were some of the messages they wrote on those walls. Yes, sometimes they block the main avenue with trucks and garbage cans, and some nights they have faced the police and the swat teams (ESMAD), but they also prepare community meals. Chocolate and "sancocho" for everyone.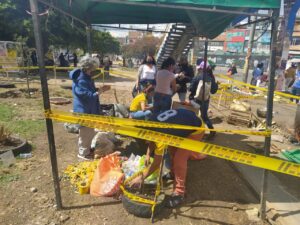 They do not use their proper names "for safety," they said. "So, if someone is caught, no one can give names." "Diablito" is one of those aliases. He came to cook but was late. "I came from a construction site up there …" he said while pointing to the hill in the city, smiling, without looking. There are at least 1,000 brick-and-block structures on the mountain, many half-built. Very high up, a group of houses unfurls a gigantic flag of Colombia, painted all over its walls. "I always come to cook … they don't know how," he jokes, taking off his coat in front of the hot pot. He wears a blue striped polo shirt, cap, and a chain with a vast cross. We are from the Caribbean. We stay close to the pot and don't take off our coats. "Diablito" asks us to take pictures of him cooking.
Every September 21, since 2002, Justapaz and the Mennonite Christian Church in Colombia celebrate Pan y Paz (Bread and Peace). It is "a joint effort of people, churches and institutions that … testifies to the relationship between economic justice and peace within the framework of respect for the dignity of men, women, and children." It is their response to the "International Day of Peace, Nonviolence, and Ceasefire," the UN's initiative to remember and strengthen human commitments to the "ideals of peace and alleviate the tensions and causes of conflict in nations and peoples…". In general, they organize walks during this day. They share news and hold liturgical events and concerts. During the concerts and religious events, they distribute bread and drinks to those present and passers-by. "More bread, fewer bullets," says one of the flyers we shared around the bridge.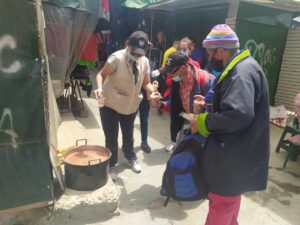 María Esther is a sociologist, Andrés a lawyer, and both work with young conscientious objectors through Justapaz. They use their proper names and go shopping early in the morning in Andrés' car. The groceries barely fit in their bags: carrots, fresh chicken, green plantains, chopped celery, chives, coriander, corn on the cob, garlic, pepper, oil, milk, chocolate, bread, soft drinks, water, juices, huge bags with yucca, potatoes, and squash. The car, which Andrés has only had for a month or two, now smells of fresh soil and dirt. Today, bread would not be the only food distributed, and it is no longer September 21st. It's October 2nd.
On the 21st, there were too many police in the area. Although the strike days had waned by July, activities resumed on the 28th of every month. On the 21st, the police set up in various points of the Santa Librada neighborhood which was filled with protesters, the police set up in shops, and accessed the rooftops of buildings and residences with nationally manufactured weapons. Pan y Paz was postponed for safety. Over 2,000 people participated in the demonstrations that day. 300 in Usme.
The National Strike began on May 28, 2021. But according to data gathered from Temblores ONG, between April 28 and July 15, 2021, at least 4,852 cases of police violence occurred. 1,661 of those cases were victims of physical violence by the police; 2,053 cases were arbitrary arrests against protesters, and in 228 cases, young people were shot with firearms. Around 90 of those were shot in the eye with rubber bullets. We met two of them that morning, handing out hot chocolate and bread to policemen under the bridge… one of them only had one eye.
The May statistics alarmed the international community. Global Ministries collaborated by connecting several international Human Rights delegations with Justapaz to visit Colombia. Together, they walked different municipalities in Bogotá and Cali. In Usme, Justapaz helped consolidate an ecclesial bond with the "Iglesia Menonita – Dios de Paz." Both organizations facilitated strategies and dialogue dynamics with the protester's front lines to coordinate public actions as an expression of active nonviolence. Other organizations joined in. They coordinated workshops on human rights, arranged shelters for young people persecuted by the police, and organized spaces for dialogue with international delegations. Revolted young people, full of bruises and smiling, received first-aid kits, protective glasses, and overalls. A Psalm helped to comprehend the protesters' voices: "O God, do not keep silent; do not be still, do not be quiet! … They are making secret plans against your people; they are plotting against those you protect. "Come," they say, "let us destroy their nation, so that Israel will be forgotten forever." They agree on their plan and form an alliance against you…" (Psalm 83: 1-5).
In those days, two girls from the Mennonite Church in Usme came out to protest. They had shields hooked on their arms to cover themselves from the gas cans and rubber bullets of the police and ESMAD. In their backpacks, they carried snacks and some first aid remedies. One of them, Mayra Rosero, 22 years old, had just finished her studies in social work. She is the youngest of her siblings and is active in her church. Like many of her colleagues on the street, she was jobless and angry about the reforms. "They have taken everything from me," she said when we talked on the bridge. "I have nothing to lose."
Patricia Rosero is the previous pastor of the church. She travels the neighborhood in a wheelchair, and her voice makes everyone tremble with affection. Months before, she worked with Justapaz to arrange the accompaniment processes in the locality, providing listening spaces for the frontline people in the church. Church women like Andrea Santamaría and Aida Rosario attended these actions. In the afternoon, "Pastora Patricia" preached among pedestrians, church brothers, frontline youth, and the police. She promotes the church as a sanctuary of peace, with brigades of medical, psychosocial, and legal assistance. A church that does not say yes, no less, no. She cares, accompanies, and strengthens the knees of the young people who fall tearing their jeans.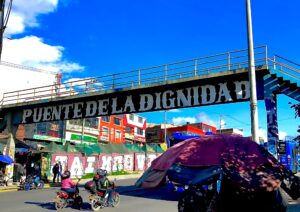 On one occasion, Pastor Andrés Suarez and "Hermana Aida" handed "Diablito" pots, vegetables, and chickens. Protesters on the front line that day did not have to defend themselves. They shared bread and chocolate with passers-by and prevented people from stepping on the orchards they had made near the fire pit at the foot of the bridge. "That bridge has been deteriorating for a long time," they said, and the community has been denouncing it for the same amount of time. Ever since the "Paro," the bridge has served as a rallying point. Youngsters, hooded and without first names, baptized it as the "Puente de la Dignidad" ("Bridge of Dignity"). But recently, the mayor's office came to warn that they were planning its demolition. On one side of the bridge, there were dozens of shops, and tents full of merchandise, On the hill, popular neighborhoods guarded the avenue in perpetual vigil. It was Saturday and payday. Nobody wanted altercations. When crossing the bridge, going down the stairs, there are protesters and a pot. The police passed, asked questions, and there were altercations. Laura López, one of Justapaz's lawyers, stopped chopping potatoes and intervened. She took notes and made calls. There was calm. We returned to the pot to cut plantains, chicken, garlic… We cut our fingers with the knives we were using and discovered that we did not know how to prepare plantains or chickens. Accompanying communities requires cooking or at least trying to, like Elisha.
While we shared coconut lemonades in one of the businesses near the bridge, the director of Justapaz, Martín Nates, told us that, between 1990 and 2003, the FARC guerrillas numbered thousands of men and women. On more than occasion, they arrived at the southern town of Bogotá. This revolt still echoes in the fractures of the city. But for Martín, the accompaniment that faith communities provide does not dismantle the youthful momentum of the protest but rather articulates it within the "barrios" and towards their hearts.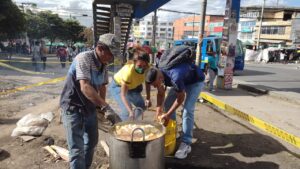 Gloria Laverde, a psychologist for Justapaz, showed us later that "community pots are the symbol of 'Mujeres medicina' ("medicine-women"), who, with their hands and actions, feed the soul and body of a broken society." In scarce times violence, distrust, and despair may seem like the only route, and many would close their homes, and the possibilities for affection and care. But the way of Elisha is the way where pots and stew help communities discover new liturgies in the midst of famines. They help foster the memory of communion out of what little we have, like from a "sancocho" bowl. It is in the vast spirituality of the kitchen that we build hope during political hardships, reminding us of our human tenderness while we eat even when we don't agree. "Diablito" and the young ones, in full social protest, take a part in that hope.
Alex Maldonado-Lizardi and Xiomara Cintron-Garcia serve with Justapaz in Colombia. Their appointments are made possible by gifts to the Disciples Mission Fund, Our Church's Wider Mission, and your special gifts.