Presence in the Face of Injustice
Presence provides a bold vision of togetherness.
In many cases the most powerful witness we can offer partners
is the willingness to share personally in their times of challenge and joy.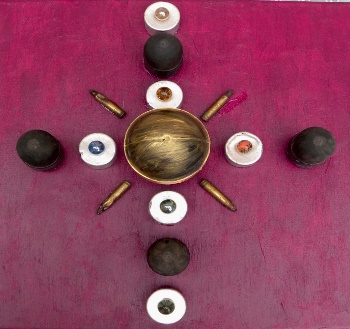 I returned to Israel/Palestine at the end of August for an extension of my service with our partner the YWCA of Palestine. I came back to a Jerusalem invigorated by its nonviolent victory against surveillance cameras at the entrance of Al Aqsa Mosque. However, as we moved into the season of olive picking and the Jewish High Holy Days, the triumphant mood quickly shifted back to the dull despair of living under one of the longest military occupations in modern times (51 years) and the tragic 70th anniversary of the Balfour Declaration and its disastrous effect on the Palestinian people.
In Sheik Jarrah, the neighborhood of the YWCA of Palestine, I witnessed the Shamsheh family losing their seven-year court case to stay in their home and be evicted (see link to Thrown Out). Shortly afterwards, Beit Gemal monastery was vandalized; its altar smashed and the faces of Jesus and Mary knocked out in their stain glass windows (see Vandalized Again).  I made a solidarity visit to the monastery and was given pottery shards from the sisters to make an art piece as a way to call attention to these ongoing attacks on Christian holy sites.
In November, I attended the trial of young man who had been killed by live ammunition at a demonstration three years ago. The soldier was now on trial for "negligent use of his weapon" not manslaughter. I went in my clerical uniform to let the family know that Christians cared about them. While taking a seat in the crowded courtroom, the CNN filmmaker who caught the murder on film asked me, "Why are you here?" Without hesitating, I said. "To be with the family and for justice." As it turned out, it was more about witnessing injustice as this Palestinian family confronted the legal powers that were bent on protecting the soldier and not the rights of an unarmed youth to protest.
Nothing prepared me, however, for the devastation of President Trump's declaration that Jerusalem is the capital of Israel and that the United States would thus shortly move its embassy. The impact of this blatant disregard for international law and the end of the two state solution was palpable. I wrote a briefing on the situation for the Joint Advocacy Initiative.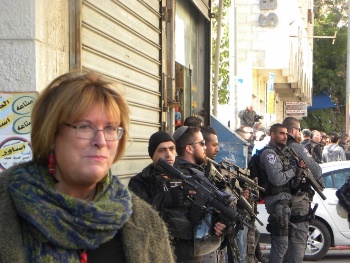 The air was tense and expectant. There were a few street skirmishes at Damascus Gate and on Saladin Street but no uprising as some had either expected or hoped for. This could be because nightly raids were at a high locking up youth who had demonstrated during the summer and Israel was focusing on passing new legislation to penalize dissent and annex its illegal settlements. Whereas there were the usual calls for days of rage, Jerusalemites remained cautious and disengaged waiting for the Palestinian leadership to provide a vision for the future. They are still waiting.
In January, a courageous 17 year-old was caught on film (by her now imprisoned mother) slamming an Israeli soldier who had just invaded their home. The film went viral and led to Ahed Tamimi being detained along with about 350 other illegally detained youth.
And now it is olive planting time, and in spite of all the rumors of a coming war here and to the north, almond trees are blossoming and fields are being planted.  The YWCA of Palestine is welcoming new staff and planning an international conference for youth in the fall.
I am a witness also then to not only these difficult times of suffering but to moments of joy as Palestinians struggle to keep hope alive through their plantings and preparations for a future where their young people can live with dignity and freedom.
From Jerusalem,
Loren
Loren McGrail serves with the YWCA of Palestine. She helps identify international partners, and relevant sources of funding. Her appointment is made possible by your gifts to Disciples Mission Fund, Our Church's Wider Mission, and your special gifts.