Evangelical Lutheran Schools
Israel-Palestine
With the hope of promoting peace in the Middle East, Global Ministries is partnering with the Evangelical Lutheran Church in Jordan and the Holy Land (ELCJHL), which is part of the global Lutheran family, and is comprised of six congregations in Jerusalem, Palestine, and Jordan. The ELCJHL traces its origin to the middle of the 19th century when German and English Evangelical Christians came to Palestine to support the Christian population in the area through diaconal and mission work. Their activities were many and were channeled through a variety of organizations and institutions. The ELCJHL advocates for a just peace and a two-state solution.  They are also actively engaged in ecumenical and interfaith dialogue, recognizing that an end to the Israeli/Palestinian conflict is essential to create real possibilities for economic growth for all.  They also work to ensure education for Palestinian children, both Christian and Muslim, and have made education the highest priority.
Currently, the ELCJHL operates four K-12 Schools and three educational programs within a Christian ethos. These schools have a long history of service to the Palestinian communities, dating back to the foundation of an orphanage and educational program for Arab girls in 1851. This was the first education program for the female youth of Palestine. Today, the four schools are providing a quality education for more than 2,000 students with the help of nearly 200 full- and part-time faculty and staff, in the cities of Bethlehem, Beit Sahour, Ramallah, and Beit Jala.  The ELCJHL schools serve the youth of their communities, regardless of gender, race, religion, or ability to pay.
Gender equality continues to be an emphasis of the ELCJHL Schools, with all students learning together in a co-educational framework in which approximately 44% of students are female and 56% are male.  Peace education, respect for other religions, the challenge of extremism, and education in non-violent practices are also major emphases of the ELCJHL Schools. Muslim and Christian populations are both present in the school community. On the whole, approximately 52% of ELCJHL students are Christian and 48% of students are Muslim.  The schools offer a robust amount of enrichment opportunities, including the study of the English and German languages, music, drama, and dance.  The Evangelical Lutheran School in Beit Sahour now offers a Special Education program in order to provide for individual differences and to assist in integrating students with special needs and/or disabilities, such as physical disabilities and visual and hearing impairments, within the school and community.  There are currently 25-30 students in the Special Education program within grades 1-5.
Gifts for the Evangelical Lutheran Schools in Jordan and the Holy Land will provide tuition assistance for students.  The total cost of tuition per student is $2,200 each year.  On average, a family pays only one-third (1/3) of the total tuition bill.  Assistance is calculated by financial need and provided without bias of the student's religion or gender.
Click here to watch an update, appeal, and prayer related to the ELCJHL schools in a time of COVID-19.
Click here to watch a video of the ELCJHL's work with youth through the Evangelical Lutheran Schools.

Support this Ministry
To make a gift for this ministry online or by check use the online donation page.
100% of your gift will be directed to Evangelical Lutheran Schools
You will receive updates on the work in this area as they become available
Share in the vision of God's abundant life for all people
---
Related Content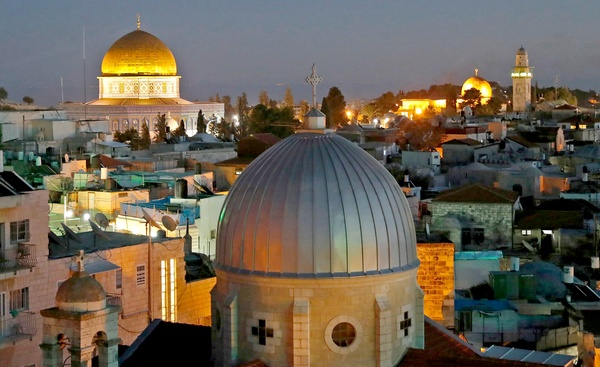 Ahead of his meeting with Israeli Prime Minister Benjamin Netanyahu, which took place last week...
Read More