Ons Plek
South Africa
Click here to read the latest update
"A place for us!" was the delighted response of Cape Town's invisible street children, the girls, when Ons Plek (Our Place) project opened for them in 1988. Ons Plek is the only intake shelter just for girls in Cape Town. The girls' basic needs of food, clothing, shelter, education and love are provided. Once the children have crossed the threshold into Ons Plek they are not here as street children, but as children who are looking for a new place in society. They are not looking for an identity as former street children either, but want to be seen as ordinary children. For them Ons Plek is not a project for female street children, but a place, OUR PLACE, where 'sifunda ukuphila' – we learn for our future lives.
Each year around 150 girls between the ages of six and 18 leave home to fend for themselves on the streets of Cape Town. The girls usually have left their homes to escape physical abuse and neglect, or they have been sent away when their families can no longer support them. The girls report that they eat better on the streets than they do at home. These female street children are the poorest of the poor. The girls are a minority group on the street–an average of 12 percent of street children are girls. They have the lowest status at home and on the street.
To these girls Ons Plek provides accessible early intervention and intake 24 hours a day. Girls are referred to Ons Plek shortly after arrival to the Cape Town Central Business District. Ons Plek provides the girls with a safe environment and shelter, while providing appropriate programs for the girls based on an assessment of each girl's circumstances.
The work of the three main facilities is all interlinked. The three programs integrate to form a whole. Ons Plek's levels of care included the intake shelter doing comprehensive assessment and development care, Siviwe, a second-phase shelter focusing on therapy and development, and Ukondla, a community project with the goal of keeping girls in with their families and prevent their move to the streets. Ukondla focuses on homework help realizing that girls often drop out of school as a precursor to "dropping out of home."
Family reunification is one of the primary goals of Ons Plek, unless the circumstances make it inappropriate. It may take months or even years to make a home placement work. Initially, while girls adjust to a structured environment, Ons Plek social work and childcare staff interview families and investigate home circumstances. They assist families in carrying out their responsibilities to their children and may hold family meetings and family building sessions with the families. On average, about half of the girls go home each year, some returning to the home they left after counseling and discussion and with the support of Ons Plek. Others are placed into homes with other family members or appropriate foster families.
Girls in the Ons Plek program gain a sense of responsibility through making household decisions and rules together with staff as well as participating in household duties, such as cooking, nutrition, and budgeting. This contributes to a healthy self-image and feeling of belonging which are both crucial to girls' willingness to engage in problem solving with their families and/or communities.
After developmental and scholastic assessment, the girls are placed in the educational program that best suits their needs. Most of the girls experience developmental 'gaps' due to poverty, neglect, social circumstances, physical, emotional, and sexual abuse at some stage in their personal history. They often experience many barriers to learning. Very few girls who come to Ons Plek are ready to return to formal schooling immediately; and, for some, no suitable formal educational options exist.
In the informal education sessions, the school support teacher and volunteer teachers reintroduce educational activities to the girls who may have not attended school for some time. The girls call their class Morning School, representing the dawn of their new start in life. Classes focus on cooperation and other skills necessary for a successful return to formal education.
Activities at Ons Plek are available every day of the year. Baking, crafts, visits to museums, and traditional African story telling sessions are examples of activities available to girls who do not go home during the holidays. The counseling program continues to aid the emotional health of all the girls, which is crucial to the success of the girls' interactions with family, employers, and teachers.
Update 2013
Ons Plek continues to face many challenges. One of the new challenges concerns home visits. Home visits constitute an integral part of the Prevention Program of Ukondla and Ons Plek considers it as a part of their social responsibility to the community of Pilippi. The Program at Ukondla is a community project with the goal of keeping girls in with their families and prevent their move to the streets. Ukondla focuses on homework help realizing that girls often drop out of school as a precursor to "dropping out of home."
A home visit is carried out if a parent applies to have his/her child attend the program. Not every child can be admitted to the program. Staff visit the child's home to find out more about him or her. If they are found to be at risk, then they qualify to be in the program. This means their parents may both be gone most of the time and the child is left alone and at risk of roaming the streets, or there may be a history of neglect because the parents are always fighting with each other. Other home visits are done when a child has been admitted to the program and staff would like to strengthen the relationship with the parents. If a child is ill or one of the parents is ill, or if there has been a death in the family, staff also will do a home visit to show support for the family. A home visit may be made if a child is viewed to have a health problem that could be a detriment to the other children in the program. Parents can be advised to take their child to a clinic of hospital for treatment. A member of the staff may accompany the parents and child when seeking treatment.
These home visits can get contentious due to the incidents of violence which is so rampant in the area. Staff have been caught in the cross fire, not once but on several occasions, when rival groups are fighting each other. Parents often work late and staff must then forego their own family time to do the visit. Some homes are little more than shacks with no addresses and this can make it very difficult to locate them. There also are instances where the visit is a failure due to lack of information from a parent who will not cooperate with staff. Despite these obstacles, home visits are essential. At Ukondla, these visits provide staff with the information they need to help the children attending the program.
Update 2015
Global Ministries is pleased to share the latest update from Ons Plek.
Family Reunification Program
Family reunification is one of the core functions of the work at Ons Plek. In some cases it requires months or even years of painstaking work to make a home placement possible. During 2014 59 children were helped through this program. Ons Plek staff found that the children were far more difficult than usual and acting-out increased in some situations as external professionals worked together with Ons Plek staff on certain cases. Ons Plek resolved this challenge by drawing up a detailed contract for treatment between all parties, and the bad behavior became more manageable. Considerable time was also spent clarifying this role with other service providers, such as schools, resulting in a different intake procedure to meet these new challenges.
A number of adults who were homeless with young children were also helped. These adults had been forced to leave abusive homes and needed a few nights of shelter while new facilities were found for them.
It is the core aim of Ons Plek to reunify children with their families. The number of children that Ons Plek was able to facilitate ultimate reunification increased in 2014 from eight the previous year to 21. Four children were transferred to other Child and Youth Care Centers. Seventeen children were in care with Ons Plek at end of the year. Of these 17, eight were long-term residents that are unlikely to ever return home.
The use of drugs and an attitude of 'we have rights' without an understanding of responsibilities to balance this is the reason many children are rejecting any authority or guidance, running away from home and running also away from the help provided by Ons Plek. This was the case with 15 children this year that refused help.
SOCIAL SKILLS PROGRAM
House meetings took place as determined by household needs. During these meetings the girls learn to practice listening skills, respect each other's opinion, and share ideas in an accepting and non-judgmental way. The girls attend church where they interact with the community and experience a sense of inclusion and acceptance. Groups were held to educate the girls on positive ways to deal with people in their lives and to gain self respect. Topics included body change and growth, good relationships/bad relationships, teen pregnancy, contraceptives and HIV/AIDS. The girls also were trained in job interview skills and budgeting skills. Ons Plek endeavors to prepare children as they enter young adulthood.
EDUCATION PROGRAM
Girls attend formal and informal schools after attending the initial bridging program 'Morning School' while their education abilities are assessed and they learn to re-adapt to routine and structure and gain confidence in their abilities. Twenty-three girls participated in "Morning School" The girls that moved on to attend formal schools also attended the home-work program every afternoon. Twenty-eight girls were in formal school during this year.
VOLUNTEER PROGRAM
This year Ons Plek continued to make intensive use of local and international volunteers (13) and student interns (5). These volunteers worked part-time or full-time for periods ranging between three and ten months. They provide a range of activities, including teaching and tutoring in computer skills, reading, art, drama, education, leadership training, swimming, and baking. As many of the girls were in formal and informal school, the volunteers also worked hard at supporting the girls who were in school.
PREVENTION PROGRAM
In addition to the overall strategy for dealing with girls vulnerable enough to dwell on the streets rather than in their homes, three prevention programs are provided by Ons Plek in the Philippi community to preserve families. Because children often drop out of school before they drop out of home, a homework support program, coupled with counseling for parents and children helps them stay in school.
In Ukondla, a group of approximately 27 children at each of the three Ukondla schools attended homework support, enrichment programs and weekly counseling sessions. Ons Plek staff members regularly visit all the children's family homes, and their parents are now very supportive of the program.
Update: May 2020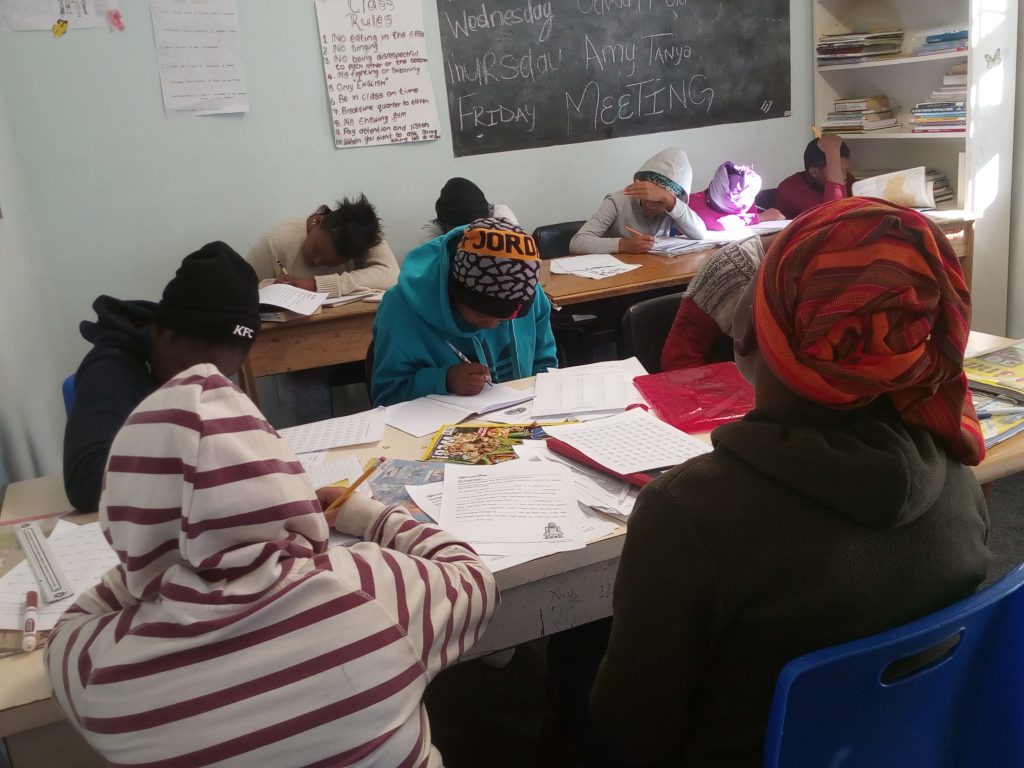 In the last year, Ons Plek housed 56 children, and offered counseling, education, health care, and legal support during court cases. One new program was created to assist young adults in Cape Town, who are migrants who are ages 17-24, from across the African continent, including current young women from Namibia and Angola. Migrant young women are arriving in Cape Town without family or support, and Ons Plek has started to provide new programs for their situation. Understanding the difficulties associated with life as migrants and special difficulties and traumas experienced by young adults, Ons Plek seeks to go the extra mile to provide support and assistance as available. To demonstrate the realities of children placed in the care of Ons Plek, they have shared several stories.
Story #1
One child has been living at Ons Plek for three years. She attends school daily, and participates in a job shadowing program on the weekends, which she attends enthusiastically. Recently at school, she raised the topic of human rights, in response to bullying at the school. Through collaboration with the principal at the school, the school created new actions to prevent bullying at the school.
Story #2
One young woman at Ons Plek recently completed school. In addition to attending school, she participated in the homework program, life skills program, and received trauma counseling. She continues to not have any contact with her family, who lives in another country. Ons Plek has attempted to repair the relationship with her family, but her parents are not well and unable to speak with her
Story #3
Out of an emergency measure, one child was placed at Ons Plek after receiving abuse at home. She also attends school while living at Ons Plek, in addition to participating in the homework program, life skills program, and receiving trauma counseling. Her younger sister and brother have been vulnerable to abuse at home, but Ons Plek was not able to arrange for their stay at the home. After extensive discussions with state social workers, Ons Plek was able to provide clothing and meals for the younger siblings. Eventually, Ons Plek was able to arrange for all three children to be placed in a similar home and receiving similar care while living together.
Update: December 2022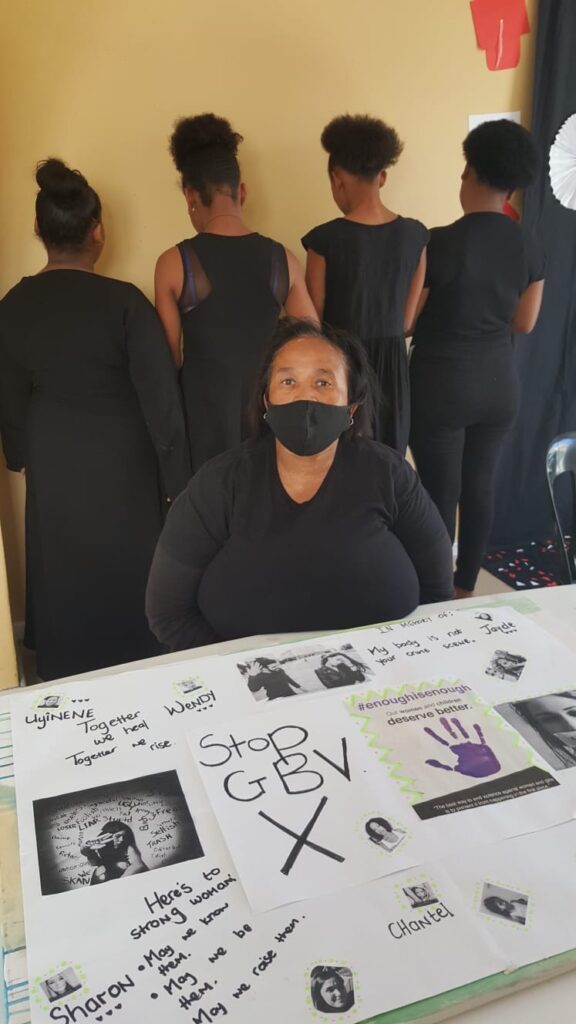 One recent project at Ons Plek focuses on raising awareness about Gender Based Violence (GBV) and sharing prevention strategies. In the last year, Ons Plek had seven group sessions on GBV with teenage girls living in the Ons Plek shelter. Additionally, they hosted four community sessions for parents and young girls on how to talk about GBV at home, myths and challenges, different types of GBV, and solutions to end GBV.
Ons Plek highlights through the project, girls now have a broader understanding of GBV, and they are able to recognize GBV in their personal lives and in the lives of their family members. Another highlight shared by Ons Plek is that they can see the girls are starting to feel more comfortable addressing and discussing these topics in the shelter. 
Support this Ministry
To make a gift for this ministry online or by check use the online donation page.
100% of your gift will be directed to Ons Plek
You will receive updates on the work in this area as they become available
Share in the vision of God's abundant life for all people
---
Related Content

Today, on the 7-month anniversary since the outbreak of war, 50 Sudanese and international civil...
Read More