Relief for Displaced Syrians
Syria, Jordan, Lebanon, and surrounding areas
Click here to read the latest update
More than 12.5 million Syrians have been displaced from their homes since 2011, five million of whom have sought refuge in neighboring countries. Most all of them have witnessed intensifying violence and endured the loss of jobs, homes, and loved ones. Too often they also have lost hope for the future. The number of people displaced greatly surpasses earlier United Nations estimates and has left relief organizations struggling to keep up with the scope of the ongoing crisis.
Children are experiencing and witnessing appalling violations. Boys and girls are routinely injured, maimed, and killed. Thousands of children have been injured or forced to leave their homes. The use of heavy weaponry, including air strikes and more recently chemical weapons in densely populated areas, creates fear and trauma, especially among young children.
Global Ministries partner, the Greek Orthodox Initiative, located in Amman, Jordan has seen the impact on children, and has begun to respond. The ongoing crisis will have long-lasting impacts on children who have missed educational opportunities as a result of being displaced. Many children found themselves isolated in refugee camps in unfamiliar places. Global Ministries partners have responded with summer schools and other educational opportunities. However, these projects are only sustainable with outside support, as the displaced families do not have reliable sources of income to pay school expenses.
Another partner serving refugees noted that as the number of refugees increases, the cost of basic goods increased rapidly. The funds that would have provided basic support to 500 families at the time they were requested were only enough to assist 350 families. The people of Jordan also have been offering food and shelter to the refugees as they are able, but the rising costs have affected their ability to provide for themselves.
As the conflict continues to affect individuals and families in new ways, Global Ministries is working with a number of regional partners to find meaningful ways to respond. Given the ever-changing nature of the crisis, Global Ministries offers this opportunity to give in order to address the needs, which also allows for the flexibility needed to react to the most pressing concerns.
Food, shelter, warm clothing, and trauma care are being provided through the following partners, in the countries and places noted:
The Fellowship of Middle East Evangelical Churches; Syria
The Forum for Development, Culture and Dialogue; Syria
The Greek Orthodox Patriarchate of Antioch and All the East; Syria
Middle East Council of Churches/Orthodox Initiative; Jordan
National Evangelical Synod of Syria and Lebanon
All gifts to Global Ministries designated for Syria Relief will be used in their entirety to assist the displaced people of Syria (both refugees in neighboring countries and those displaced internally in Syria) and will be directed by the Middle East and Europe Office of Global Ministries to the efforts most in need.
$25 can provide school supplies and a uniform for a student
$75 can provide food and hygine items for a family
$150 can provide transportation for a month for volunteers
$500 can provide medical supplies for camp clinics
Update: February 2017
Orthodox Initiative
The Orthodox Initiative, through their program "We Are Present", carries out three relief efforts to assist refugee families in three different areas of Jordan. The Orthodox Initiative provides parcel distributions at refugee camps along the border of Jordan and Syria, they provide direct relief assistance for families in Amman based on individual family needs, and they have provided cash assistance for Iraqi and Syrian refugee families.
The Orthodox Initiative makes regular visits to the refugee camps along the border of Jordan and Syria. With each visit, the Orthodox Initiative provides parcels of goods and materials with seasonal items. These parcels have included winter boots, hats, scarves, food items, clothing, and female hygiene kits. In addition to these parcels for families living in refugee camps, the Orthodox Initiative brings something special for the children, such as sunglasses or candy, during each visit. On Mother's Day 2016, the Orthodox Initiative brought colored paper for the children to make paper flowers, cards and crowns for their mothers. The Orthodox Initiative also brought cakes and colored scarves to celebrate all of the mothers in the camp.
The Orthodox Initiative also provides relief through urgent assistance for families, which is provided in different ways based on each family's situation. Recently, the Orthodox Initiative visited a Syrian family who was living in a basement in Amman without any furniture, beds, or heater when the Orthodox Initiative's first visited. After hearing about the family's journey of fleeing a life-threatening situation in Syria, the Orthodox Initiative decided to provide assistance for this family. Following the visit, the Orthodox Initiative provided nine mattresses and nine quilts (one for each member of the family), a gas heater, toys, and they helped repair the family's fridge and washing machine. This is one of the many families the Orthodox Initiative has been able to assist while living in difficult circumstances as refugees in Jordan.
Another relief effort of Orthodox Initiative has been to provide cash assistance for refugees. The Orthodox Initiative's policy does not normally consider providing cash assistance, but they realized food and clothes vouchers were not enough in certain circumstances. Families in Madaba had a variety of needs including food, heaters, paying for bills, and purchasing gifts for their children. Based on the variety of situations, the Orthodox Initiative decided to provide cash for families to purchase what they needed, and the Orthodox initiative also provided families in Madaba with eggs, canned meat, cooking oil, dates, syrup, and diapers.
Forum for Development, Culture, and Dialogue
The Forum for Development, Culture, and Dialogue (FDCD) has been providing emergency assistance programs for refugees in several areas across Lebanon and Syria. One of their largest efforts is a food distribution program, where they are providing food baskets for more than 6,000 families located in cities throughout the Qalamoun area. The food baskets include pasta, rice, wheat, chickpeas, lentils, canned meat, oil, salt, sugar, tomato paste, and tea. In Aleppo, Damascus, Homs, and Hamah, FDCD provided blankets and food parcels for over 4,000 families.
A new livelihood program of FDCD has started in Deir Attiyeh and Sweida to provide job opportunities for women who have lost their husbands during the war. The women participating in this program are preparing and providing food items for displaced Syrian families, including pickled stuffed eggplants (makdous), yogurt, olives, and jams. These items are included in the different food distributions of the FDCD. In 2016, this livelihood program received a Sustainable Development grant from Week of Compassion.
National Evangelical Synod of Syria and Lebanon
The NESSL church in Homs, Syria established a youth group called Space for Hope, where youth gather from different parts of the city and different religious traditions to play sports and to discuss topics on how to build an inclusive society that promotes reconciliation, cooperation, and peace. Currently, over 130 youth are members of the group. Since the beginning of NESSL's work of renovating sanctuaries and churches in Homs, 46 homes have been renovated for families to return to and to live in as normally as possible. The NESSL church in Fairouzeh is seeing over 300 children attend their Sunday school program each week. The church also offers a women's program where approximately 45 women meet weekly at the church for bible study.
NESSL's education ministry, which started in 2016, is now offered in ten locations in Lebanon and Syria. NESSL is providing school lessons for approximately 350 children living in temporary housing, and there are still requests for this model of education ministry in additional locations. The education ministry has proven to offer a happy, loving, and normal atmosphere for the children attending. Teachers recently asked students if they knew why they were no longer living in their homes, most children were are aware of the danger and violence they left from their home communities, but also mentioned how happy they were to be at school. With gifts in support of NESSL's relief work with displaced Syrians, they have been able to give winter jackets, hats, and nourishing foods to children at the schools. NESSL has arranged on several occasions to send medical doctors and dentists to visit the schools and provide health check-ups for the children. NESSL also works with teachers to equip them with any necessary skills for working with children living in the current circumstances, and NESSL remains in regular contact with teachers to hear about their experiences and challenges.
Global Ministries is grateful for all who have made gifts for partners providing relief for displaced Syrians in the Middle East, and welcomes gifts to support the continued relief efforts of partners for displaced Syrians. All gifts to Global Ministries designated for Syria Relief will be used in their entirety to assist the displaced people of Syria (both refugees in neighboring countries and those displaced internally in Syria) and will be directed by the Middle East and Europe Office of Global Ministries to the efforts most in need.
$25 can provide school supplies and a uniform for a student
$75 can provide food and hygiene items for a family
$150 can provide transportation for a month for volunteers
$500 can provide medical supplies for camp clinics
Update: June 2017

The Orthodox Initiative (OI), an organization in Jordan founded by the Greek Orthodox Church in the Middle East, has been very active in aiding refugees. Known for helping displaced persons and others affected by conditions of war, OI provides assistance to all disadvantaged groups, regardless of ethnicity, religion, gender, age, or social status. One of their primary focuses is on helping Syrian refugees living in camps close to the Syrian border. Efforts include providing care items for winter, offering vocational training for adults, and leading educational and therapeutic workshops for children. Another aspect of their work is spreading awareness of the situation of refugees in Jordan and educating locals about the reality of the crisis, breaking down social barriers between the two groups.
The Kingdom of Jordan is currently receiving the largest number of Iraqi and Syrian refugees worldwide, more than 2.7 million people. OI found that those in the scattered, unofficial camps near the border of Jordan and Syria were the most vulnerable of the refugee population in Jordan. Harsh desert weather, which is extremely hot during the daytime and severely cold at night, makes life difficult, along with the isolated location, which means that children have few educational opportunities and supplies are scarce.
OI has been providing direct assistance such as food parcels, hygiene kits, school supplies, and winter necessities. Food parcels are delivered to families five times a month and items are always purchased locally to contribute to building up the local economy. For the past seven months, many refugees were immersed in workshops in which participants produced more than 250 handmade items, such as mugs and flower pots, all made with locally sourced raw materials.
At the same time, the OI team implemented art and theater therapy workshops with more than 40 Syrian children. OI volunteers found that children who are refugees were often sad, bored, and incapable of socializing, having been traumatized by the displacement of their families and the desperation of the present situation. However, during OI's workshops the children were able to express themselves through creative techniques, and their art was used to make postcards, paintings, and flower pots for their moms on Mothers' Day. The children are beginning to show a sense of hope that empowers them to live freely and expressively.
Another initiative of OI is to raise awareness about the reality of Jordan's refugee population and the urgent needs they face. It also aimed to break boundaries and stereotypes of the image of a refugee, through working with them on their self -confidence and inviting many local guests to visit them and spend quality time with them.
With more funding, OI plans to expand their trainings and community building activities. They would like to implement lessons in sewing and use of computers in their adult vocational training, and are raising funds as well to hire more teachers for the refugee camp schools. In addition to aiding Syrian refugees, OI is also continuing work with senior citizens at a home for the elderly, which also includes many elderly Iraqi refugees and their loved ones. Global Ministries continues to welcome donations for the relief of displaced Syrians.]
Update: July 2018

National Evangelical Synod of Syria and Lebanon (NESSL)
National Evangelical Synod of Syria and Lebanon (NESSL) started the ministry with children living in refugee camps in February 2016. Now in 2018, the number of children is 650 (the number goes up and down depending on those who get sick in the winter. In their most recent newsletter, NESSL shared a few comments from pastors from Syria:
"Despite the destruction all around us we have felt that the Emmanuel, [God's] real presence was with us."
"'How can we go outside the Church to Serve?' we asked! Our schools have children and youth who could have been recruited for fighting, we were able to help educate and help in every way."
"We praise God for all the partners who helped us educate children and students in camps around Syria, and continue our relief ministries among many families."
NESSL is reaching out to sick people in need of medications, helping with home renovations, renewing worn out church furniture, providing electricity, water, fuel for heating, and other basic needs.
One of the greatest ministries NESSL has is nurturing the spirituality of women and youth. NESSL holds spiritual conferences in Lebanon twice a year for women and children from Lebanon and Syria. NESSL is finding that the largest numbers of women and children attending this conference are coming from Syria.  The cost of transportation has become a real expense for NESSL, as they strive to help as many groups to come to be refreshed and strengthened.
To read the full newsletter from NESSL, continue reading here.
Orthodox Initiative in Jordan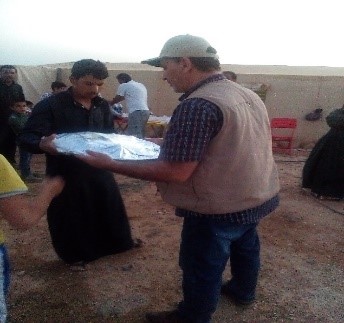 The Orthodox Initiative continues to provide relief for Syrian refugees in Northern Badia, which includes three unofficial tented settlements: al-Faisaliah Camp, Naifah Camp, and Sabha camp. Currently, the Orthodox Initiative is offering the following:
Water: In al-Faisalia Camp, the scarcity of water supplies and salty water from nearby farms are not suitable for drinking.  The Orthodox Initiative is addressing this by buying drinking water tanks.
Women's Dignity kits and Detergent: Many are unable to purchase the detergent material items due to their poor financial situation so the Orthodox Initiative has undertaken to distribute detergent parcels for the three camps for 150 families, and to distribute women dignity parcels for 100 women at the camps.
Food Parcels: 240 food parcels were provided for Iraqi refugee families in Amman, and 150 food parcels provided at the Northern Badia camps for the Syrian refugees.
Ramadan Iftar (meal to break the daylight fast): During Ramadan, group Iftars were held for all the families at the two camps, Al-Faisaliah and Naifah.  Mansaf is the traditional food, and was the meal served with sweets and drinks for all families.
Vocational Training and Tent Activities: For women at the Al Faisalia camp, 25 Syrian women gathered to take a course in wool knitting for the winter months and embroidery for the warmer months. Children at the Al-Faisalia camp, participated in English, music, and sports courses offered by Orthodox Initiative.
To read the full newsletter from the Orthodox Initiative, continue reading here.
Update: October 2018
Orthodox Initiative in Jordan

The Orthodox Initiative continues to provide aid for refugees in Jordan. During the summer the Orthodox Initiative was very busy with its programs offering direct support to Syrian and Iraqi refugees. The newsletter describes added programming aimed at strengthening capacity building and awareness raising. It states that the hopeful outputs for these programs are:
To enhance the ability of refugees to serve themselves and their community through training.
Develop an advanced training curriculum in the field of community service based on experience.
The project included the distribution of direct aid including food parcels, detergent parcels, women's dignity parcel, hygiene kits for children, clothing vouchers to all families in Eid al-Adha (Islamic Feast of the Sacrifice), and a group Iftar (breaking the fast) in the holy month of Ramadan, as well as children's special baskets and gifts. In addition, there was a program implemented to provide clean drinking water for refugees at Nayefeh and Al Faisaliah camps at the Northern Badia in northern Jordan.
The newsletter also describes several training courses offered to refugees. A first-aid course provided training and first-aid kits to 150 participants. A children's school offered English skills and recreation and the newsletter details the story of two students Farah and Teeba. There was also a women's embroidery course which was launched after being requested and it was attended by 20 women.
The newsletter goes on to give data on the number of people served and aid given.
Read the complete newsletter here.
Support this Ministry
To make a gift for this ministry online or by check use the online donation page.
100% of your gift will be directed to Relief for Displaced Syrians
You will receive updates on the work in this area as they become available
Share in the vision of God's abundant life for all people
---
Related Content

[The Department of Service for Palestinian Refugees (DSPR) of the Middle East Council of Churches...
Read More