Pray with Kenya, Sunday, May 26, 2019
Lectionary Selection:  John 14:23-29
Prayers for Kenya:  
Thank you, God, for modern day prophets like Rev. Dr. Timothy Njoya, his bruises and the humiliation he suffered have changed the political landscape of Kenya. We also want to pray for Kenya as we go through a drought this long rainy season. We especially want to pray for those who died because of lack of water and food in the Turkana region and other arid regions in Kenya. Amen
Mission Stewardship Moment from Kenya:
I drove into the compound of Rev. Dr. Timothy Njoya, a Presbyterian Church of East Africa (PCEA) retired minister, and I could not help but notice the "things" hanging from the artistic building. I thought to myself, "What are those things?"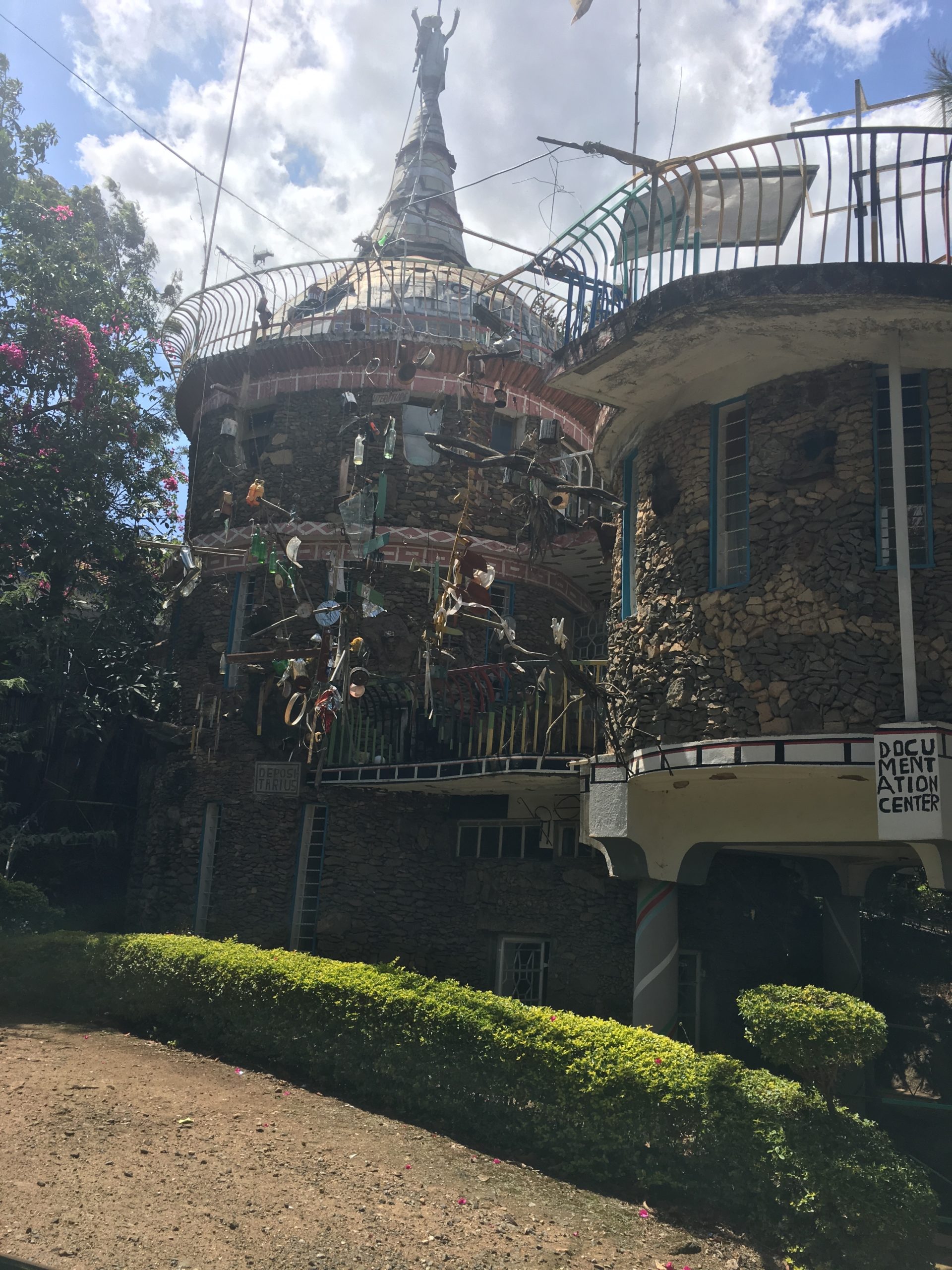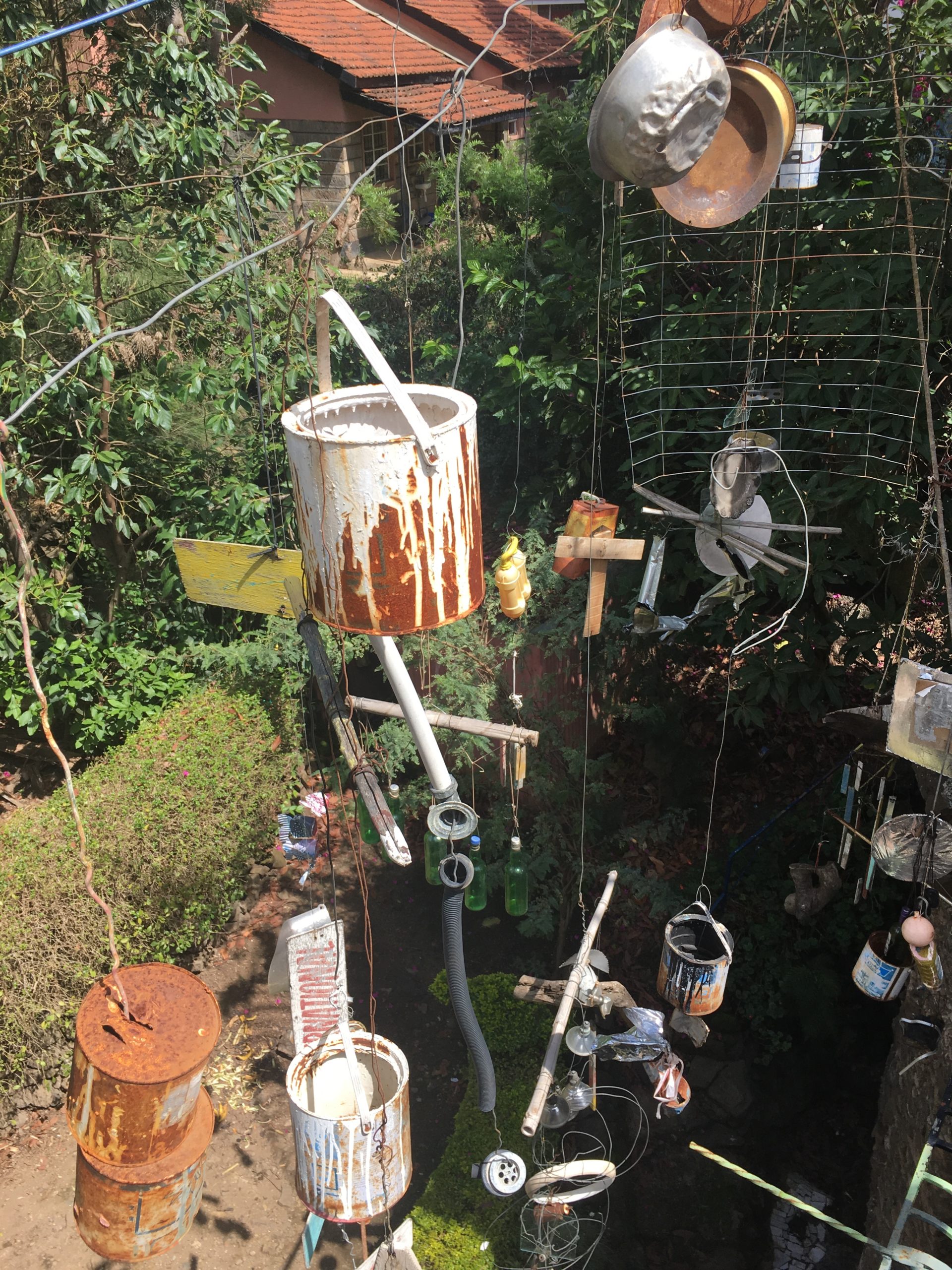 Dr. Njoya is a household name in Kenya and other parts of the world. His notoriety is because of his challenging Prophet sermons regarding the disorders in the Kenyan society. The then Kenyan government felt his sermons were anti-government. The church defrocked him because of his prophetic utterances and challenges, but he was later reinstated.
In 1990, Dr. Njoya and others were demonstrating for multi-party democracy. Eight people were killed and Rev. Njoya wearing his red Cassock was brutally beaten by police.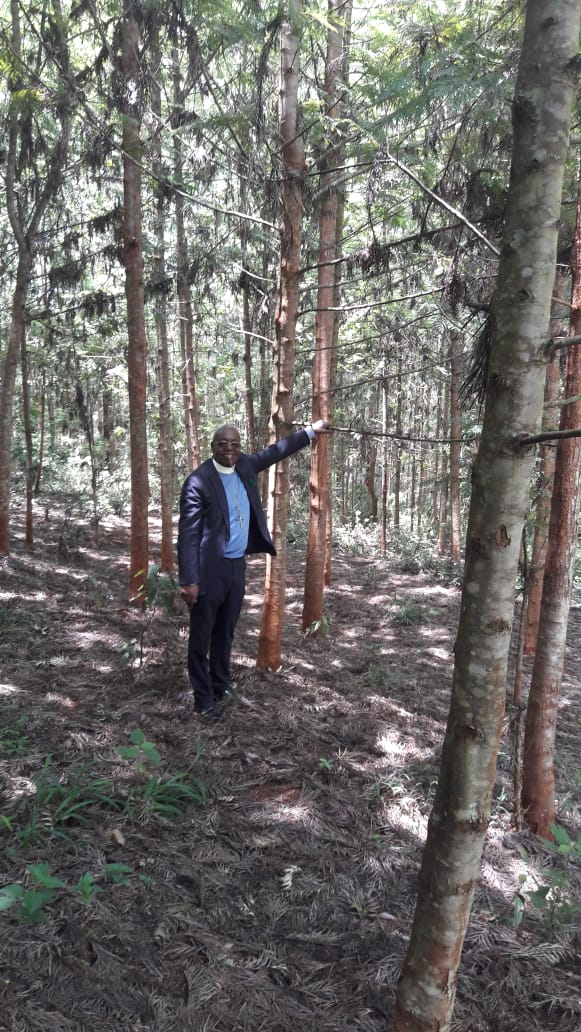 Dr. Njoya gave me a tour of his documentation center/library/office/home. He explained about the "things" hanging down from the top of his library/office. "Everything has value. I don't throw anything away it is all useful. The items hanging came from everything which was used to build my house and this center. The items you see are the empty paint cans, tools, pots used to cook food for the workers', the tool used to cut the tiles, etc. I call these items my African Philharmonic orchestra which plays outside my window." As we sat at the top of the building in his office, Dr. Njoya asked me, "Do you hear the symphony outside? Just wait until the wind starts blowing it will get even louder." As we talked for hours the wind started blowing, the items I thought had no usefulness made beautiful melodies.
Visiting with Dr. Njoya, the conversation was like a scrumptious banquet of wisdom and knowledge as we went from topic to topic. "Tell me about your tree planting you are doing in the village." Dr. Njoya has 6 acres of land, which has been in the family for years located Nyeri the Central Highlands of Kenya. "When I went to the forestry department 20 years ago and told them I needed to buy 4000 seedlings of different species of trees including fruit trees to plant on my farm, I was told it was too many. I would never see them mature. The person at the forestry department did not understand it was not about me. I was planting love and extending this love to my current neighbors and those yet to be born. I wanted to plant to assure the animals would have a home and water cycle that would not be disturbed.
"They who have my commandments and keep them are those who love me; and those who love me will be loved by my father, and I will love them and reveal myself to them." John 14:21
It is my responsibility to plant trees to replenish what the church has taken from the forest that we sit on every Sunday. I plant to replace the 4000 funerals which took the life of trees to bury the dead. As a result of the planting of trees, many of the animals that once disappeared have come back and they know they are guaranteed food all year round.
In the Gospel of John chapter 14, Jesus challenges His disciples to look beyond the walls of their own mindset to see, understand, and become a living example of the power of God's love. Dr. Njoya has been a consistent reminder and challenge to both church and society on the danger of "mob thinking." His faithfulness to the gospel message has been a witness of being the living embodiment of love. I am grateful for the reminder of Dr. Njoya that echoes the message found in John's Gospel; the world did not recognize, and the disciples failed to see… when the Holy Spirit comes we will have new sight and a new way of relating. When the winds blow we have the potential to live in Philos, loving harmony with all of humanity and the entire ecosystem.
Prayer and Mission Moment by Phyllis Byrd
Mission Partners in Kenya:
More information on Kenya: https://www.globalministries.org/kenya
Global Ministries Mission Co-worker in Kenya:
Phyllis Byrd serves with the Organization of Africa Instituted Churches (OAIC) in Kenya. Her appointment is made possible by your gifts to Disciples Mission Fund, Our Church's Wider Mission, and your special gifts.