Restoring "Peace on Earth" in Colombia
"Glory to God in the highest Heaven, and on earth peace among those whom he favors!" Luke 2:14 (NRSV)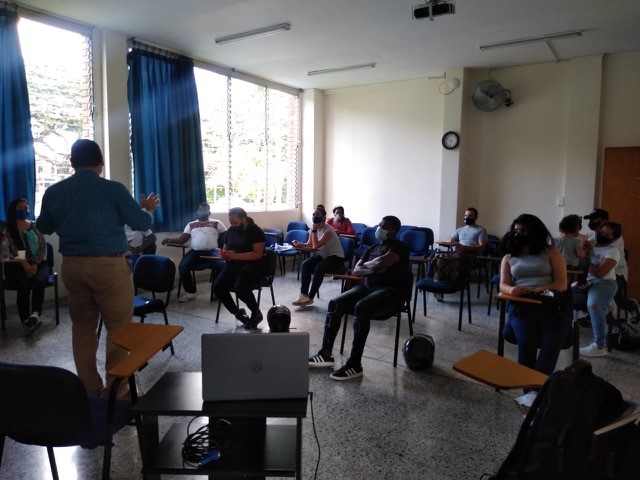 That was the angels' announcement to those shepherds living in the fields, keeping watch over their flock by night (v.9).  Colombia has been living through a time of violence and structural injustice for many years.  It has been hard to announce "Glory to God and Peace on Earth" in communities that have been devastated by civil war, displacements, poverty, and lack of justice.  Therefore, our Partners' work and ministry in Colombia aims to deliver a message coming from Heaven but incarnated in the present reality.  It is to say that "there is no glory in the heights if there is no peace on earth" and how to walk "hand in hand, the earth, and the sky." [1]
The Evangelical Council of Colombia's Peace and Justice Commission has been conducting several workshops in Cali, Nariño, Antioquia, and "Atlántico" or the Atlantic Department.  The topics worked on in those workshops are Reconciliation, Restorative Justice, and Conflict Transformation.   Participants included religious leaders, community leaders, and demobilized soldiers from the Revolutionary Armed Forces of Colombia, FARC, one of the country's traditional guerrillas.  As you may remember, FARC and the Government signed a Peace Accord in 2016. As part of that agreement, FARC abandoned the armed struggle and incorporated into Colombia's civil life. 
Through the workshops, leaders from the Peace and Justice Commission reflected on biblical cases of reconciliation: the story of Esau and Jacob and the disciples of Jesus after the Resurrection, among others.  They also referred to examples from recent history where reconciliation processes have been traumatic but resulted in a new era in the country's history, such as South Africa.  It is inspiring that, as part of this process, this group of demobilized people has created a foundation called "Ciudad Paz" ("Peace City").  They are in the process of obtaining their legal status.
"Can we generate enough confidence between ourselves to continue this process of peacemaking? How to heal wounds from the past? Is there sincerity in reconciliation? Is there security of non-repetition? How to commit ourselves when the Government hasn't shown interest in the post Peace Accords?" People have been asking these questions through their meetings.  There is a general openness to the process. Still, it is challenging to integrate a society that carries deep wounds in its history.  However, they are committed to complying with what was agreed and their decision to move forward in their lives. "Ciudad Paz" is an example of how committed they are to restore peace in their communities. 
They said that to restore justice and peace, it is crucial to have a broader perspective. "Rather than thinking about whether the other person wants to accept the process of restoration, reality showed that we all want to change because we are in a relationship with other people.  We are committed to positively affecting those we have offended by showing a different and new attitude."  I think that is the key to any process regarding peace with justice.  It is a matter of knowing that we concern each other, that we need each other, as Heaven and earth need each other to achieve the fullness of life.  That is our hope for our friends in Colombia.  May God give you "peace on earth" to your families, churches, and communities, as there is Glory in Heaven. 
[1] Oberman, Gerardo. Cantata Navideña Latinoamericana. CD CLAI. Quito Ecuador. 2001