Rev. LaMarco Cable Called as Next President of the Division of Overseas Ministries and Co-Executive of Global Ministries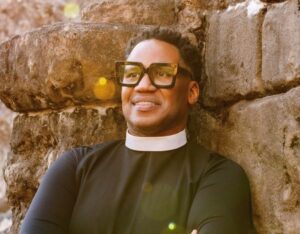 Global Ministries is thrilled to announce that Reverend LaMarco (Marco) Antonio Cable has been called to serve as the next President of the Division of Overseas Ministries and Co-Executive of Global Ministries. Rev. Cable will start in this position on January 1, 2022.
"I'm excited about having the opportunity to lead this ministry at a time when we are celebrating 25 years of ministry with our UCC colleagues and friends, and to think about what is possible in terms of global mission for the Christian Church (Disciples of Christ) and the United Church of Christ. I love that we are able to walk alongside, sharing and receiving the gifts and graces for mission and ministry, with so many diverse communities around the world." shares Rev. Cable.
"Marco has a deep passion for the transformational work of Global Ministries, bringing both experience and innovation," says Rev. Cyndy Twedell, Chair of the Division of Overseas Ministries Board of Directors. "He is qualified and prepared to lead this sacred ministry. The DOM Board of Directors confidently offers our full support to Marco. We celebrate Marco and look forward to working with him as he leads us into the future."
To partners, Rev. Cable shares, "In many ways, Global Ministries will continue to be the organization and ministry you know. We will continue to accompany you in realizing your mission and vision. As we move forward, there are opportunities for deeper engagement and hearing from you as we shape our future together."
Rev. Cable currently serves as Global Ministries' Area Executive for Africa. As Africa Executive, he is responsible for nurturing relationships with churches, ecumenical and interfaith organizations, and communities in the African region. Rev. Cable organizes trips to Africa for individuals and groups, supervises mission co-workers, and mobilizes support for Church partners in Africa. He also provides specialized knowledge to churches in the United States and Canada on the religious, political, and cultural life of communities in Africa. Before being called to serve as the Africa Executive at Global Ministries, Rev. Cable served as the Deputy Director for Organizing at Bread for the World Headquaters in Washington, D.C. He has also previously served as the Interim Mission Personnel Executive and Program Associate for Advocacy and Education at Global Ministries.
In 2007, Rev. Cable was ordained by the Christian Church (Disciples of Christ) in Kentucky and Tennessee. Rev. Cable served as pastor at Hasson Street Christian Church in Rogersville, TN and Broadway Christian Church in Winchester, KY. He has also served congregations in Memphis, TN, Lexington, KY, Washington, DC, and Madisonville, KY. He earned a Bachelor of Arts in Religion and Sociology from Transylvania University and a Master of Divinity from Lexington Theological Seminary.
Rev. Cable serves on the Lexington Theological Seminary Alumni Council. He is completing his Doctor of Ministry at McCormick Theological Seminary. Originally from Memphis, Tennessee. He currently resides in Indianapolis, IN where he is a member of Light of the World Christian Church. There he serves on the Commission on Ministry. He also volunteers with Big Brothers/Big Sisters of Central Indiana and Wheeler Mission Men's Shelter. For fun, Rev. Cable enjoys going on nature walks with friends, spending time with family and attending Broadway shows. He is the son of a Human Resource Professional and a veteran, a brother and uncle to a niece and two nephews.
"I am grateful," says Rev. Cable, "for the ways that the church has nurtured me. As I enter this role, I am committed to being the best person mentally, spiritually, and emotionally to lead this ministry forward. I will be faithful in honoring who we are, and uplifting our values."