School's Not Out at Pringle Home for Children
At Pringle Home for Children, in Carron Hall, St Mary, Jamaica, school's not out! Since schools closed due to the threat of COVID-19, we've formed a new routine after breakfast is served. The dining hall is cleared, tables and chairs are carefully pushed aside, and the girls get to moving with TVJ's "Jamaica Moves" (a fun, upbeat half an hour exercise routine).  Then, following the cool down, we jump right back into action with our notebooks and pencils in hand.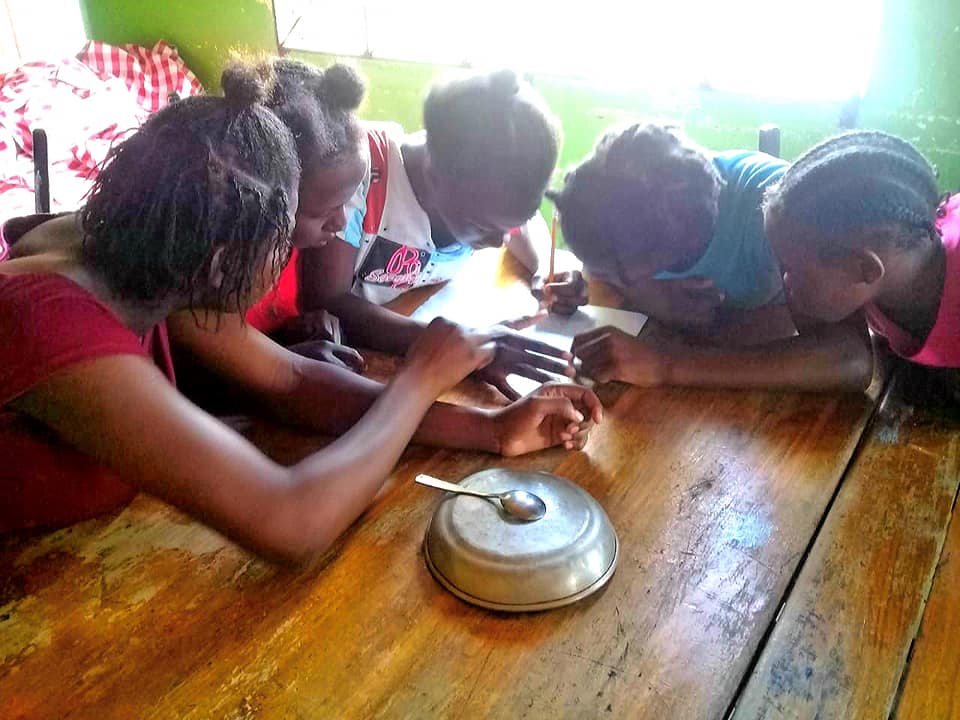 From math, science, and social studies, to music, Spanish, and language arts, the girls at Pringle Home have been trying to stay on top of their education. They are even getting pretty creative about finding ways to make learning fun. Four of the older girls (ages 13 to 15) have been planning and hosting a "School Challenge" event every Friday with a roster of 70+ questions for their peers.  This event is an extra exciting way to quiz what we've been learning together in our homeschooling sessions throughout the week. Equipped with television host personas and dressed for their parts, these four young ladies almost entirely independently orchestrated the fun-packed game show event that had the other girls at Pringle Home vying for the winner's title, as seen here in the photos. The competitive spirit was passionate, and team efforts intense; so much so that the joy in the excited voices of the girls traveled far beyond the dining hall walls and drew in spectators, including the farmers at Pringle Home for Children. Suspense for a winner, matched with awe for the girls' sense of sportsmanship and teamwork had all the staff smiling and cheering on the girls, but most of all it left all the adult staff in awe of the hard work and great efforts of the four leaders that planned this fun-filled event.
This group of 4 young leaders really did a spectacular job! Additionally, other young leaders sprung up among the players – from those elected as captains to the small handful of girls who pro-actively organized and facilitated the final study sessions under the apple tree in the morning beforehand. Watch out Jamaica, and the world: Pringle Home for Children has a small group of young leaders to watch out for! They are young women with some pretty unique God-given talents with intellect, leadership, teamwork, teaching, communication, mathematics, and language arts. There are so many shining stars amongst the girls who call Pringle "home."
A blurb, written by one of the girls at Pringle Home for Children about our School Challenge game competition
"It's the second week of school challenge quiz at Pringle Home. It's going so well so far because we are finding something constructive and educational to do during our break away from school. The students are rather nervous as the teams prepare but quick thinking at the same time. While they try to show team leadership, they are also respectful to their teammates, judges, and hosts, and they are also responding appropriately to the rules and regulations of the game. The number one thing we're learning is that we will move on to bigger things in the future by working as a team." – written by O.W., age 15
Rachel Pellett serves with the United Church in Jamaica and Cayman Islands. Her appointment is made possible by your gifts to Disciples Mission Fund, Our Church's Wider Mission, and your special gifts.