Stop the criminalization of Colombian human rights defenders!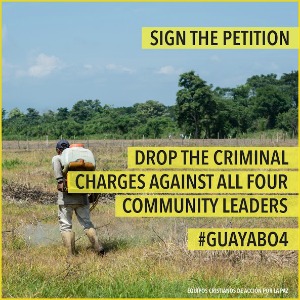 Christian Peacemaker Teams (CPT) asks the Colombian authorities to put a stop to the growing trend of judicial persecution and detention of campesino human rights defenders who are fighting for their rights to land and territory.
Alvaro Garcia, campesino leader from the communities of El Guayabo and Bella Union and member of the Victims Association of Magdalena Medio (ASORVIMM), remains incarcerated for almost two months now under false criminal charges.  He is one of two CPT partners who have suffered political persecution and imprisonment in the last nine months.  
Three other leaders from El Guayabo and Bella Union currently have arrest warrants similar to that of Alvaro's, which severely encumbers the community's legal struggle and distracts the authorities' attention from the larger land issue at play.
Join CPT in asking that the authorities drop charges for all four leaders, release Alvaro and respect the campesinos' right to remain on the land as the country moves forward towards a post-conflict reality.
Click here to Take Action on this Ugent Alert!