Sunday Morning Semiotics
I admit it, church is not always the contemplative space for self-reflection and meditation that I need, especially in October when by 8.00 am the sun's heat already blisters through the zinc roof.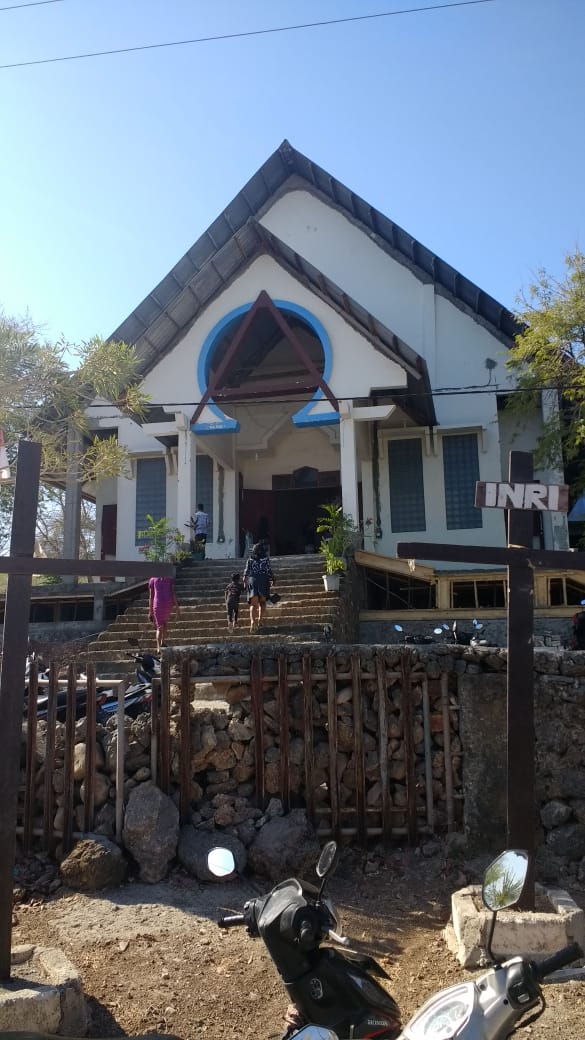 Attending Hope Congregation, my village church, in October becomes an exercise in fighting the distraction of sweat and concomitant stick of the skirt to the pew. But one Sunday last July, the coolest month of the year (winter in the southern hemisphere), was not one of those days. The heart of the preacher's message was that we must be free to engage in mutual correction when someone strays (Gal. 6.1–10). Having grasped the essence of the sermon, delivered through an inadequate sound system that strains my aging ears, I took a break from the strain to take notice of people sitting nearby. Perhaps it was the occasional cool breeze that wafted by that heightened my sense of them. I thought: These are the people of God, signs of God's kingdom on earth. What do they signal about that kingdom, about Christ's church?
HIV/AIDS husband and wife: Yeri and Ani (pseudonyms) sat in the pew in front of me, far to the right. They live with HIV/AIDS, but months earlier, Yeri seemed close to death. He was emaciated, had repeatedly fallen off his motorbike, and was quickly losing mobility. I remember Ani's trauma after she and Yeri received their positive results. They stopped by our house on their way home and Ani bawled in my arms. She has young children; she wasn't ready to accept a death sentence; she was scared. We confirmed the information they had received about steps they could take, and they took them, getting access to free antiretroviral (ARV) medication. About six weeks after Yeri began taking the ARV he was still bedridden, barely breathing. John and I prayed with him and Ani, his main caretaker, thinking Yeri had just days to live. We were wrong. Over the following months, he slowly got better. To see Yeri and Ani in church together brought tears to my eyes.
A boy with his notebook: I did not know the boy, about 12, perhaps older, but was struck by his fluent note-taking. Yes, youth taking catechism classes are required to take notes of the sermon, but seldom had I seen children this young so engaged with writing. In eastern Indonesian cultures that still remain far more oral than written (well, Facebook text is an exception), I was heartened to see this boy making the transition from passive listening to written expression, hoping that expression of his own thoughts would come with time.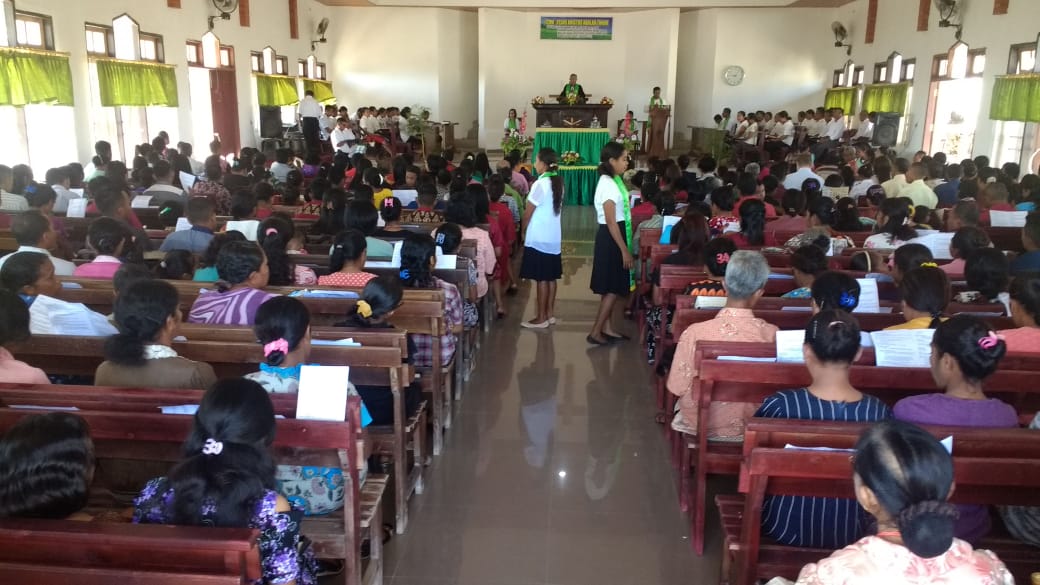 A mother nursing her baby: Nursing in public is not as common as it once was, but I had seldom observed a mother nursing her child in church and realized how I longed for other mothers to do the same. The protocol regarding fussy children in a church seems to have evolved by common consent. Most mothers who bring babies to church exhibit far more tolerance for fussiness than the congregants around them. At times it seems like a game—how long can a baby cry before the mother, often pressured by nasty looks around her—takes the baby outside. This might be avoided were mothers more comfortable nursing their babies in church, but then again, the game would disappear.
Anger triggers: I found myself on an emotional rollercoaster as warmth for the mother/child bliss plummeted to irritation as I honed in on the constant whispering behind me. A furtive glance revealed a cluster of young teenage boys definitely NOT chatting about the sermon. Then, a conundrum—the more I focused on their whispering (that, by the way, others calmly ignored—irritable babies, no; irritating teenage boys, ok; go figure), the closer my irritation inched to anger. To top it off, for the first time ever during Sunday service, the acrid smell of cigarette smoke assaulted my space (seeping in through the open windows). Not the gossip gang, but who would dare? My heart started yelling: "WHERE IS THE PEACE?"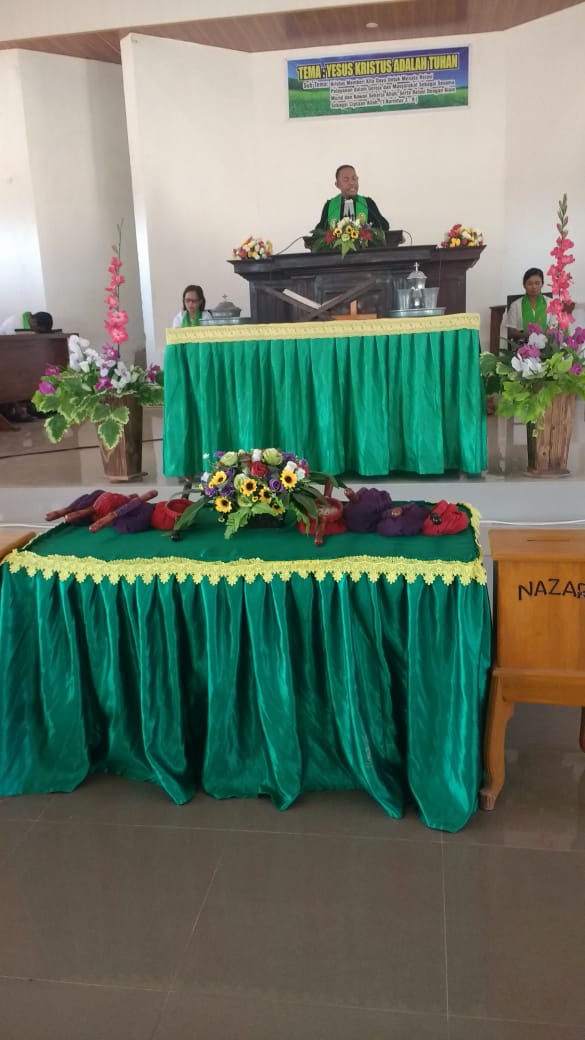 A toddler swaying to music: The sermon over, one last vocal group sang—youth accompanied by a guitar; not quite blues, not quite rock but still music for clapping. A toddler in the pew ahead of Yeri and Ani was accompanied by her grandfather who clearly adored her. Indeed, she was adorable with a bow in her locks, a cheeky grin on her face. And could she ever move to the music, hopping up and down on the pew? Earlier, during a different song, she mimicked the motions of the choir director with her tiny hands and now, a burst of energy as worship was winding down.
God's people on a Sunday morning, gathered to worship at Hope Congregation. Yeri and Ani are signs of hope, but also acceptance; my village congregation makes room for them even as some of its members gossip about them. The boy signs determination, dedication, and the possibilities of education. The nursing mother embodies the spirit that nurtures us, feeds us, helps us to grow as a family in faith and love and trust. The anger triggers remind me I always have a choice to respond differently, that I am called to enact the day's message about mutual correction, for I too stand in need of prayer and forgiveness. And the toddler who moves to the music—oh that blessed toddler—is a sign to carry forth in my heart: to be the church is to dance with joy; to bend, not break, when confronted by suffering, pain, and evil; to move in harmony with others, and not distrust. Music can help to bridge petty grievances and, by lifting our spirits, hold the heat at bay. A giant Α and Ω are carved above the main entrance to our church. It reminds all who gather there that God, not us, pronounces: "I am the Alpha and the Omega, the first and the last, the beginning and the end." This is how and where we come together to be God's people in Noelbaki, Central Kupang Presbytery, Evangelical Church of Timor, Indonesia.
Karen Campbell-Nelson serves with the Evangelical Christian Church of West Timor. Her appointment is made possible by your gifts to Disciples Mission Fund, Our Church's Wider Mission, OGHS, and your special gifts.