Supporting the Prisoner
Shelby Perez serves with Dialogue and Interreligious Engagement Center (Ramallah, Palestine) of the Episcopal Diocese of Jerusalem.
He sent me to preach release to the captives (Luke 4:18).
My ministry is not intentionally tied up in prison ministry. Yet when I arrived, it was amid injustice in this church community led by Rev. Dr. Fadi Diab in Ramallah and Birzeit.
I serve as communications and program administrator with the Ecumenical and Interreligious Engagement Center in Palestine. The EIECP hopes to transform valleys of lowliness and disenfranchisement, challenge mountains and hills of supremacy and oppression, and construct a safe space for dialogue and engagement toward a more peaceful and just Israel-Palestine. The mission of the EIECP is to provide a safe space for individuals and organizations to meet and cooperate to transform a context of misunderstandings and schisms, challenge systems of oppression, and reconstruct and advocate for the consciousness of mutuality, justice, and neighborliness.
At this moment in time, we are engaged in challenging the mountains of oppression and advocating for justice in a particularly heartbreaking piece of the occupation: the arbitrary and unlawful imprisonment of Palestinians seeking freedom.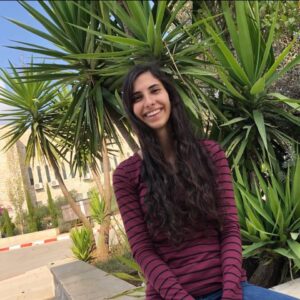 Layan is 21 years old. She was baptized in St. Peter's Episcopal Church by a Catholic priest when the Anglican priest was unable to get to Birzeit because checkpoints out of Ramallah were closed. She continues to be an active member of the church community. She is currently a student at Birzeit University studying nutrition. She was a member of a student union where she led groups of students on nature walks and took them on picnics in the surrounding area. When the pandemic began, she served on an emergency committee to address that challenge.
Layan was arrested in the predawn hours on July 7th. Israeli soldiers raided the family home. Her charges are for leading nature walks and conducting educational Zoom meetings. Her student union was arbitrarily deemed illegal in October 2020, using laws carried over from the British occupation. When I arrived in Israel/Palestine, Layan was still imprisoned and had already had her trial delayed. She was denied the ability to see her family. Her priest, Rev. Diab, was denied permission to visit her and bring her communion. Her request to be released on bail was rejected, despite her church's guarantee of responsibility for her. Thankfully, she was able to meet with her lawyer, though this is not always guaranteed for prisoners.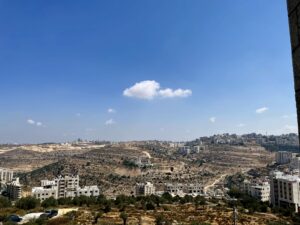 Shortly before I had arrived, her older brother had graduated with honors from medical school. Layan insisted her family not allow the occupation to steal the joy from this moment for her family, so they went ahead with the party and celebrated. It was an act of resistance, as Paul and Silas singing in their prison cell was resistance.
The following week, a group of diplomats from various countries met with Layan's family, lawyer, and priest. Layan's trial was scheduled for August 24th. For what it was worth, these representatives had promised to be present in the Israeli military court to witness how they would treat a young Palestinian civilian on her trial day. This court date was also canceled at the last moment.
And yet, there was a miracle. Layan was released on bail. She is home with her family.
Her new court date is set for October 5th. We pray that she is not forced, like other students arrested on the same day for membership in the same group, to plead guilty to arbitrary and unjust charges. We pray that her liberation is not short-lived.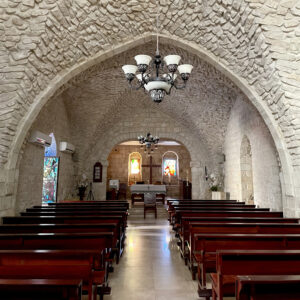 The Holy Spirit is moving for liberation in this place. In early September, six men who have been long-term Palestinian political prisoners in a high-security prison in Israel escaped. Their liberation seems unbelievable. They dug a hole and ran across a heavily monitored section of the desert to seek their freedom. Four have been recaptured. And yet, they have taken the time to share their story of liberation. They spent days avoiding Palestinian villages to protect others. They tasted cactus for the first time in 22 years. They were free.
The spirit of the Palestinian people in the wake of the news of their escape has been joyful and hopeful and vindicated. These men had found liberation from the occupiers. There has been laughter and jokes and spirit-full joy. Upon the capture of four men, the spirit has shifted, but it has not dimmed. There have been demonstrations. There have been voices calling for protection. The calls for justice and freedom have only increased.
And there are still two men free. We pray for all prisoners, for safety and protection, and justice. We pray for the two who are still free, and all those who struggle for freedom, that they might be protected and remain liberated from injustice. We pray for the release of all the political prisoners. May this be only the beginning of liberation for all those unjustly imprisoned. And may God's blessing be with each of them.
In the short time that I have been here, I have learned so much. The most important has been that to find hope and joy amid occupation and oppression is an act of resistance and embodiment of the word. This is who Palestinians are, this is what it is to be Christian.
Shelby Perez serves with Dialogue and Interreligious Engagement Center (Ramallah, Palestine) of the Episcopal Diocese of Jerusalem. Their appointment is made possible by gifts to the Disciples Mission Fund, Our Church's Wider Mission, Week of Compassion, and your special gifts.