Hilltop United Church of Christ – Parker, CO hosts Horseshoes for Cousins Fundraiser
F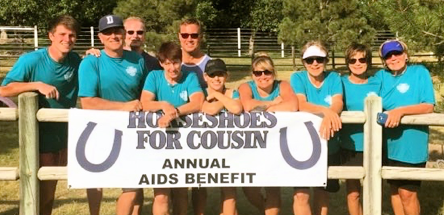 or the past 10 years, Hilltop United Church of Christ in Parker, Colorado has supported Global Ministries through an AID's benefit called Horseshoes for Cousin. The event is organized by a woman named Pam Sippel in memory of her cousin and best friend who died of AIDS in 1995 at the age of 34. They celebrate his life by hosting a horseshoe pitching tournament on our horse property near the church. Folks come out for a day of FUN and FUNDRAISING!
The fundraiser gives to organizations that support those orphaned by AIDS, especially the children. Through the years they have given to numerous Global Ministries partners including the United Church of Christ in Zimbabwe's Daisy Dube Children's Home. This year's tournament is July 28.
Over the last fourteen years, this community has celebrated a man whose childlike spirit lives on through the generosity of family and friends!