Walking with Refugees
June 2018
Dear Friends,
What a difference two years make.
In 2016, the Hong Kong Refugee Ministry Group published its first refugee pastoral care handbook in Chinese and English. The aim was to get more churches interested in serving asylum seekers and refugees in the community. Since asylum seekers in Hong Kong come primarily from South and Southeast Asia, Africa, and the Middle East, the cultural gap with local Chinese presented a significant barrier.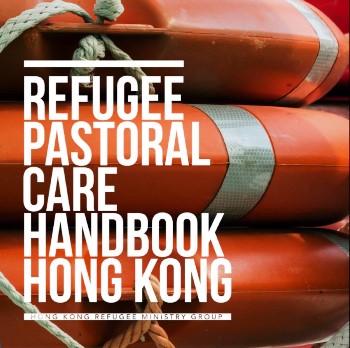 Early this year, I proposed that we update the handbook to reflect new developments among the 13,000 people seeking asylum in Hong Kong. The most heartening development is the number of Chinese churches and organizations that have taken up refugee ministry as part of their mission.
For example, Wanchai Church (Congregational) focuses on helping with educational expenses such as uniforms, school supplies, and extracurricular activities. This support is vital for refugee families living on a meager income without the right to work. Beyond giving financial aid, the congregation develops personal relationships with refugee families through home visits and pastoral care. Kitty Wong, a member of Wanchai Church, shared what she has learned through participating in this ministry: "God's love has opened my vision. He told me that His love overflows and lights up our paths regardless of our difficulties, our cultural differences, and our limited resources. Yes, I saw the light!"
Another church that has gotten involved is Kowloon Methodist Church. Their youth group joined a Mid-Autumn Festival gathering for refugees in 2016. The festival is traditionally a time of family reunion. Since refugees are far away from home and family, this was an especially poignant event. In 2017, Kowloon Methodist Church hosted a Mid-Autumn Festival party at the church, inviting their new friends to their "home." There were Chinese dishes and Middle Eastern dishes (prepared by an Egyptian refugee), a worship service, and workshops on cultural and language exchange. Johnny Tang, parish worker, said, "I pray that one day, our brothers and sisters who are forced to leave their home will reunite with their loved ones, and bring home the blessings from Hong Kong. If this may not happen shortly, I believe if we work together, Hong Kong can become a place where they can feel at home. Let us pray for them together!"
The 2018 Refugee Pastoral Care Handbook was published in time for distribution at the World Refugee Day celebration on June 16. I contributed an expanded section on the biblical background of welcoming strangers as well as served as co-editor. I was privileged to do an interview with an asylum seeker who attends my church, Kowloon Union Church. Her testimony was included in the handbook. Her deep faith and trust in the Lord were so evident. I was particularly touched by her words: "Thank God for the church! I have some people who love me and my children. It makes me strong and do what's right so I will not disappoint the pastors and church friends. I know they will take care of me and my children. You know, when you are alone, you cannot survive in Hong Kong."
Praise God that the Church in this city and around the world is ministering to the most vulnerable and needy in our communities. The Rodgers and Hammerstein song says it well:
Walk on, walk on
With hope in your heart
And you'll never walk alone
Let me take the opportunity to thank you for walking alongside us at Hong Kong Christian Council in our mission for God. Your financial support, prayers, letters, and visits make our work possible. The 2018 Refugee Handbook can be found online at https://goo.gl/5vnMUV. You can change languages using drop-down select menu at top right hand of the page. Please take a look and feel free to share with others. Thank you!
Judy Chan serves with the Hong Kong Christian Council (HKCC). Her appointment is made possible by your gifts to Disciples Mission Fund, Our Church's Wider Mission, and your special gifts.