Women Leaders in the Lesotho Evangelical Church in Southern Africa (LECSA)
Mark Knowles and Danielle Murry-Knowles serve with the Lesotho Evangelical Church.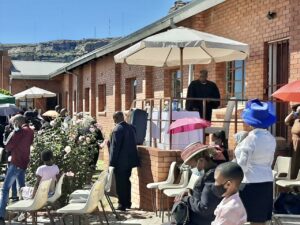 Rev. Mohlatsane, the pastor of Phomolong LECSA, serves one of the largest congregations in Lesotho's capital city, Maseru. She supports large numbers of people in her parish and collaborates with other pastors in the city, addressing local social and political issues that affect her congregants. In contrast, Rev. Letsie serves a rural parish located high in the mountains. Her parish stretches over a vast geographic area and includes congregations that are located in extremely remote communities in the mountains. For example, she recently rode 52 kilometers on horseback to visit one of her congregations (pictured here), because there is no road passable by a motor vehicle that goes to that community. Her duties also include helping manage a local LECSA health institution, Mohlanapeng Health Centre, which serves 14 surrounding villages.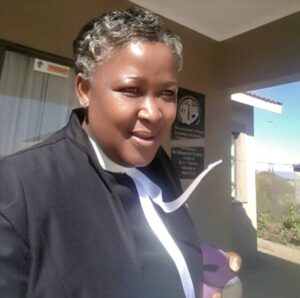 LECSA's first women pastors were ordained in the 1980s. Since then, the number of women clergy members in the denomination has increased. Now LECSA has a significant number of women pastors serving in a variety of parishes in both Lesotho and South Africa. The parishes range from those located in highly populated areas such as the one that Rev. Mohlatsane serves, to those in remote rural communities, like Rev. Letsie's. As one can imagine, each setting provides its distinct set of challenges both professionally and personally. Many women leaders in the church express that they have faced challenges in balancing their professional and personal lives, especially if they are married and/or have children. Yet despite these difficulties, many women in Lesotho courageously act on their calling to serve the church.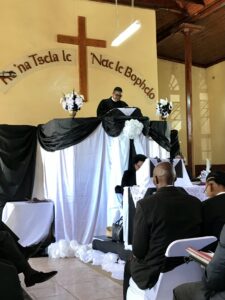 In addition to serving as clergy, women occupy various other leadership roles in LECSA. Administratively, women serve on both local-level as well as national-level committees and commissions that act as advisory bodies to the chief decision-making body of the church, the Executive Committee. For example, both of the groups I work closely with, the Health Fund Steering Committee and the Planning Commission, have women chairpersons, and both groups have roughly an equal ratio of female to male members. While over the years only a few women have served as members of the Executive Committee itself, there are currently a handful of women on it, including the Deputy Secretary, Rev. Seotsanyana.
On an educational level, Morija Theological Seminary (MTS), LECSA's theological institution, located in Morija, Lesotho, has seen a few Basotho women instructors since it was established in 1882. Rev. Fotho was one of the very first Basotho women who started teaching at the seminary in 2006, continuing until her retirement in 2020. She was also the second-ever woman pastor to be ordained in LECSA in 1989. Almost half of the students currently enrolled at MTS are women. (Anecdotally, in the class (pictured here) that I taught on World Religions, two out of my five students were women.)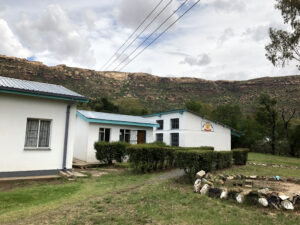 Finally, women contribute significantly as lay leaders in local churches. Regardless of whether these women occupy visible positions of leadership, they are often the ones who make church events run smoothly – they plan for them, staff them, and cook and clean up for them. There are also official women's groups that provide additional leadership opportunities and community for women within the church: Bo-Mabana is the oldest women's guild in LECSA and MBBK was founded some years later (pictured here in white blazers with black skirts). Both groups have distinctive uniforms that they wear to church events, which set them off visually from other church members. These groups organize fundraising events, worship, and provide numerous other kinds of support for their congregations. They not only meet at the parish level, they also have presbytery and national-level gatherings each year.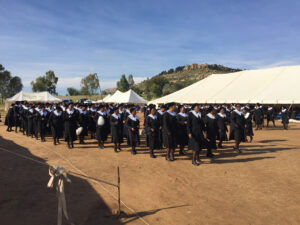 I lift up the various roles in which women serve in LECSA to show the integral part women play in the life of the church in Lesotho. The four women pastors mentioned above by name are specific examples of the kind of gifted, resilient, passionate, hard-working women serving within LECSA, but they represent countless others who also serve. It goes without saying that the work of women leaders is vital to the life and culture of LECSA and that their service is a blessing to the community.
Dear God,
We are grateful for the many women in LECSA who have contributed to the growth and faith of its members through their leadership, vision, and hard work. In these women, we see examples of your love lived out in action and service. May they feel your presence as they balance the challenges of work and family life. And may all church leaders be inspired to work together in mutual respect so that they are able to best serve you and the needs of their communities.
Amen
Danielle Murry-Knowles and Mark Knowles serve with the Lesotho Evangelical Church. Their appointments are made possible by gifts to the Disciples Mission Fund, Our Church's Wider Mission, and your special gifts.
Make a gift that supports the work of Danielle Murry-Knowles