World Council of Churches Webinar – Racism, Xenophobia, and Discrimination in Europe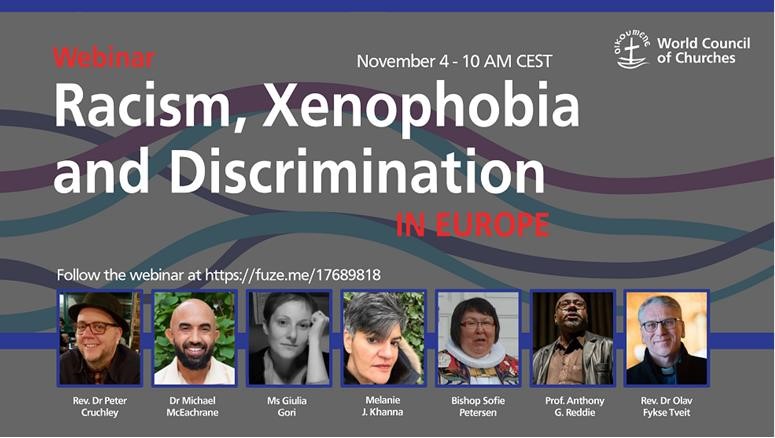 The Commission of the Churches on International Affairs (CCIA) of the World Council of Churches (WCC) is presenting a webinar on Racism, Xenophobia and Discrimination in the European Context. The webinar is part of the WCC Pilgrimage of Justice and Peace (PJP) 2019 thematic focus on Racism.
MS MÉLISANDE SCHIFTER, CCIA Commissioner and Project Lead for Inclusive Business at the Centre for the New Economy and Society of the World Economic Forum will moderate.
Global Ministries partner, Mediterranean Hope of the Federation of Protestant Churches in Italy, will have a staff member participating.
Speakers (alphabetical order):
Dr Peter Cruchley (Council for World Mission)
Dr Michael McEachrane (European Network of People of African Descent)
Ms Giulia Gori (Federation of Protestant Churches in Italy)
Ms Melanie Khanna (Office of the UN High Commissioner for Refugees)
Bishop Sophie Petersen (Greenland/Denmark)
Anthony Reddie (CWM)
Dr Olav Fykse Tveit (World Council of Churches)
---
Join us from your computer or mobile: https://fuze.me/17689818
 You can also join by phone by selecting the most suitable international phone numbers: www.fuze.me/17689818/dialin
Choose your country, dial the number
Enter the meeting ID 17689818 followed by the # key
---
Recordings of previous regional webinars are available here: Asia , North America , Caribbean and Africa