3rd Thursday Alert: Call on Congress to ensure access to places of worship in Jerusalem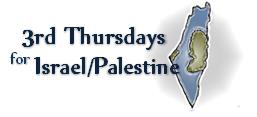 In the past couple of weeks, the issue of access to holy spaces in Jerusalem has been highlighted in the news.  Earlier this month, Israel took measures to close off access to al-Haram ash-Sharif (the Noble Sanctuary), also known as the Temple Mount, to Palestinian Muslims who sought to pray at al-Aqsa Mosque, and prevented entrance to Jerusalem's Old City to all except its residents.  The step led to rebuke from Muslim leaders locally and globally, and led to clashes.
This most recent episode highlights the deep sentiments and affinities with holy sites in Jerusalem; the tendentious nature of attempts to control access; and the impact of denial of opportunities to visit, pray, and worship at places dear to believers.
In this time of Lent, leading to Easter in April, call your Congressional representative, urging her/him to press Israel to ensure free access to places of worship in the city.
Jerusalem is a city that is considered holy by Jews, Christians, and Muslims.  Palestinians and other Arabic-speakers call the city, "Al-Quds," which simply means "The Holy."  It is replete with places venerated and visited by the faithful of the three Abrahamic traditions.  The Old City itself contains sites hallowed by people of all three faiths: for Jews, it includes the Kotel, or Wailing/Western Wall, and Temple Mount; for Christians, the Via Dolorosa, the "way of sorrows" upon which Jesus carried the cross on the way to Calvary, and the Church of the Holy Sepulcher, containing the site of the crucifixion and Christ's tomb; and for Muslims, the Dome of the Rock and al-Aqsa Mosque sit on the Noble Sanctuary.
After the 1967 war, Israel passed laws expanding its legal and administrative authority over the whole city.  On July 30, 1980, Israel passed a Basic Law declaring that Jerusalem "united in its entirely is the capital of Israel."  These assertions are in contradiction to the international community's insistence that considers East Jerusalem to be occupied.  Even so, Israel tightly controls access to the city as a whole, requiring permits for Palestinian residents of the West Bank and Gaza to enter; and even when in the city, Israel has closed the Old City to those seeking to enter.
US churches have consistently supported a shared Jerusalem as a capital for Israel and for a Palestinian state, and have upheld the importance of access to the city for people of the three faiths—Jews, Christians, and Muslims.  As Lent continues and Holy Week approaches, more and more Christians from around the world will visit the city, making a spiritual pilgrimage in the place of Christ's passion.  At the same time, Palestinian Christians, including Orthodox, Catholic, and Protestant, will yearn to make the same pilgrimage to worship and participate in the remembrance in this holiest of seasons.
Contact your members of Congress to press Israel to ensure access to holy places during the season of Lent and Holy Week, as well as for people of all of the three faiths who consider Jerusalem among their holiest places—Judaism, Christianity, and Islam.
Sample letter:
Dear Senator/Representative,
As a person of faith, I am deeply concerned with the limitations Israel's government continues to place on access to Jerusalem, and within the city itself, for faithful people to visit and worship in spaces that are important spiritually and historically to their faiths.  For Palestinian Christians who live in the West Bank and Gaza, special permits are required to visit Jerusalem.  In this season of Lent, and with Holy Week approaching next month, I write to urge you to press Israel to ensure access to the city, and to these importance churches and spaces.  Similarly, Palestinian Muslims have been denied access to worship at al-Aqsa.  Freedom to worship is essential, and as a member of a US church that has called for Jerusalem to be a shared city, a capital for Israel and a Palestinian state, and accessible to people of all three Abrahamic faiths—Judaism, Christianity, and Islam—I remain extremely concerned that this basic freedom is not enjoyed by all people.  Please use your good office to insist on this right for Palestinians, who do not enjoy the same privileges as Israelis.
Thank you for your consideration,