3rd Thursday Alert – Tell Congress: No to annexation, and no to continued occupation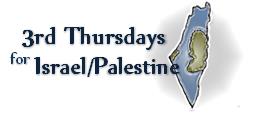 As anti-racism protests have swept across the United States following the horrific police killing of George Floyd on May 25, Palestinians have joined the thousands around the world rallying in solidarity with the Black Lives Matter movement. Floyd, an unarmed Black man, died after a white police officer kneeled on his neck for nearly nine minutes as Floyd pleaded, "I can't breathe." This painful moment has served as a reminder that, 157 years after the abolishment of slavery in the US and 57 years since Martin Luther King Jr's March on Washington, Black Americans still face daily injustice and discrimination, police brutality, and systemic racism.
The message of the Black Lives Matter movement has resonated beyond the United States, and demonstrations calling for an end to inequality and racial violence have taken place in hundreds of cities across the globe. In Palestine, where the reality of unrelenting oppression is all too familiar for Palestinians, solidarity has been proclaimed loudly and courageously, such as in a statement by the Palestinian advocacy organization Adalah Justice Project saying, "This rebellion is rooted in love. To protest for Black life, to demand dignity, to cry out for justice, is love."
There are strong parallels between the experience of Palestinians living under occupation and Black Americans. Both groups are subjected to police brutality, racism, systemized marginalization and subjugation, unlawful arrests, mass incarceration, unfair trials, generational trauma, and everyday violence. The recent killing of an unarmed, disabled Palestinian man, Eyad Hallaq, in Jerusalem by Israeli police has highlighted the tragically similar experiences of the two groups and spurred protests within Israel and Palestine.
Protests come on the heels of the recent announcement by Prime Minister Benjamin Netanyahu of plans to proceed with annexation of parts of the occupied Palestinian territories as early as July 1. Annexation is part of the Trump Administration's "Peace to Prosperity" proposal, which has been criticized by many church leaders. The move would be in direct contravention of international law, specifically  the Fourth Geneva Convention, and would significantly harm the prospect of reaching a just and lasting end to the conflict in the region.
In a letter to Congress on June 2, 27 church leaders called on those elected officials to oppose the unilateral annexation of significant portions of the West Bank. The leaders wrote that they are "deeply concerned" by Netanyahu's stated plans and their greenlighting by US Secretary of State Pompeo. "We are committed, as individuals, and as leaders of faith communions and organizations, to the achievement of a just peace… [annexation] is not in the cause of a just peace [and] would entrench inequalities and abuses of Palestinians' human rights."
These church leaders join Christian voices in the Holy Land in speaking out against annexation. The Patriarchs and Heads of Churches in Jerusalem in their statement on May 7 expressed "the utmost concern" if Israel was to proceed with plans; and the Middle East Council of Churches and World Council of Churches issued a joint letter "appeal[ing] for a firm and principled stance by the European Union against any annexation [… which] would constitute a grave violation of international law."
Join voices across the globe in standing up for justice. Tell Congress that now is the time for the US to oppose Israeli annexation, and to make clear that the US will not continue to subsidize Israeli occupation and appropriation of Palestinian land, in contravention of international laws and conventions, and against established US principles and interests in the region.