3rd Thursday Alert: Tell Congress to Affirm Your Right to Responsible Stewardship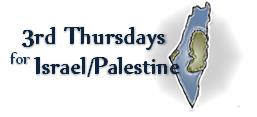 On July 30, the US House of Representatives passed a non-binding resolution that expressed its opposition to the global Boycott, Divestment, and Sanctions (BDS) movement, while at the same time, affirmed "the right of U.S. citizens to free speech, including the right to protest or criticize U.S. or foreign government policies." The resolution (H.Res.246) passed 398-17.
In the US Senate, the first bill that was passed in the new session this year (S.1, Feb. 5) was entitled, "Strengthening America's Security in the Middle East Act" which, among other things, "allows a state or local government to adopt measures to divest its assets from entities using boycotts, divestments, or sanctions to influence Israel's policies," policies that include continuing occupation of Palestinian lands, a recent new settlement construction approval, and the possibility of Israeli annexation of parts of the West Bank, in contravention of international law and UN resolutions.
These resolutions and bills illustrate that most members of Congress are prepared to do what is necessary to assert their support of Israel and its policies, even when such support conflicts with US principles and Constitutional rights, including free speech. And it follows the US Administration's several unilateral actions to undermine the possibility of a just resolution to the Israeli-Palestinian conflict, punish Palestinians living under military occupation and refugees, and further diminish the quest for peace, justice, and equality for the people there.
Even so, there is a glimmer of hope. Also on July 30, a separate resolution (H.Res.496) was referred to the House Subcommittee on the Constitution, Civil Rights, and Civil Liberties. That resolution affirms "that all Americans have the right to participate in boycotts in pursuit of civil and human rights at home and abroad, as protected by the First Amendment to the Constitution." It asserts the right to boycott in support of human rights, opposes legislative initiatives to restrict that right, and calls on Congress to protect it. The principles of the resolution echo those that churches asserted in our August 2016 statement, "Employing Economic Measures as Non-Violent Tools for Justice in the Israeli-Palestinian Context," and which were conveyed to President Trump and members of Congress in a Nov. 2017 letter which "reject[ed] any efforts by the state to curtail these rights."
Now is the time to reassert your conviction to be a responsible steward of your financial resources. Call and/or write your elected representative today to let them know that you insist upon your right to use your economic leverage in support of peace and justice any- and everywhere, including in the context of Israel/Palestine. Ask how they voted on H.R.246, and express your support for H.R.496, based on your faith values and your Constitutional rights, and urge her/him to support the resolution.
Feel free to use this sample letter when you contact your representative:
Dear Representative,
As a person of faith, I take very seriously the stewardship of the resources I have, to spend responsibly and to avoid supporting injustice. I am very concerned that Congress (and many state legislatures) are actively working to take from me the ability to make those decisions as I witness the continuing situation of Israeli occupation of Palestinian lands and people, and the inequality of rights and resources that result from that. I do not wish to support such policies, nor do I wish to invest in, purchase products from, or derive benefit from companies that do.
I am dismayed that H.R.246 passed so overwhelmingly and am deeply concerned that you supported it. [If your representative opposed it, you could substitute, "I am dismayed that H.R.246 passed so overwhelmingly but am pleased that you opposed it."]
I strongly support H.R.496 and the principles it affirms, and urge you to vote for it when it comes to the floor for a vote. Those principles are shared by leaders of my church and the ecumenical Christian community, as articulated in this statement.
Thank you for your attention to this matter, which is a matter of principle and law.
Respectfully,