A crucial juncture for Armenia… A call to pray for a peaceful transition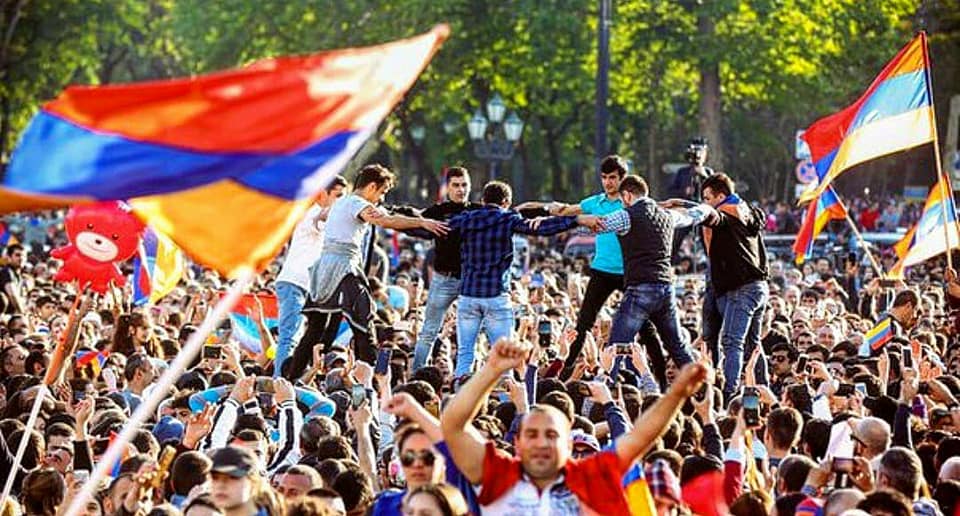 Armenia is currently witnessing an unprecedented expression of the public's will, as tens of thousands of people (in a country of less than 3 million) have poured out into the streets of the capital, Yerevan, something not seen since the vote for independence 1980s.
What is the reason that youth and the elderly, young families, soldiers, clergy, workers in the public sector, school children and more have paralyzed this country with their peaceful demonstrations? They are standing against the quarter-century rule of the current political majority in parliament, a party whose corruption and abuses of power have overshadowed any benefit it may have brought to this small, blockaded and beleaguered country. Its stagnant economy is controlled by a few rich oligarchs, its natural environment is being exploited with few controls, its people are emigrating from the country at the rate of thousands per year, and its youth and adults are disgusted by the lack of concern for this decline by those who in power who are enriching themselves while so many struggle in poverty.
This explosion of protest began in March, and intensified in April when the parliament elected as prime minister the 10-year president, Serzh Sargsyan, who had previously pushed through a change in the constitution transferring the president's powers to the prime minister. A week after being nominated for the position, Sargsyan stepped down, but his party retains a majority in parliament, which elects the prime minister. Thankfully, the authorities' reaction has largely reflected the non-violent nature of the protests.
The leader of this protest movement, Nikol Pashinyan, is being supported in his candidacy for the post by the remaining parties, as well as by the multitudes on the streets, but he must be elected by the majority in parliament – that is, he has to be elected by those he opposes. The first vote, held on May 1, failed to elect him, the sole candidate for the post. As of May 2, the ruling party appears to be yielding to the people's will – and have said they will not actively oppose his candidacy. Parliament will vote again on May 8, and in case that, too, fails to produce an agreement, snap elections will be held, and whomever the majority in parliament wants will be the prime minister. The hopes are that cooler heads will prevail until – and beyond – then.
Let us pray that this mix of anger, frustration and hopes building up on the streets does not turn into violence. Yet the message of the protestors is clear – that Armenians are brothers and sisters, and must not turn against each other, for the sake of their present and future. May God grant that those in power, whether today or tomorrow, move forward according to that principle.