Born to Be Like A Dream: Spending International Women's Day with Janna and her family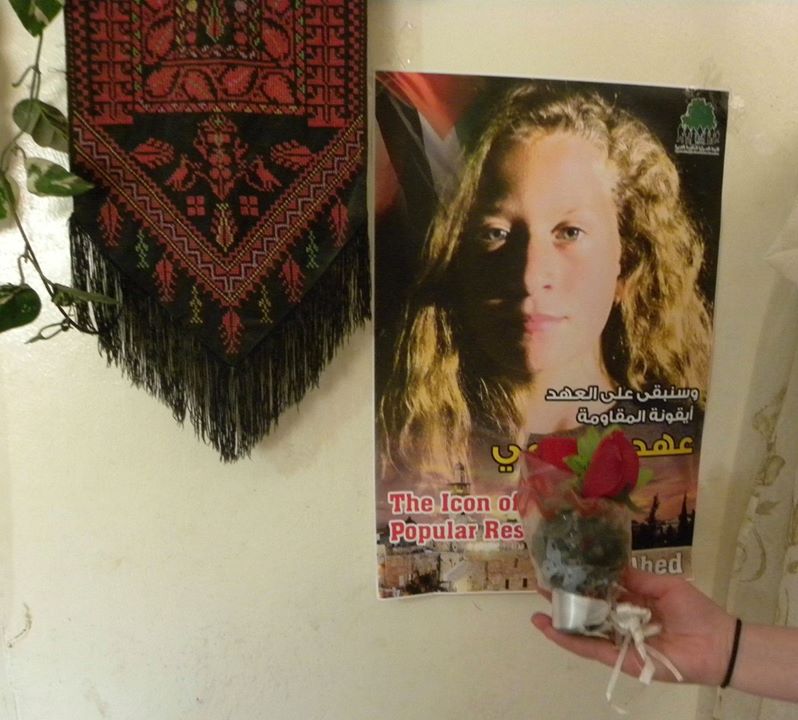 It was dusk and the smoke of tear gas still hung in the valley like a benign cloud with the occasional whoosh of new rounds streaking the light grey sky. We had finished our late lunch of chicken fettuccine with Nawal and her mother and the lovely Janna.
We came to spend International Women's Day with three generations of Tamimi women. What better way to celebrate Palestinian women then to spend time with them – cooking, laughing, and even singing and of course talking about what was happening in the village and who was still imprisoned. 17 people were kidnapped, detained, or arrested in the past two weeks including 8 minors. There was great concern that Mohammad who was still recovering from being hit with a rubber bullet in his head would be arrested once they deemed him "healthy enough." Ahed's trial was scheduled for Sunday. It seemed we didn't talk too much about her in case our words might somehow affect the outcome.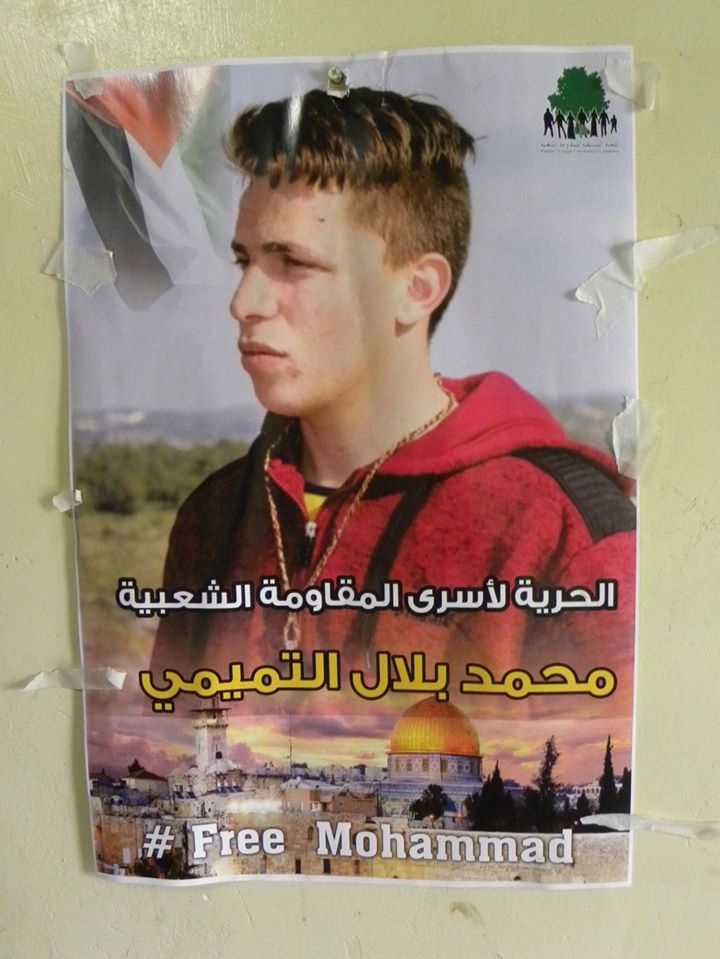 My friend Moira had met Nawal and Janna, Ahed and Nariman over a year ago at a gathering for women and girls. At that gathering she learned Janna loved fettuccine. We traveled to Nabi Saleh to make pasta. This is how women bond. We cook and eat together. We who nurture others also need nurturing ourselves. Moira carried most of the ingredients in her backpack. I carried the precious fresh Parmesan.
Over lunch Janna, now 11, told us about her life in phrases and slogans you could tell she had told countless others about how Israel was stealing her childhood and how all they wanted was freedom. She mixed past and present history until it seemed like the intifada, the uprising, has gone on forever. All was connected because freedom was still not won. The posters of Moahmmad and Ahed on the wall reminded us of the latest chapter.
Sitting on the sofa in her rainbow glittery T-shirt that said Born to Be Like a Dream and fashionable jeans, she talked nonstop about how everything a person does is resistance – drawing, dancing, even talking. She was gracious and skilled at speaking to foreigners in English. I later learned she was born in the US because her father is Palestinian American. An important detail that might become important if…
In order to get her off script, I asked her about school and what she was studying. She told us how she loved fashion design and brought out some her drawings. I remembered making these same drawings with women wearing princess dresses when I was her age.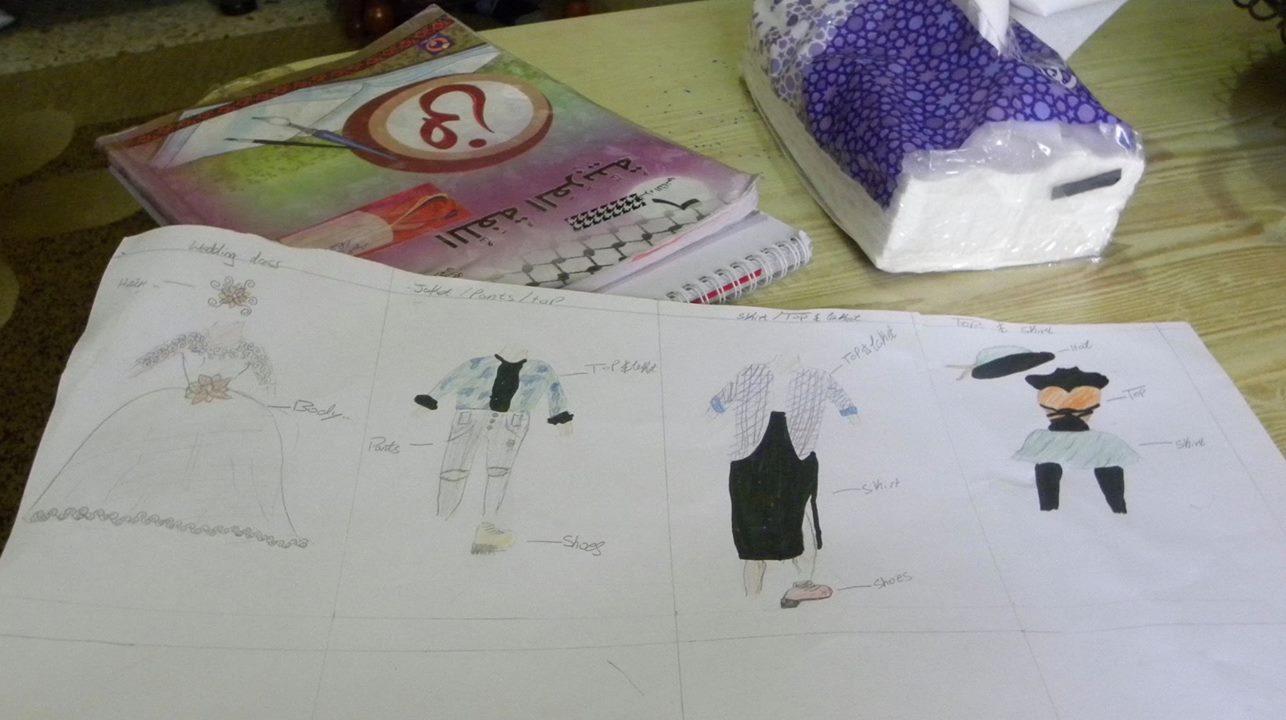 I showed her how to make women in high heels and if you can't draw hands, how to put them behind their back. I drew a quick sketch of her profile and gave it to her wondering if it had been wise to sign it in case they came. I wanted to leave something tangible behind in addition to the dolls. In the spirit of mutual gift giving, she gave me two live bullets and one rubber coated bullet.
When she talked about playing basketball and football, I asked, "What position?" Puzzled at first, she said surprised, "The center." "Center half? Me too," I said, remembering my glory days. We looked at each like long lost friends, an intimate bond that all tall girls have with other tall girls. When she showed us her social studies project trying to show Al Aqsa behind the wall and little green soldiers on the other side, I laughed out loud. I make art projects with those same little green army men.
How strange to have so many intersecting interests. How can it be that I have so much in common with this 11-year-old? With the youngest journalist in the world, a veteran activist since seven, from a village besieged every day by soldiers and settlers? Why is it I feel like we are soul sisters separated at birth? How is it that I feel I could be her mother for she is so like my own passionate beauty?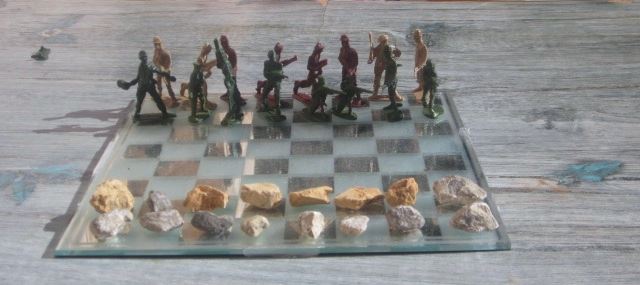 After lunch Nawal and Jenna asked if we wanted to see the village. We left the relative safety and comfort of the family salon, and headed toward the blue domed tomb of Nabi Saleh. We stopped for photos in front of the wailing wall of stun grenades and tear gas canisters. A perfect backdrop, counterpoint to our women's gathering.
Bilal, Janna's uncle, joined us to take photos of the new watchtower being built. He is the village's media watchdog, chronicling events so that the real story gets out. It was a normal evening in the village – soldiers shooting tear gas at children below us in the valley. Nobody seemed worried, but I think Bilal's accompaniment might have been more than just snapping pictures of the latest developments.
We walked past a brightly colored green house which stood out against the grey stone houses with cages covering their windows to block projectiles from entering. As we passed Janna said matter of factly, pointing up to the second floor, "I was thrown out of that window."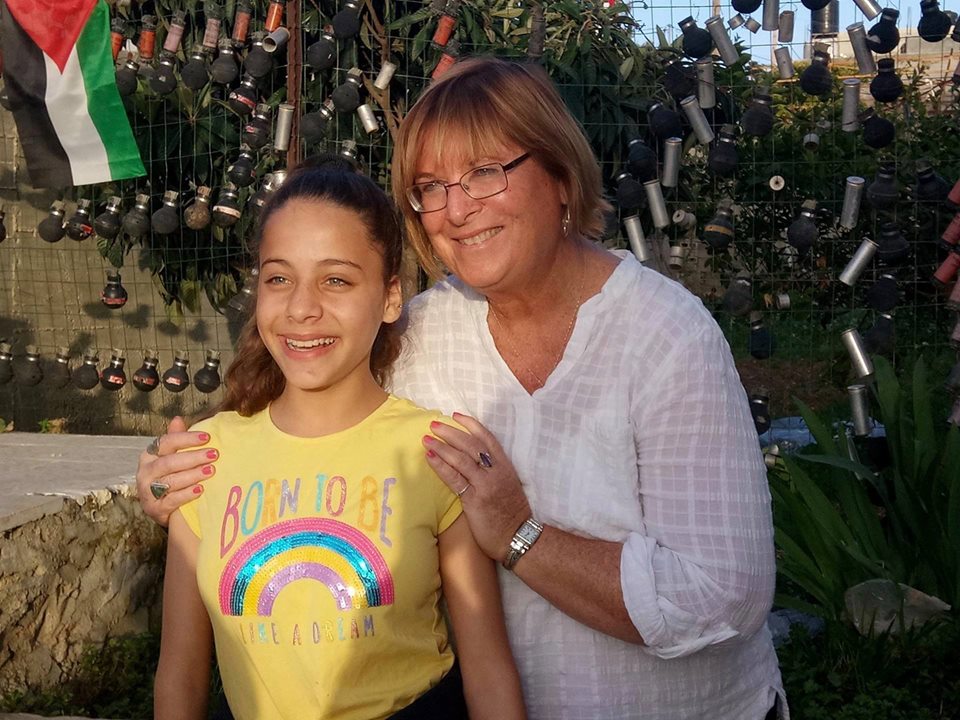 Later I learned that when she was four all the children were put into a room in this house to protect them from the soldiers. The soldiers shot tear gas into the room forcing the parents to throw their children out of the window. She still remembers the trauma. I wonder where that trauma lives in this smiley rainbow dressed girl who was born to be the dream.
Janna has had experiences with violence and death that no child should have. She has an uncle who was murdered when she was seven, and cousins who have been injured by tear gas canisters, stun grenades, or rubber coated bullets. She has a wall of sound bombs and tear gas canisters outside her house that she adds to every few days. She goes to bed worried that they will come for her mother. Her mother goes to bed worried they will come for her daughter. I now worry about them both, as it appears the IDF is hell-bent on imprisoning all of them. Ethnic cleansing looks like this up close.
The settlers have already confiscated 40% of the land including the spring that farmers used to use for irrigating their crops. They probably want the rest of the land now so they can expand their settlement.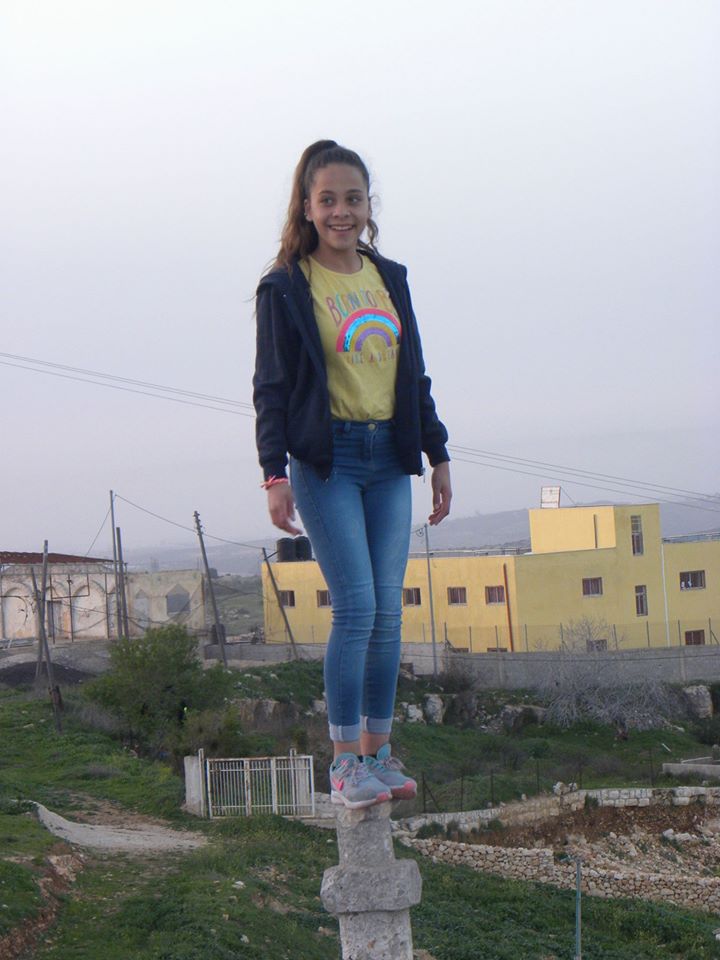 For years the villagers, all members of the extended Tamimi family, held Friday demonstrations trying to march to the spring. After years of violence and not getting anywhere they stopped having the demonstrations. But still the soldiers come whenever they feel like chasing and shooting children or arresting the adults for incitement for telling the world.
Janna said, "They want to break Nabi Saleh. They want to break our resistance." Never, she smiles.
On Sunday, the day of Ahed's canceled trial, the Press club came and awarded our lovely Janna with her very own press card. She is the youngest journalist in the world after all with close to 3,000 followers. She is also going to turn 12 next month making her ripe for being arrested. Will being a member of the press save her? How about that American passport? How about my prayers? Yours?
So when this courageous athletic girl climbed up on that wee cross on top of Saleh's tomb we all gasped—not because we were afraid she was going to fall off and hurt herself but because standing up there alone she was both our hero and a perfect target.
Loren McGrail serves with the YWCA of Palestine. Her appointment is made possible by your gifts to Disciples Mission Fund, Our Church's Wider Mission, and your special gifts.