Bridge-Building, Great and Small
Nishan and Maria Bakalian serve with the Union of Armenian Evangelical Churches in Lebanon.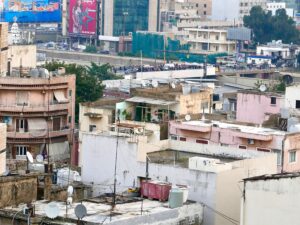 Today's society is permeated by profound divisions, revealed on streets the world over as well as here in Lebanon. And since societal extremes breed extremism, the church everywhere must be aware and active in helping to bridge those gaps. Despite the discouragement that permeates today's world and the mood of resignation we see all around us and inside us, we endeavor to continue our work as builders of those bridges, large and small.
Though small, what the Union of the Armenian Evangelical Churches in the Near East (UAECNE) is doing to reach out to the concentric circles around its churches and institutions is significant. While striving to complete reconstruction of its damaged churches, schools, and institutions following the devastation of the August 4, 2020, port explosion in Beirut, it is also striving to live as the Body of Christ, reaching out to those God created and loves. And, thanks to Global Ministries (GM), in partnership with the Armenian Missionary Association of America, we are able to do our part, working alongside many others to be the hands, feet, and heart of the Savior in this land.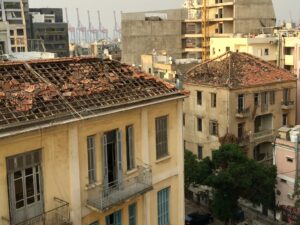 Lebanon, a land endowed by God with much beauty and potential, for over a half-century has been beaten down by war, greed, and nepotism, dissipating hope and driving away its own youth to overseas opportunities. The "revolution" of October 2019 reversed that trend, as people from all walks of life began to unite and together dream again of a hopeful and just land; but spiraling inflation, closing businesses, lack of job opportunities for youth, capital controls on people's bank accounts, 24-hour-a-day coronavirus lockdowns, political stalemates, selfish interests and so much more made many of those dreams evaporate.
When faced with an obstacle, it is essential to maintain focus on where you want to go and not on the obstacle in your way. This is how Global Ministries walks with partners in Lebanon to build bridges, no matter how small. Two of those partners, the UAECNE and Haigazian University, have risen to the challenges of "such a time as this." They have continued seeking out and providing social services both to blast-impacted households as well as to the "established" and growing numbers of poor in a country nearly devoid of functional governmental programs.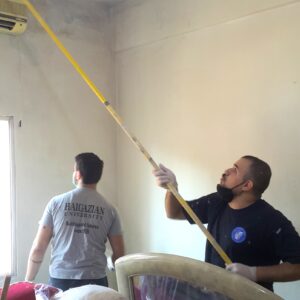 Recently, the University, in conjunction with the UAECNE, recruited student volunteers to do repairs and upgrading work in crowded and impoverished households, even arranging for new appliances where needed. It may be hard for someone who hasn't seen it firsthand to understand the conditions in which some families in Beirut live. Seeing the difficulty families have in obtaining necessary items, including infant and adult diapers, baby formula, medicines for chronic conditions, and the like, the Christian Social Service Center (located in a mixed Christian-Muslim area) and the Armenian Home for the Elderly are maintaining and expanding their connections with those in their immediate surroundings. This Center, with other church-based and secular NGOs, also helps out with rent subsidies and utility bills to help people avoid eviction from their homes and guidance for school-age children in order to help them in their assignments where parents may be unable to do so themselves.
Another new effort of the UAECNE is an outreach program for COVID-19 patients, delivering testing equipment and oxygen to the homes of those of low or no income. As Lebanon's hospital system is nearly at full capacity, practically unable to admit patients, this group delivers services to those who have fallen ill, providing basic care to those facing this lack of hospital beds and those without the necessary funds to pay hospital fees.
Moreover, Haigazian University is functioning totally online due to the pandemic, demonstrating its continuing commitment to educate Lebanese youth of all backgrounds, and assisting deserving students through its generous financial aid program. Bridges, great and small, are being constructed and maintained as an important step in edging Lebanon back to its rightful place as a crossroads for many different cultures and ideologies and a beacon of coexistence. As Pope John Paul II addressed the youth of Lebanon during his visit in 1997, "It is up to you to construct bridges between people, between families, and between the different communities."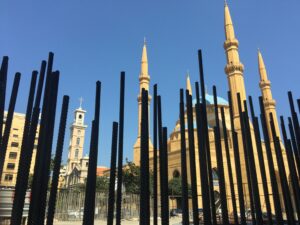 If it were possible to grant any wish to benefit Lebanon, more than providing relief aid or reconstruction programs, we would probably choose to create jobs for young people. Those who want to pursue higher education need to be able, after graduation, to begin their work locally rather than traveling abroad, as is currently the case for so many, never to return. Those who wish to pursue technical fields must be prepared with the proper training to make a living in the trades. Universities and trade schools are already in abundance. But job creation, more than anything else, will help bridge the gap between what young people hope for and what the country needs. People need a way to dream again, to pass their hopes and dreams to their children and grandchildren who surround them, and not painfully long for them halfway across the globe.
The church of Jesus Christ is doing its best to build hope and to remind us of the core message that God is the master Bridge-builder. God loves this world so much that in Jesus Christ, he reorients our hearts to pursue what makes for peace, for reconciliation between adversaries, and for responsible stewardship of the planet. As difficult as it is, "we do not lose heart" (2 Cor. 4.16). As God empowers us, we will keep our focus on what is eternal, as we share the good news in Christ, as we worship and study God's Word together, as we care for the needy and guide young people in Lebanon and the region to become morally sound, wise and loving.
Nishan and Maria Bakalian serve with the Union of Armenian Evangelical Churches in Lebanon. Their appointments are made possible by your gifts to Disciples Mission Fund, Our Church's Wider Mission, and your special gifts.
Make a gift that supports the work of Nishan and Maria Bakalian