Celebrations at Bazaar Café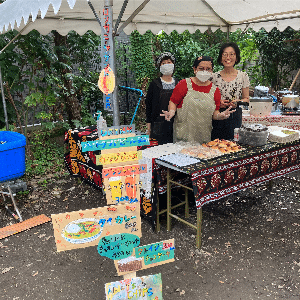 Martha Mensendiek serves with Doshisha University, Kyoto, Japan.
Dear Friends,
This has been a banner year for the Bazaar Café for two reasons.
On September 9th, we celebrated the 25th anniversary with a big event. The Bazaar Café was decorated with photographs from its 25 years of history, festive ribbons, and even a piñata. People shared their stories, memories, and feelings about the Bazaar Café. There was music, dance, and other performances. Many people who had helped in the early days returned for the event. Some who were students back then brought their children. It was like a homecoming and also a celebration of what the Bazaar Café is all about – being open and accepting of persons of all backgrounds and identities, being a place to support one another, and providing a safe and understanding work environment.
It so happened that a group from the Disciples of Christ Women's Ministries were on their Women-to-Women East Asia Tour and were able to join us for the festivities that day.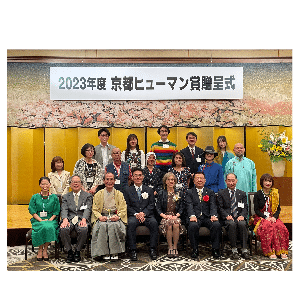 They presented us with a Rainbow flag, symbolizing our common vision of a world that is accepting of all. All in all, it was a wonderful afternoon celebrating the 25 years of coffee house ministry, supported by the partnership with the Christian Church (Disciples of Christ) and United Church of Christ through Global Ministries.
The second cause for celebration, held in June, was being honored with "The Kyoto Human Award," sponsored by the Omron Corporation, an electronics company based in Kyoto. Every year, one organization and one individual who have made exceptional contributions to the wider community are chosen for their work in such areas as social welfare, children and youth, empowerment of women, or the environment. It is quite an honor to be recognized and the monetary award is a big help, of course.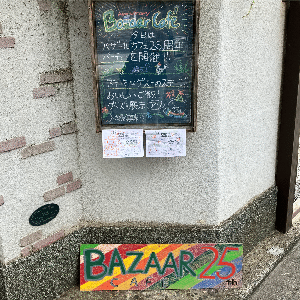 When we started the Bazaar Café, we never dared to imagine that it might last for 25 years! We know that the dedication of our countless volunteers and staff throughout the years, as well as the prayers and support of friends here and abroad, have made this possible, and we are very grateful. We hope to continue to share God's love in this place we call the Bazaar Café!
Martha Mensendiek
Martha's appointment is made possible by your gifts to Disciples Mission Fund, Our Church's Wider Mission, and your special gifts.