Community Development in Chiapas
By Elena Huegel
Elena Huegel serves with the Intercultural Research and Studies Institute (INESIN) in Mexico.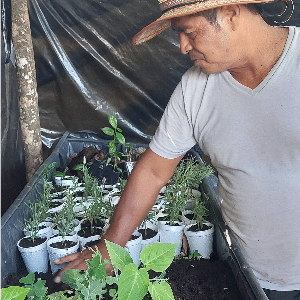 Don Fausto lovingly caresses the soil. The cows, bunnies, chickens, earthworms, and bacteria have each done their part. Rich, loamy earth will soon be turned into vegetable beds, an herb garden, and fruit trees. With technical support from Dolores, who works for the Institute for Intercultural Studies and Research in San Cristóbal de las Casas in Chiapas, Mexico, Don Fausto is incorporating organic nutrients into the soil for the maximum benefit of everything he grows. In the afternoon, we sit down for lunch around the table in his home. The plates are mix-matched, and some are cracked, but we enjoy a feast fit for royalty. Only the salt on the table was bought at the store. The fresh pineapple and orange drink, with a touch of banana for sweetness; the tossed salad of lettuce, carrots, and tomatoes garnished with parsley and lemons; the soup made with free range chicken, chayote (Mexican pear squash), potato, onion, and cabbage; and the soft, thick, freshly hand-thrown corn tortillas made from scratch (a process that takes a couple of days), and the giant toasted ants (a once a year delicacy) all come from that hearty soil. In hot, dry summers, when water is low, Don Fausto and his children carefully hand water the plants. However, since they live on a hillside just above the tropical plains, it doesn´t freeze in the winter. Once the rains start, they ensure that the low channels they have dug flow into a homemade plastic-lined pond where they can capture and save water for the next dry spell. Dolores helps them figure out a strategy for the best use of water during the whole year.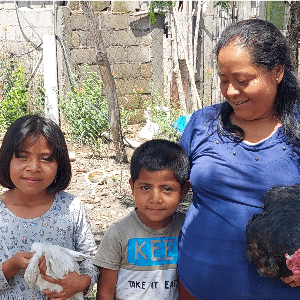 Don Fausto is Catholic, but his neighbors are Protestant. He says his faith has taught him to share everything he is learning. He has organized a group of neighbors to meet with Dolores monthly so they can learn how to enrich the soil, grow their own food, and reclaim ancient recipes. Beans and corn don´t require much work and store quickly. In the past, when people had to work far from home or as peons on extensive land holdings, they quit planting and eating the traditional varieties of squash, greens, and grains that require extra care. Next door to Don Fausto,10-year-old Yareli and 5-year-old Félix hold baby chicks as they tell us what they are learning. Félix shows us how he has half-buried two-gallon water jugs, punched with a few holes, next to each sapling fruit tree. He shows us a tree that doesn´t have a water jug and compares it to one that does. His mother explains that she planted the tree without the water jug five years ago when Félix was born. It is stunted and has not yet produced fruit. The tree with the water jug, which Félix carefully fills twice a week during the dry season, is only slightly over a year old and is already larger than the first tree. It also has buds popping out from its branches. Félix says he likes eating chicken, turkey, bananas, oranges, and squash but doesn´t like beans. It is a good thing his family has learned to produce many other things to eat!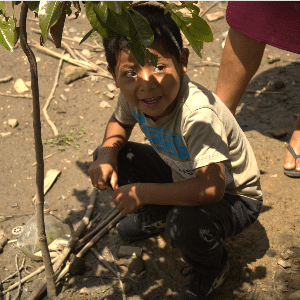 Yareli proudly shows us her chickens, geese, and turkeys. These are her responsibilities, and they flock around her as she proudly explains what she does to feed and care for her charges. She shows us fresh eggs and explains that she dreams of having an incubator someday to produce more chicks. There is only one problem. When she starts crying silently, hiding her face behind the chick in her arms, her mother explains. Yareli has become a vegetarian as she can´t bear for any flock member to be sacrificed for food. Eventually, she sniffs and softly whispers that she knows it is silly and tries not to get attached; she doesn't even give the birds names. After so much loving care, she just can´t bear the idea of eating any of her flock. She says she has promised her mother that the family can have a turkey for New Year's dinner… but that she will eat vegetables and tortillas.
The group that Dolores accompanies in Llano Bajo is a life-giving example of community: they learn together by trying out new techniques and strategies for improving their soil and, hence, the nutritious food they produce; they care for each other and share so that everyone benefits from the fruit of their labor; they laugh and encourage each other with evident pride and hope for a healthier future for their children and grandchildren.
Elena Huegel serves with the Intercultural Research and Studies Institute (INESIN) in Mexico. Her appointment is made possible by your gifts to Disciples Mission Fund, Our Church's Wider Mission, and your special gifts.