Conference Call with Faith Leaders on the Iran Deal
Faith in Action for the Iran Deal

Thursday, August 27, 2015

Join faith leaders for a national conference call on the Iran nuclear deal.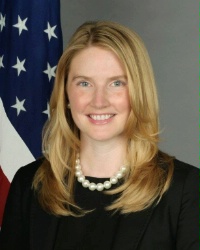 Featured Speaker Marie Harf, Senior Advisor for Strategic Communications to Secretary of State John Kerry. Ms. Harf led U.S. communications strategy on the Iran negotiations in Vienna.
Panelists:
»         Jim Winkler: General Secretary, National Council of Churches
»         Diane Randall: Executive Secretary, Friends Committee on National Legislation
»        Marie Dennis: Co-President, Pax Christi International
Call Details:
8:00-8:45 p.m. EDT on Thursday, August 27.
RSVPs are required. Register for call-in information.
For more information, contact foreignpolicy@fcnl.org.
Sponsoring Organizations: National Council of Churches, African Methodist Episcopal Church, Alliance of Baptists, American Baptist Churches USA, Arkansas Interfaith Alliance, Catholics in Alliance for the Common Good, Church of the Brethren, Church World Service, Communion of Conciliar Catholic Churches, Disciples Center for Public Witness, Florida Council of Churches, Friends Committee on National Legislation, Global Ministries of the Christian Church (Disciples of Christ) and United Church of Christ, Jewish Voice for Peace, Leadership Conference of Women Religious, Maryknoll Office of Global Concerns, Office of Christian Unity and Interreligious Relationships, Pax Christi International, Presbyterian Church (USA), Sisters of Mercy of the Americas – Institute Justice Team, The United Methodist Church, United Church of Christ, United Methodist General Board of Church and Society, Wisconsin Council of Churches
Related Story: Christian Leaders Urge Congress to Vote for Diplomatic Agreement with Iran