Connect with Global Ministries at General Assembly 2023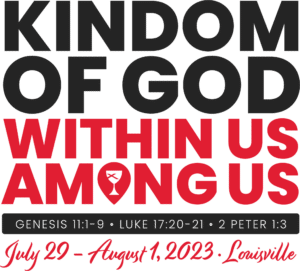 Global Ministries is excited to connect with Disciples friends at General Assembly in Louisville. The following are opportunities for connection. We'd love to meet you! You may register at ga.disciples.org.
International Dinner
Please plan to join Global Ministries at our International Dinner on Monday, July 31 at 5 PM in the Louisville Marriott. This year, the dinner will be a bit different. Instead of a traditional sit-down dinner, we will enjoy heavy h'ors d'oeuvres (you'll have enough to eat to make a meal) and opportunities to meet and mingle with global partners, mission co-workers, and staff. A brief program will be included during the meal hours to learn a bit about the new Pacific Basin Initiative. There will also be activity stations, including some kid-friendly activities. We hope you and your family will plan to attend! You can register through the General Assembly registration portal.
Workshops
Global Ministries is contributing to the following workshops. You may register for these workshops in the General Assembly registration portal.
GLOBAL JUSTICE – SUNDAY, JULY 30 FROM 3:00-4:15 PM
BUILDING JUSTICE FOR THE WHOLE KINDOM – MONDAY, JULY 31 FROM 8:45-10:00 AM
MINISTRY MOMENTS WITH GLOBAL MISSION CO-WORKERS – MONDAY, JULY 31 FROM 8:45-10:00 AM
KOREAN PEACE APPEAL – MONDAY, JULY 31 FROM 8:45-10:00 AM)
CONNECTING MIGRANT FOOTSTEPS – TUESDAY, AUGUST 1 FROM 10:15-11:30 AM
Exhibit space
Please plan to visit the Global Ministries exhibit in the exhibit hall! We will be celebrating the launch of the Pacific Basin Initiative and would love to meet you!