Contact Congress Today to Ask for Action to Protect Liberian Refugees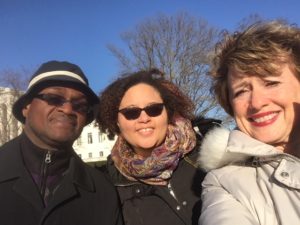 Thousands of Liberian refugees who fled civil war and disease are at risk of immediate deportation unless Congress acts. Since 1991, Liberia has been continuously designated for either Temporary Protected Status or DED, due to unsafe country conditions preventing Liberians from safely returning.
In 2007, President Bush directed that DED be granted to Liberian TPS holders, allowing them to remain in the United States for eighteen months. Since then, DED for Liberia has been extended by all subsequent administrations – Democrat and Republican alike. In 2016, the Obama administration extended DED for Liberia for an additional 18 months, after it suffered from an Ebola outbreak that began in Guinea and devastated Liberia as well. The epidemic killed 11,000 people in the span of two years. Despite this history, the Trump administration announced the ending of DED by end of March this year.
Our partnership with Liberians has been long and strong, and Americans share a centuries' old heritage with Liberia. As Rev. Marco Cable, Executive of Global Ministries Africa Office reminds us, "The first missionaries sent to Africa were Black Americans who went to Liberia."
The Liberian Council of Churches has asked directly for help from people of faith in the U.S., especially their Christian brothers and sisters. On a recent trip to Liberia, General Secretary/President Jim Winkler pledged that NCC would advocate to protect the status of Liberians as a response to the Biblical mandate to "welcome and care for the sojourner and immigrant and refugee…" A bill before Congress would help protect Liberians in the U.S. The Liberian Refugee Immigration Fairness Act, sponsored by Rep. David Cicilline and Sen. Jack Reed, will give Liberians an opportunity to apply for permanent residency and, eventually, a path to citizenship.
Write to your representative and senators now to urge them to support the Liberian Refugee Immigration Fairness Act!!
Get more information from Disciples Refugee and Immigration Ministries.