Crossing over to the other side: a testimony of the Evangelical Seminary of Puerto Rico
Presentation by Dr. Doris Garcia-Rivera, President of the Evangelical Seminary of Puerto Rico
Disciples Women Luncheon on June 2, 2018
Christian Church (Disciples of Christ) in Virginia Regional Assembly
Two days ago we heard the findings from a research study conducted by Harvard University regarding the actual death toll of people in Puerto Rico after Hurricane Maria.
Puerto Rico has been in an economic recession for ten years; we face a $72 billion federal debt, a bankrupt economy, the aftermath of a category four hurricane, and a Fiscal Supervisory Board pulling apart labor benefits and social services. I was without electricity for three months, and the Evangelical Seminary of Puerto Rico was without electricity for six months. Today, there still are 24,000 people without electricity eight months after the hurricane! Massive power outages constantly disrupt your plans; while the news of corruption, business closures, and nonsense political discourses distress us. Over 130,000 people left the island and nearly 38,000 new people have fallen under the poverty line – earning less than $1,010 per month ($38 per day). Additionally, over 170,000 female-headed households in Puerto Rico were living under the poverty level already.
And then… Maria came!
Photos of the Evangelical Seminary of Puerto Rico after Hurricane Maria
How do you deal with this type of disaster?
One way is to use humor – some people make fun of the governor given the terrible and inefficient way the administration managed the disaster.
Another way is to protest.
After Hurricane Maria, the world turned to help us in Puerto Rico, but materials first had to be shipped to Jacksonville, Florida.  Basic goods needed immediately were delayed and stored for weeks in Florida, because of the Jones Act. Puerto Ricans pay twice as much as those living in a state of the United States. Puerto Rico is a captive market, a captive nation. 
There is profound grief and trauma in Puerto Rico, and there is a deep anger and dissatisfaction with the government. Suicide has tripled. This is the national scenario, which requires serious action and pastoral reflection on the part of the faculty of the Evangelical Seminary of Puerto Rico.
Our seminarians helped in the recovery, such as Mario, Tita, and Michael. Thirty-six percent of our students live in the towns most devastated by Hurricane Maria. Even when many seminarians lost their own houses or furniture, they nevertheless served others. They helped to clear debris and open access to streets, removed rubble, and distributed clean water. Some served hundreds of thousands of meals until fatigue got the best of them. They found their own and unique path in the midst of the chaos. They also engaged theologically, interpreting these events as a call to participate in a spiritual renewal of a Gospel of Peace for all – including  peace with nature.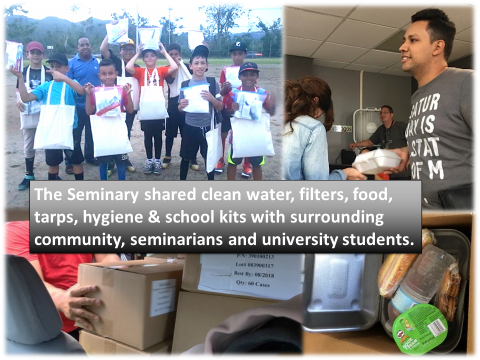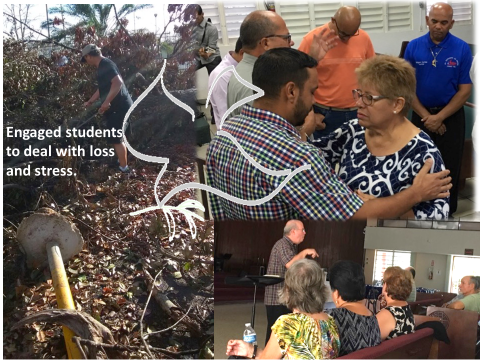 Global Ministries also responded to its unique calling to be present. Reverend Angel Luis Rivera-Agosto, Executive for the Latin America and Caribbean Office was one of the first to respond during the crisis. He visited us three times, and we spoke many times by phone. One thing he repeated again and again, was "you are not alone." Caroline Hamilton-Arnold, Week of Compassion (Disciples) and Zach Wolgemuth, United Church of Christ Disaster Ministries came as well and helped to lift up our hope. They extended support including $10,000 for scholarships for those students most affected by the storm. They also provided $25,000 to complete the cleaning of the campus so our students could return. Tools and equipment were purchased; YOU were part of this.
Being in the boat with Jesus is awesome…. Until he falls asleep!
Jesus crossed the Sea of Gennesaret at least twice. The first happened after he fed the crowd of 5,000 people. The second happened before the encounter with the possessed man and after healing, preaching, and serving many individuals. In both events, the Bible mentions masses of people following the disciples. The invitation to cross the Sea of Gennesaret is a response to the reality of a weary group. They did not have the opportunity to rest. In Mark 6:31 it says "because so many people were coming and going they did not even have a chance to eat… [Jesus] said to them, 'Come with me by yourselves to a quiet place and get some rest'."
We have felt like that, weary, sad, frustrated. Jesus cares about us deeply and takes into account our emotions, the weariness of our bodies, our minds, and our spirits. Jesus becomes more real and near to us when we face changes and chaos and when we lose our path. In those moments you really need a good companion – a friend to accompany you in the midst of chaos and changes.
So 248 days after Hurricane Maria… where are we? Rebuilding has been slow. We continue to lack materials, funds, and the mood around us is somber and anxious. Yet, I can say that God has been with us. It has not been easy, but yes, I have seen God's love and care, and accompaniment alongside me. I have yet to get to the space of rest and quietness that lasts more than several hours or a whole day! The needs of Puerto Ricans are huge, but my God is greater than any storm.
I have learned as well as many others, that crossing over is an adventure of faith, courage, trust, and hope. Puerto Ricans are a resilient people. We will come through. Yet, those words, "Let us cross to the other side" hides a promise within them… a place where Jesus wants to take you. A place where you, your family, my country – Puerto Rico, and I can breathe and rest. Where we can be free.
The Evangelical Seminary of Puerto Rico is walking with the church in Puerto Rico to cross over. Are you willing to accompany us? If so, come, let us cross over to the other side!
Learn more about the work of the Evangelical Seminary of Puerto Rico.