Dancing to the music of transformation
By Ruth Marissa Quistiano Ramos
Translated and edited by Elena Huegel
Elena Huegel serves with the Intercultural Research and Studies Institute (INESIN) in Mexico.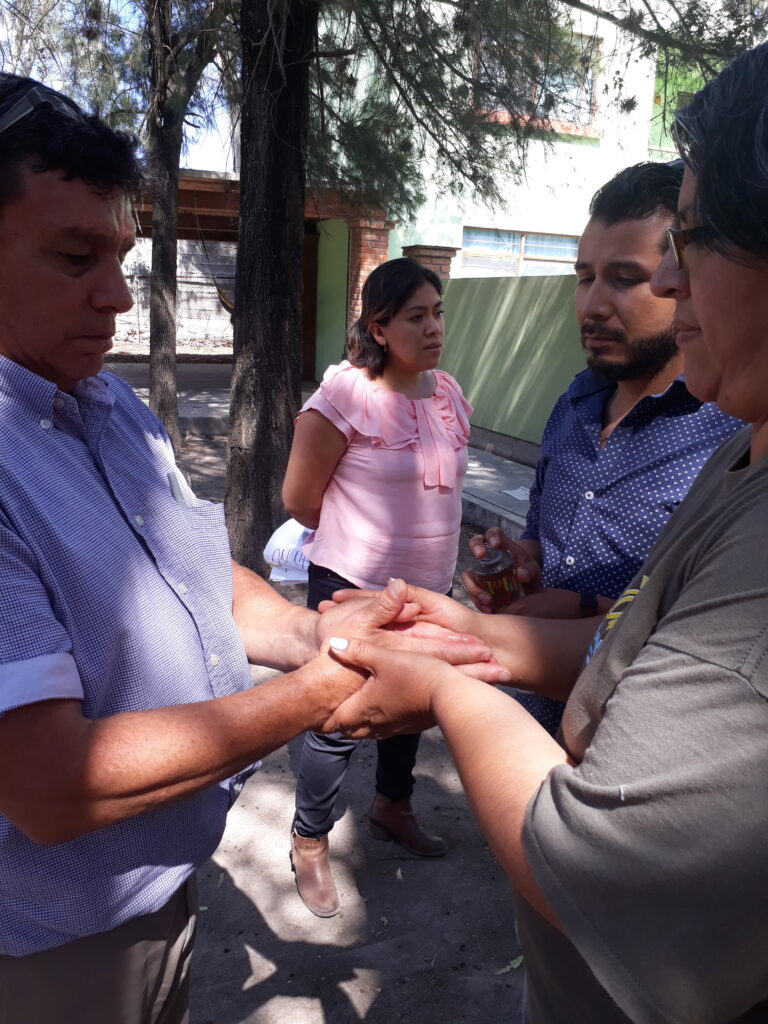 What has the "Retoños en las ruinas: esperanza en el trauma" (Roots in the ruins: hope in trauma) program meant to me? I take a deep, peace-filling, breath as I ponder how I will answer this question. I am grateful to God for showing me all the ways that grace fills my life and for each person who has been a part of this beautiful dance of transformation.
Life is full of changes with shades of dark and light colors: each essential in the holistic growth I seek.  I have felt vulnerable in the storms, but I am learning from the conflicts and losses, finding hope even in the midst of brokenness.
I began my process in the Roots in the ruins program 7 years ago, a dance of discovery. God has given me new skills and gifts and guided me toward healing, freedom, strength, and service.  My belief system has been rebuilt, I have let go of hurts that have blocked my growth, and I have felt and thought through painful experiences, finding new meaning while affirming my faith in the power and love of God.
Each facilitator in the program has left a seed of new life planted in the soil of my soul. They have shared their own stories, inviting me to find strength, through God, in my weaknesses. Telling and listening to each other's stories in a safe and embracing space is another powerful step in this dance of healing. The facilitators are essential partners in God's reconnection project for all of creation; together we discern the joy and strength that comes from accompanying each other in the dance.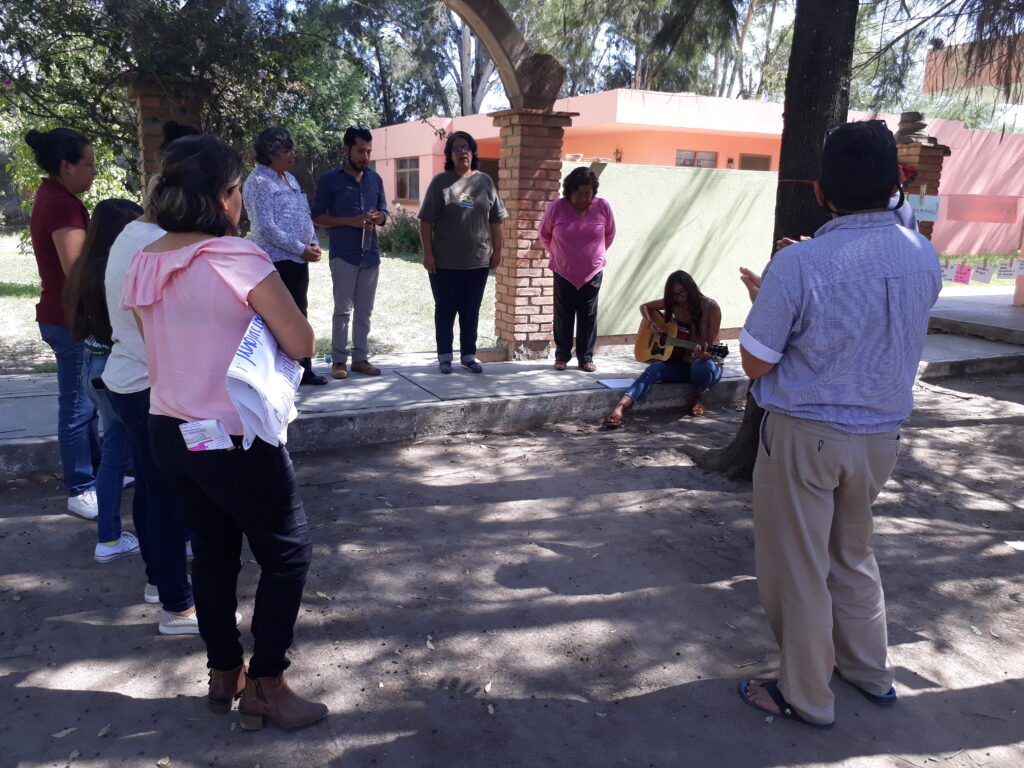 Life is richest when lived in a community. During each of the Roots in the ruins courses, I have had the unique opportunity to be a part of a community of other healing seekers.  We have laughed, prayed, cried, reflected, created art, and danced together, praising and thanking God for discovering that we are not alone on the journey.
I have implemented my learning about dignity, mind/body integration exercises, resilience, restorative justice, assertiveness, forgiveness, and critical hope in my personal life as well as with my family and community.
During the community dancing in the Roots in the ruins courses, I am able to integrate feeling and thoughts, healing and brokenness, learning, and questions.  I have laughed, made mistakes, looked into the eyes and held the hands of other participants, and felt connected through the music and the movement to myself, others, God, and somehow, to all of creation.  Dancing is a practice for life: I need to find my pace, knowing it is okay to make mistakes and keep trying, winding my way with God to the fullness of freedom and purpose. 
Life changes after every adversity and storm, but these challenges are necessary to develop resilience, the capacity to face the pain and stand up again, to feel compassion, to deal with uncertainty, and to find a deeper and more fulfilling purpose in life.  I still wish that suffering were not a part of this life, but thanks to the challenges, I am learning to live with passion and intention, creating beauty and embracing freedom. Through adversity, we can choose to create a community helping each other to dance in the dignity, grace, hope, power, and love of the God of healing and transformation.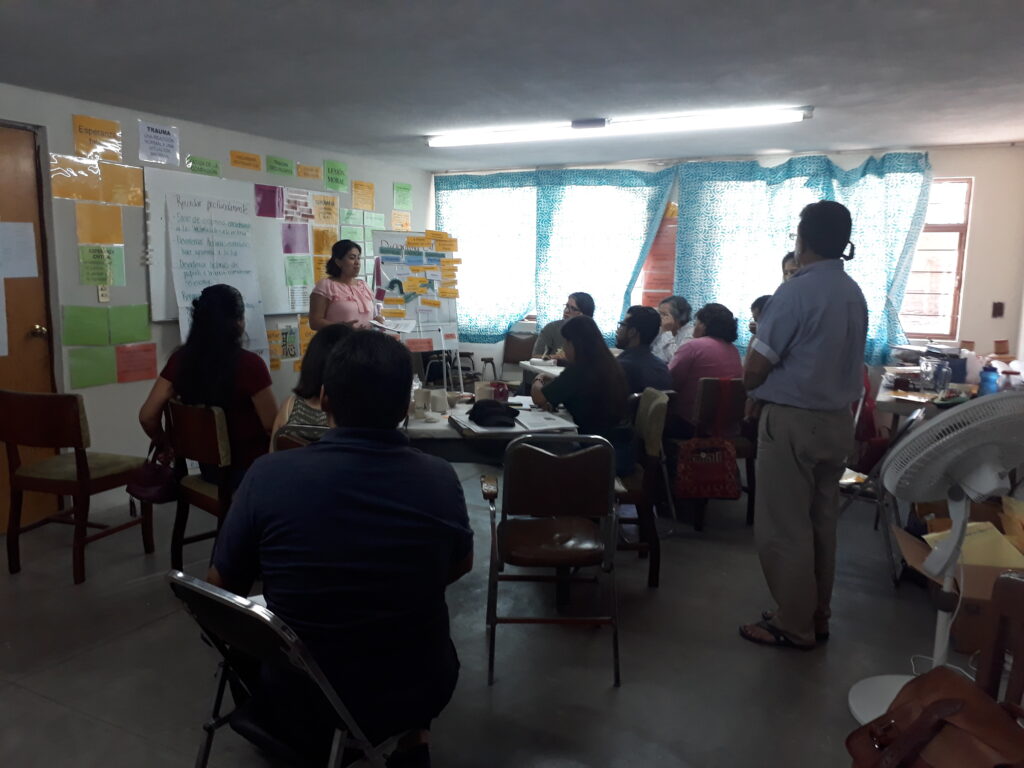 You let me rest in fields
of green grass.
You lead me to streams
of peaceful water,
and you refresh my life.
You are true to your name,
and you lead me
along the right paths.
Psalm 23:2-3
Note:  Ruth Marissa Quistiano Ramos is a member of the Central Christian Church, Disciples of Christ in San Luis Potosí, México, and a facilitator of the Retoños en las ruinas: esperanza en el trauma program.
Elena Huegel serves with the Intercultural Research and Studies Institute (INESIN) in Mexico. Her appointment is made possible by your gifts to Disciples Mission Fund, Our Church's Wider Mission, and your special gifts.