Days of Prayer and Action for Colombia
May 22-23, 2016
Building Peace from the Ground Up/Construyendo La Paz Desde Las Comunidades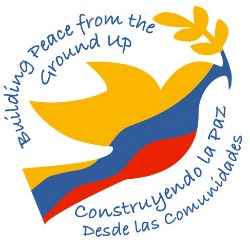 May 22-23 are days of solidarity and prayer with brothers and sisters in Colombia. Peace talks between the government and Colombia's largest guerrilla group, the FARC, have been moving forward. But the peace accords have not been signed yet. As threats increase to human rights defenders and advocates for just resolution of conflicts over land, there is still much work to be done. We want to lift up those who are working for peace today and for the peace accords of tomorrow.
Contact your members of Congress and urge them to support the long term implementation of a just peace in Colombia.
*New* Colombia Days of Prayer and Action 2016 resource!
Join hundreds of congregations in the United States and Colombia to pray and take action for peace in Colombia.
Download the Colombia Days of Prayer and Action Resources
Other Ways to Engage