DSPR-Jordan: From the community to the poorest households

As part of its efforts to improve the socio-economic situation of women in Al Husn Refugee camp, the Department of Service to Palestinian Refugees (DSPR) Jordan established two green-houses next to its vocational training center.  The aim of developing these facilities is to train women in vegetable production and use some the produce as raw materials in the "Production Kitchen" initiatives.  With the help of the work of the DSPR volunteers, both green houses were planted in November, 2019 with vegetables such as zucchini, cucumber, tomatoes, green beans, and leafy vegetables such as lettuce, Rocca, parsley etc.
Abeer is a 30-year-old agriculture engineer and part of the of the volunteering team responsible for the green house activities. She was excited to be able to put her knowledge and skills in what she loved to do the most- training in small scale farming.  She was also happy that the women association collected some of the vegetables to use them along with other ingredients to train women in the production kitchens. "We started producing all kinds of food, pastries, and sweets and managed to organize local Bazaars which was a good start for small income" said Abeer. Even schools, families, medical centers, and other institutions inside the camp started ordering from our group.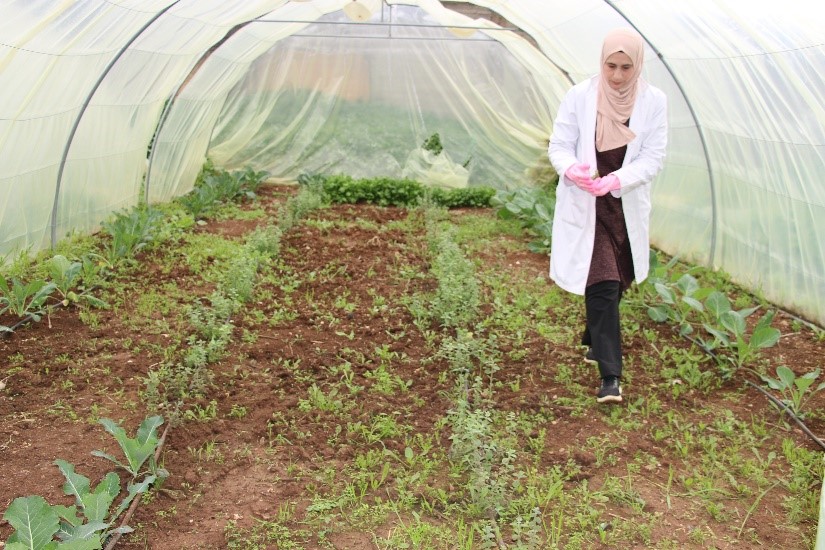 Things had to change since the outbreak of COVID 19. When the state of emergency was declared across Jordan, Abeer, along with DSPR Jordan staff were thinking how they can use the production Kitchen initiatives and the Green Houses project for relief activities. As volunteers were not able to work at the kitchen due to social distancing, they thought that providing what is available at the green house and production kitchen facility was opportune for poor families in the refugee camp. Within a week, more than 150 food parcels composed of vegetables and leafy vegetables (from the green house) were distributed to the poorest households inside the camp. Also, portions of sugar, flour, canned food (from the production kitchens) were part of the parcels and distributed by the local committee as a first response to COVID19 in Al Husn Camp while taking the safety precautions while doing all this.  "We are very proud of our committees and volunteers who are creative and ready to help the most vulnerable among our beneficiaries!" said Mr. Fares Swais- Executive Director, DSPR Jordan. "In the weeks to come and when some normalcy is restored, we anticipate more needs to relief the poorest households in our different refugee camps".
Production Kitchens is model developed by DSPR Jordan and supported by the Irish Embassy in Jordan to help women to learn basics of food for business production through an intensive course (meals for association and individual levels). Women who undergo the training learn about producing in their homes, DSPR Production unit, or within the local women associations catering such as hot meals, snacks and small food products.