Gendered water: women fight for safe drinking water in their communities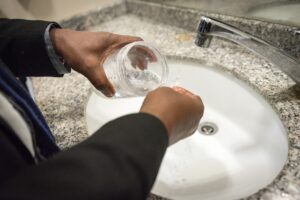 The 4th reflection of the Seven Weeks for Water 2021 of the WCC Ecumenical Water Network is written by Krystina White.* In the following reflection, she narrates her experience of how people of colour are denied their right to clean water because of lead poisoning of tap water in Flint, Michigan (USA). She further demonstrates how ordinary women, though at the receiving end, can do extraordinary work, just like Deborah, the prophetess in the Bible. White and her friends challenged the lead contamination of Flint's waters through the Black Millennials 4 Flint and offered lasting solutions to communities facing the crisis.
Text
Judges 4: 4-10
Reflection
In the Hebrew scriptures, the book of Judges tells stories of times when the Israelites fell from God's favor and the promised land was overrun by conquering armies. In this chapter, the prophet Deborah was the judge (leader) of the Israelites. This brave woman took charge of ten thousand warriors and led the Israelites to victory over their conquerors. This is the story of three brave and persistent women who have led their communities and the nation in the struggle for clean water. This reflection is an account of their battle, written by one of those women.
Here in America, the quality of our water depends on our zip code. Local and state governments are responsible for protecting sources of drinking water as well as managing operations and maintenance of the water service infrastructure. When corruption and negligence infest our governmental institutions, those most vulnerable and closest to the poverty line are the hardest hit.
Communities of color, Black and Latino/a/x communities specifically, disproportionately suffer from the harsh effects of climate change and environmental injustices such as pollution of our air, water and land. Accessibility and proximity to clean water is a human right. It should be available to all in a country as bountiful as America. But structural racism and colonialism prevent this from holding true. So, communities of color, often led by women, fight to reverse the course of government in our communities, to expose corruption and to bring about water justice.
In response to the crisis of lead contamination in drinking water afflicting Flint, Michigan and other American cities, a group of three women founded Black Millennials 4 Flint (BM4F), so that children in our communities would no longer suffer the devastating health effects of lead contamination. I am one of those three women, along with co-founders LaTricea Adams and Michelle Mabson, who still serve with BM4F.
We founded BM4F as a grassroots, environmental justice and civil rights organization with the purpose of bringing like-minded organizations together to collectively take action and advocate against the crisis of lead exposure in African American and Latino/a/x communities throughout the nation. We started BM4F as three young women who were concerned Black professionals with more access to resources and relationships than some in our communities. We knew that, together with others, we had the power to make a lasting impact.
As the organization grew, so did our impact. Our experiences as young professionals and newly anointed activists are vast, yet common. We are daughters, sons, mothers, climate change warriors, educational leaders and change agents. We recognized the plight of our Black and Brown brethren in Flint as a miscarriage of justice, when the primary water source was ill advisedly switched from Lake Huron to the corrosive and contaminated Flint River. The untreated Flint River water was responsible for corroding pipes that leached lead into the water. It also carried things like Legionnaires Disease, infecting thousands. Lead is a neurotoxin that causes cognitive dysfunction if ingested in large quantities. No amount of lead is safe for human consumption. Flint, Michigan, has a population of 60% Black and Latino residents. It has been 6 years, 8 months and 4 weeks that the community of Flint has gone without clean water. This includes drinking water, bathing water, water to cook meals and water to wash clothes – all essential functions of everyday life.
We knew our effort had to be rooted in both survival and a broader effort to seek justice. To allow the people of Flint to survive, together with our partners, we raised over USD $1 million worth to fund water boxes. These water boxes stream 10 gallons of clean water per minute into recyclable jugs. The first water box was installed at First Trinity Missionary Baptist Church lead by Rev. Ezra and First Lady Catrina Tillman. This first water box was the catalyst for three other installations strategically placed in Black and Latino/a/x areas within the city of Flint to make clean water more accessible and readily available for drinking, cooking and hygiene purposes.
Provision of clean water was just the beginning of our multifaceted efforts. We began training other community activists to seek eradication of lead in the water, soil and air in their communities. We expanded beyond Flint because Flint is simply a microcosm of the environmental injustices experienced in communities of color nationwide who are disproportionately affected by pollution and contamination of the environment. Our group, along with these community activists, drafted and passed legislation in Maryland and the District of Columbia which resulted in the creation of a Lead Prevention Commission in the state of Tennesse. The caring, compassion, and empathy we have for our communities drives our passion to heal our nation's most vulnerable citizens and achieve a healthier environment for all.
We are three women who worked ceaselessly to bring clean water to our communities and to organize others to continue that struggle. We are three women who are doing the Lord's work and persist in the battle for water justice.
Questions for Discussion
Example 1: Do you think people of colour are being denied their human right to water and sanitation?
Example 2: Do you feel women are disproportionately burdened to secure the water needs for their family?
Example 3: Do you think that privatization of water is the solution to the global water crisis?
Actions
Example 1: March 8 is International Women's Day. You can plan to organize an event to mark the day and discuss gender and water concerns.
Example 2: If you suspect the water in your tap is contaminated, ask your local government or a local university to test it. If it is contaminated, join or start a campaign with like-minded people in your church/ locality to address the issue.
Example 3: Communities with contaminated water are sometimes forced to rely on bottled water, which unnecessarily wastes water and creates plastic waste. If your tap water is contaminated, consider community solutions like water boxes to provide clean water. Promote blue communities in your area.
Additional Resources
http://www.blackmillennials4flint.org/
https://www.blueplanetproject.net/index.php/home/water-movements/the-blue-communities-project/
https://www.oikoumene.org/news/joining-blue-communities-wcc-turns-from-bottles-to-taps
* Krystina White is the Director of Engagement for The Climate Reality Project. She is a mom, a former California native and Howard University alumna. She is a political strategist, equitable policy consultant, environmental justice activist and co-founder of Black Millennials 4 Flint. She is the campaign state director of a former US presidential candidate.