Global Ministries is saddened to learn of the death of Charles Bayer
May 9, 1930-June 26,2021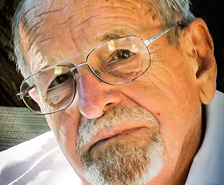 Charles Bayer passed away on June 26, 2021 at Pilgrim Place Health Center in Claremont, California.
He was born on May 9th, 1930, in Philadelphia, Pennsylvania. Charles graduated from Lower Merion High School in Ardmore, Pennsylvania in 1948. He received his bachelor's degree in 1952 from Phillips University in Enid, Oklahoma and then attended seminary there.
Charles was the senior pastor of churches in Chicago; St. Joseph, Missouri; Alexandria, Virginia.; Washington, D.C.; and Enid, Oklahoma.
He was a gifted writer, who wrote eight books and regular columns his whole life on current events and politics. His books include: "Hope for the Mainline Church," "The Babylonian Captivity of the Mainline Church," "A Resurrected Church: Christianity After the Death of Christendom," "A Guide to Liberation Theology for Middle-Class Congregations," "Reclaiming the Christian Faith," "When It Is Dark Enough: Sermons for Advent, Christmas and Epiphany," and "Building a Biblical Faith: A Seeker's Guide to Christian Theology."
Charles was also a leading Disciples voice for justice and peace. He was a prominent presence at many General Assemblies promoting issues of social and economic justice and was one of the key figures in the founding of the Disciples Justice Action Network and the Center for Public Witness in Washington, D.C.
In 1996, Charles and his wife, Wendy, were appointed by Global Ministries to serve at the Churches of Christ Theological College in Mulgrave, Australia as the Visiting Professor of Congregational Life and Work. They served there from 1996-2001.
Before serving in Australia, Charles taught at Lexington Theological Seminary in Kentucky, Chicago Theological Seminary, and the Disciples Seminary Foundation in the fields of theology, missiology, and homiletics.
In 2001, Charles and Wendy moved from Melbourne, Australia to Pilgrim Place in Claremont, California. He was a member of the city's Committee on Human Relations, co-founder of the Claremont Homeless Advocacy Project and served on the board of Uncommon Good.
Charles is survived by his wife, Wendy; his daughter, Beth; his stepchildren, Jennifer Divine, Mary Divine Myers and Sean Divine; 11 grandchildren and eight great-grandchildren. Services will be held at a later date.
In lieu of flowers, memorials are suggested to the Disciples Justice Action Network, P.O. Box 35887, Tulsa, OK 74153; Uncommon Good, 211 W. Foothill Blvd, Claremont, CA 91711 or the Pilgrim Place Residents Health and Support Fund, 625 Mayflower Road, Claremont, CA. 91711.
Condolences to the family may be sent to Wendy Bayer at Pilgrim Place, Apt.204, 621 Mayflower Rd., Claremont, CA. 91711