Global Ministries is saddened to learn of the death of Dorothy A. Davis
Reverend Dorothy A. Davis passed away peacefully on July 30, 2022, at the age of 92.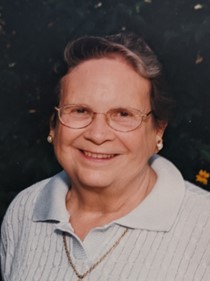 Dorothy was born January 1, 1930, in Chicago, Illinois to Parr and Esther Armstrong. Her father was a minister, and the family moved to Kansas City, where Dorothy attended elementary school, Oklahoma City, where she went to high school, and on to Fort Worth, Texas, when she attended college. Her father and mother often hosted visiting church leaders and missionaries from around the world in their church and home. These visits sparked Dorothy's imagination and led to an aspiration of one day becoming a missionary like some of the guests that she met in her home.
Dorothy attended Phillips University in Enid, Oklahoma, where she met Lew Davis. They married in 1950 and decided they would together follow their passion to serve God in ministry, beginning their career as overseas missionaries. Together they attended and graduated from Brite Divinity School at TCU and took several agricultural classes at Oklahoma State University to prepare them for mission work in India. Dorothy along with her husband, Lew Davis, were ordained a minister in the Christian Church, Disciples of Christ. In 1955, they went on to be commissioned by the United Christian Missionary Society, a predecessor body of Global Ministries, to serve in Odisha, India where they served for sixteen years as mission co-workers. During those years they worked with others to build schools, hospitals, farms, and churches for the communities in which they served.
Dorothy went to India with her first child, John (then two years old) while pregnant with Bruce (child #2). On their first trip back to the US after living in India for five years, Dorothy and Lew were pregnant with Carolyn (child #3). When they returned to India, she was pregnant with Glenn (child # 4). Dorothy was the glue holding the family together through the challenges of living in a foreign country at a time with no phones, running water, electricity, and apart for long periods of time from family both in India and the United States. She would split her time with her children and Lew as all four children attended Woodstock School, a mission-affiliated international boarding school in the Himalayan mountains. This continued as the family transitioned to life in the USA when we came back in 1971.
Upon leaving India, Dorothy served churches with Lew in Blackwell, OK, then Dallas, TX and Lewisville, TX. Upon retiring, she traveled the world. Dorothy had a passion and curiosity about the world, and how we live and love. Through retirement she continued speaking and sharing her experiences at churches and social venues. She lived a long, healthy, productive life and left an impact on all those she met. She believed we should take advantage of all God gives us and to live by serving and being the best we can be.
Dorothy had a positive affect with people who know her. The following quote provides a good description, "Your imprint is great, your legacy rich, your hope firmly rooted in this world, because of your outpouring of honest, insightful, no-nonsense convictions. I love how much research you put into your queries, faith you put into your family, drive you put into your ministry, and intent you put into your connections with those who have been blessed to know you."
Dorothy was preceded by her father, her mother, her husband, and youngest son. She is survived by three children and spouses, John and Karen Davis, Bruce and Sue Davis, Carolyn and Scott Ruck, daughter-in-law Mary Davis and her grandchildren (12) and great grandchildren (8) as well as her sister, Marian McElroy and brother, Roger Armstrong, and many nieces and nephews.
A celebration of life ceremony for both Dorothy and Lew will be held at Broken Arrow Christian Church near Tulsa, OK on August 27 at 11:00 a.m. Memorial gifts may be sent to: The Davis India Fund of Global Ministries (www.globalministries.org/project/davis_india_fund), The United Christian Ashram (www.christianashramint.org/support-UCA), and Friends of Woodstock School (www.fwsfoundation.org). Condolences may be sent to the family at: Carolyn Ruck, 12813 Caleb Drive, Truckee, CA 96161 or carolyn@ruckshockey.com.