Global Ministries is saddened to learn of the death of Frank B. Magill
Frank B. Magill
November 16, 1923-May 7, 2021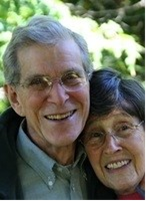 Frank Magill, born November 16, 1923, passed away on May 7, 2021 with his wife, Anne, and their children at his side.
He was the son of Orrin Rankin Magill and Ellen Bell Magill, born in Shanghai, China, while his father was working for the International YMCA. He spent his early years in China, where he attended the Shanghai-American School. When Frank left Shanghai at age eleven, he lived with extended family in Dublin, Virginia at Rockwood, a beloved homestead and dairy farm.
Frank completed secondary school in White Plains, NY and was admitted to Virginia Polytechnic Institute (VPI) in 1943, but was drafted to the Army, trained in Basic Engineering and served in the Signal Corp stationed in France until 1945. After the war ended, he was stationed in Frankfurt, Germany during the Allied Occupation of post-war Germany. Returning to College at VPI he graduated in 1948. He then completed his medical training at Duke University in 1952.
Frank would return to Europe for a pediatric rotation in London, followed by a motorcycle adventure through France. On the way home from Europe, he met his future wife, Anne Noble. Frank and Anne married at Syracuse University on September 20th, 1952.
Frank completed a two-year Internship at the University of Rochester in NY in 1954, followed by a Hematology Fellowship at Boston Children's Hospital. However, he ultimately chose to pursue Medical Mission work overseas, motivated by his belief in health care as a universal human right.
In 1958, Dr. Magill was appointed by the American Board of Commissioners for Foreign Missions, a predecessor mission body of Global Ministries, to serve at McCord Zulu Hospital in Durban, South Africa. For close to a decade, he treated patients of all races amid the oppressive Apartheid regime. The hospital drew patients from a wide rural area, as it was the only hospital in the region serving non-white patients. During these years, he served not only in a medical capacity, but as an ally and witness to colleagues involved in South Africa's freedom struggle.
Dr. Magill returned to the United States and joined a private pediatric practice in Rochester, NY. His commitment to helping the underserved eventually led him to practice at The Jordan Health Center in Rochester, providing comprehensive healthcare to inner city children and families. He also had a sub-specialty in hematology, including children with leukemia and sickle cell anemia.
In 1983 he moved to Peterborough, NH, closer to a beloved family cottage on Lake Winnipesaukee, to join a Pediatric practice at Monadnock Community Hospital where he worked until 1992. Frank's interest in justice and human rights led him to Nicaragua to monitor the Elections in 1990, where he returned to volunteer in a Barrio of Managua. He also traveled to Cuba several times over the next decade to study the Cuban Health Care system.
While practicing in Peterborough, he became a physician volunteer with Well Baby Clinics in neighboring towns. During his "retirement" he continued part-time Pediatric Practice, covering for a colleague he had met in Cuba. He finally retired in his late seventies and was very active in local community social justice projects including MATS (Monadnock Area Transitional Shelter), and the 100 Night's Shelter, Monadnock Peace Coalition, Veteran's for Peace, and Physicians for Social Responsibility.
Both Anne and Frank were active in the local Peterborough Unitarian Universalist Church for the years they lived in Peterborough from 1983-2008, and in the Keene United Church of Christ from 2008 – 2014, after which they moved back to Peterborough and into RiverMead Lifecare community. His gentle, loving, and playful manner were evident to those who knew him and who remember the twinkle in his eye.
He is survived by his wife, Anne, brother Samuel Hayes Magill, and 5 children: David (wife Caiti Collins), Elizabeth, Rebecca (husband Paul Benzaquin), Margaret, and Frank, Jr. (wife Jessica Plumb), and two grandchildren: Amaya Dagmawit Benzaquin-Magill and Zia Bell Plumb Magill.
Condolences to the family may be sent to Anne Magill at 300 Rivermead Road, #410, Peterborough, NH 03458, or Email: annenmagill@gmail.com