Global Ministries is saddened to learn of the death of Florence Elizabeth "Betty" Knoll Streich
Florence Elizabeth "Betty" Knoll Streich
February 23, 1923-January 2, 2021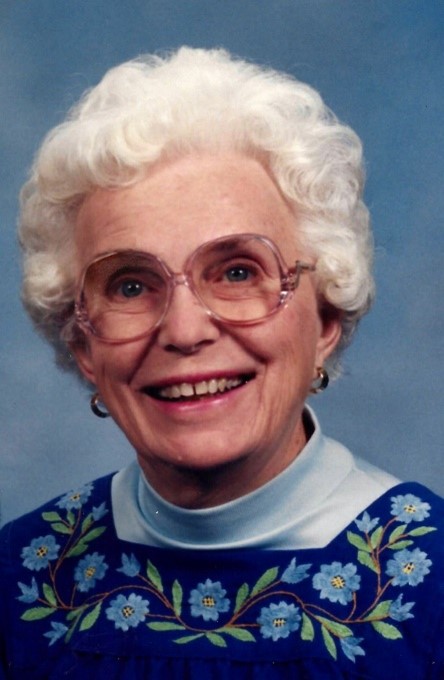 Florence Elizabeth ("Betty") Knoll Streich, age 97, passed away January 2, 2021 in Pleasant Hill, Tennesse.
Betty was born in Reading, Pennsylvania on February 23, 1923, as the first of four children born to George A. and Marie (Frey) Knoll.
When Betty was ten, her father tragically died. Her loving mother worked as a nurse and cared for Betty and her siblings along with Betty's grandmother Minnie Frey and uncle, Barney Frey. Betty would go on to graduate as valedictorian from Fleetwood High School (Pennsylvania) in 1939. Betty earned a Bachelor of Arts degree in English and Social Studies from Ursinus College in Collegeville, Pennsylvania in 1943. Later she took graduate courses from the University of Alabama, University of Massachusetts, Bloomsburg University, Azusa Pacific University, Columbia University and Union Seminary. She was a lifelong learner, who became an outstanding teacher.
She met her future husband, Paul Streich, when they both attended a seminar at Camp Mensch Mill in Berks County, Pennsylvania. During the summer of 1943, they became better acquainted when Betty took classes at Union Seminary in New York City. On September 9, 1944, she married Paul Streich, the man who grew to be her dearest friend for over 60 years. A year after their marriage, she and Paul were commissioned by the American Board of Commissioners for Foreign Missions, a predecessor mission body of Global Ministries, as the first mission co-workers to serve with the United Andean Indian Mission, an ecumenical mission partner in the highlands of Ecuador. They worked on church capacity building and educational efforts and worked alongside Ecuadorians to establish five schools in indigenous communities. Later, Betty served as an innovative teacher at two schools in Quito, Ecuador.
After 32 years in Ecuador, the Streichs returned to Fleetwood, Pennsylvania to help care for Betty's mother, Marie. Betty taught social studies at Fleetwood Middle School until 1991. They then moved to Sun City West, Arizona, where she taught homebound students. In 1997, they settled in Uplands Village in Pleasant Hill, Tennessee. Her husband, Paul, passed away there in 2005. Betty's activist nature was expressed through supporting social justice issues including groups such as Avalon (Women), PFLAG, Fellowship of Reconciliation, and Save our Cumberland Mountains among others. She was the ultimate fan of the Tennessee Lady Vols!
Betty was gifted with good health and a cheerful "young-at-heart" personality! She exuded joy for life in all she undertook and loved people of all cultures and walks of life. Shaped by her "Pennsylvania Dutch" roots and the Great Depression, Betty was known for her diligence, good humor, hospitality, and compassion.
Betty was preceded in death by her husband Paul, their first daughter Heather Ann, and Betty's brothers George F. ("Bud") and Richard ("Joe").  She is survived by brother Robert (Joanne) Knoll, Richard's wife Gerry Knoll, 5 children: David ( Judy) Streich of Durham, North Carolina, Mica (Ray) Beauregard of Paoli, Indiana, Jonathan (Jennifer) Streich of Lilburn, Georgia, Stefanie (Dan) Morgan of Boulder, Colorado, and Erika (Kevin) Bond of Ft Wayne, Indiana, 11 grandchildren, seven great-grandchildren, and eight nieces & nephews.
An "Affirmation of Life" celebration is being planned for this coming summer. Memorials may be made in her name to: United Church of Christ (UCC) Wider Church Ministries, Uplands Village (including summer camp), Heifer Project, Mennonite Central Committee, or OMF International.
A gift can be made to UCC Wider Church Ministries by clicking here and selecting Global Ministries from the drop down designation menu, check the box for tribute gift and specify that the gift is in memory of Betty Streich.
Condolences to the family may be sent to David Streich at 1 Creekview Lane, Durham, North Carolina 27705 or by email at firstjohn4_19@fastmail.com.