Hurricane Julia stormed through Nicaragua and Central America
Hurricane Julia landed near Pearl Lagoon, Nicaragua, at 3:15 a.m. EDT Sunday, with maximum sustained winds of 85 miles per hour. Julia lost wind intensity while over the rugged terrain of Nicaragua. She was downgraded to a tropical storm by the National Hurricane Center late on Sunday morning. It was downgraded into a tropical depression near the coasts of El Salvador and Guatemala on Monday morning. Julia would lose more wind intensity, becoming a tropical rainstorm, as it tracks northwestward near the Pacific coast of Central America over the next couple of days. AccuWeather forecasters say that the risk of flooding downpours and mudslides is expected to affect El Salvador and parts of Honduras to portions of Guatemala, Belize and southern Mexico.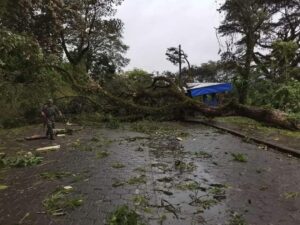 AFP reported four deaths elsewhere in Central America, including two in El Salvador and two in Honduras. AFP said that two of the victims in El Salvador died after a house collapsed in Guatajiagua. In contrast, the victims in Honduras drowned after the storm capsized their boats near the town of Brus Laguna. Reuters reported that 1 million residents along Nicaragua's coastal region lost power and internet. Some outages were from fallen lines, while the majority came from a government decision to cut the electricity for safety reasons. As Julia dumped heavy rain across Central America, the Nicaraguan National Disaster System issued a "red alert" for the entire country after multiple rivers flooded. https://www.accuweather.com/en/hurricane/julia-turns-deadly-unleashes-flooding-rain-in-central-america/1260980
Global Ministries'Partners reported to the Latin America and the Caribbean Office regarding the effects of Hurricane Julia in Nicaragua. The Reverend Jairo Arce, Executive Director of the Interchurch Center for Theological and Social Studies (CIEETS), shared that 78 Rivers overflowed in different areas of the country, including León, Boaco, Chontales, and Jinotega. At the moment of my dialogue with Pastor Arce, 240 thousand families had no electric service, 80 thousand 730 families still did not receive drinking water service, and 746 persons were receiving medical attention in shelters. 49 school centers were reported with affectations in Rivas, Diriamba, Managua, and San Rafael del Norte, among others. Corn and bean crops have been lost. Many animals have died, primarily as victims of flooding. Pastor Arce describes the situation as a "disaster,", especially for poor families.
Still, there are no communications with other areas, as partners, such as the Association Christian Mission of Nicaragua, let know. Its President, the Reverend Mauricio Largaespada, told the Area Executive that communications were still down. There are fallen phone antennas in areas like Llano Grande (Chontales), San Francisco, and Nueva Guinea. 
Global Ministries continue to accompany our Partners in Nicaragua as they assess the situation and provide for the needs of the people there. Please pray for the country, its leaders from churches, and ecumenical organizations as they start their work of solidarity with those in need there.